Chronicling one staffer's journey to a four digit rating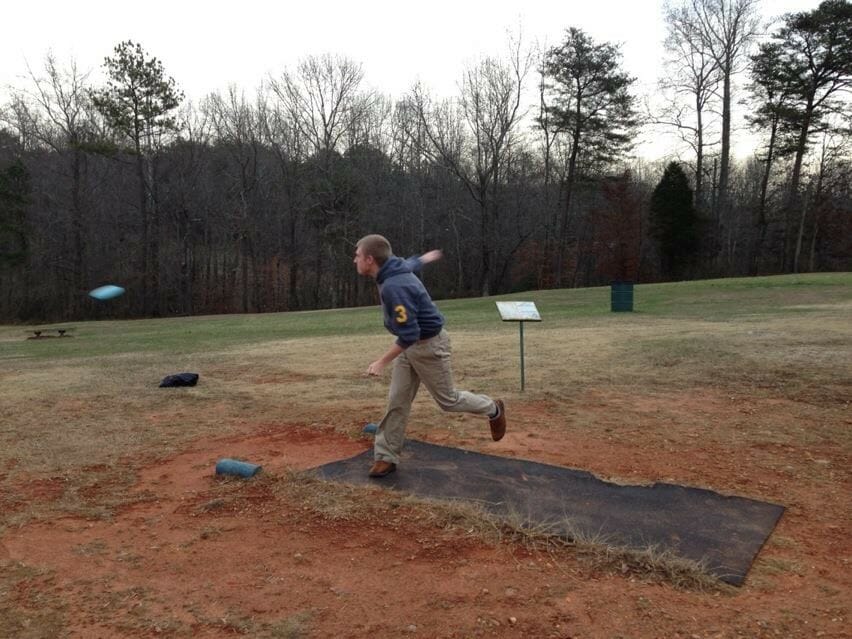 Editor's note: This article is the first in a series that will track one intrepid staff writer's trials and tribulations as he seeks the elusive 1000 rating.
This adventure started with a New Year's Resolution.
After playing casual disc golf since 2010, I decided to make a jump into official tournament play. The initial goal was simple and very reachable: get rated. With only three rated rounds needed, I quickly signed up for a slew of tournaments and started practicing a bit on the weekends.
Competitive rounds were not unfamiliar to me. My introduction to the sport was, ironically, through ultimate, where my high school coach was Rand Eberhard, a former disc golf pro and PDGA board member. He got the team heading to the course, and I was bitten by the disc golf bug early, as I was caught skipping class my senior year of high school to go play with four other members of the squad.
I played ultimate all through college, sustaining injury after injury, until I slowly gave up the sport after graduating last summer. It wasn't long, then, before I found myself playing a round of disc golf at every possible opportunity. I played Saturday with one group, and Sunday with another. I putted when it was dark out and just couldn't stop trying to beat any of my personal bests. So when the new year came, I decided to make it official.
My first tournament came on Sunday, February 18. I hopped in the car at 6:00 a.m. and traveled two and a half hours to Cordele, Georgia (population 11,187). In the first official round of my disc golf career, I notched a 943 rating. I certainly didn't feel like I was having a fantastic day; in fact, I missed some putts that could have given me the outright lead going into the lunch break. But I felt like my career was off to a hot start.
In the final round, though, reality set in, as I took a six stroke swing in the wrong direction. My putting was still as strong as it was in the morning, but shots off the tee were losing their accuracy. After hitting a tree on the first hole, I was a bit shaken. Playing right next to the player that would eventually beat me forced me to watch myself fall down the leaderboard. Long tunnels were becoming harder to hit as I felt the pressure of being on the top card. As much as the first round was slightly above average, this was twice as far below.
My round rating fell nearly a hundred points, and I was overcome with disappointment. But when I got home, I transferred that disappointment into motivation, setting a nearly unreachable goal for myself: get to 1000.
I don't take that number lightly. According to some of the now-dated numbers from the PDGA website, in 2012 there were only 200 players with ratings over 1000. To think that after only a few tournaments I could set a goal of that magnitude seems, at best, arrogant and misguided. I have no sponsor, no outrageous budget, a full-time job, and only one of each of my favorite discs. There are lots of things that need to go right for this to happen. But, as an old coach of mine said, "Shoot for the stars and you might land on the moon."
The Routine
I'll of course need to step up my practice routine immediately, but without overdoing it. With a job that starts at 9:00 a.m., I've got one hour every morning to put toward an activity.
Monday — I'll kick off my week with a core workout. As I'm usually playing tournaments or practice rounds on the weekends, this will give me a chance to rest my shoulder from two or more rounds. For the workout, I'll be doing some standard crunches, exercises with a medicine ball, and some glute workouts for explosiveness on drives. I'll also take this opportunity to focus on flexibility.
Tuesday — Tuesdays are reserved for putting. There's a five hole course 10 minutes from my apartment that I'll utilize for a nice open field with a target basket at varying lengths.  I'll be running through several different drills to keep it fresh, including one from a recent Tuesday Tips column to simulate tournament putting. Everything from five to 60 feet is on the table, and I'll have to throw in straddle putts for those tricky situations. 
Wednesday — I'll head back to that same practice course on Wednesdays to work on tee shots. This will be the day I familiarize myself even more with my favorite discs: my Dynamic Discs Truth and Innova Wraith. I've used these discs for a while now, and I'm hoping to add backups to get my practice routine sharpened.
Thursday — Upshots and more putting are on the menu as the weekend nears. Putting is definitely the worst part of my game, so it will need as much time as possible in the early season. I'll also reserve Thursday for those tricky 100-200 foot upshots with my Innova XT Nova and other throwing putters.
Friday — You guessed it: more putting. In addition to the necessary practice running the chains, reserving Friday for putting also puts as little stress on the shoulder as possible heading into the weekend. I'll also give myself some wiggle room on Fridays: If a particular kind of shot has been glaringly bad during the week, I'll focus there instead.
With that schedule, I'm hoping to see some consistency in the coming months. April will be my first test after ramping up practices, with tournaments on my plate for three consecutive weekends. I'll be sure to keep updates here, and I hope you'll join me on my journey.
Have any ideas on how my routine can be improved? Have you ever tried something similar? Let me know in the comments, or by finding me on Twitter: @Pston3.