Because standing in one spot with a stack of putters is nice, but doesn't add that stress factor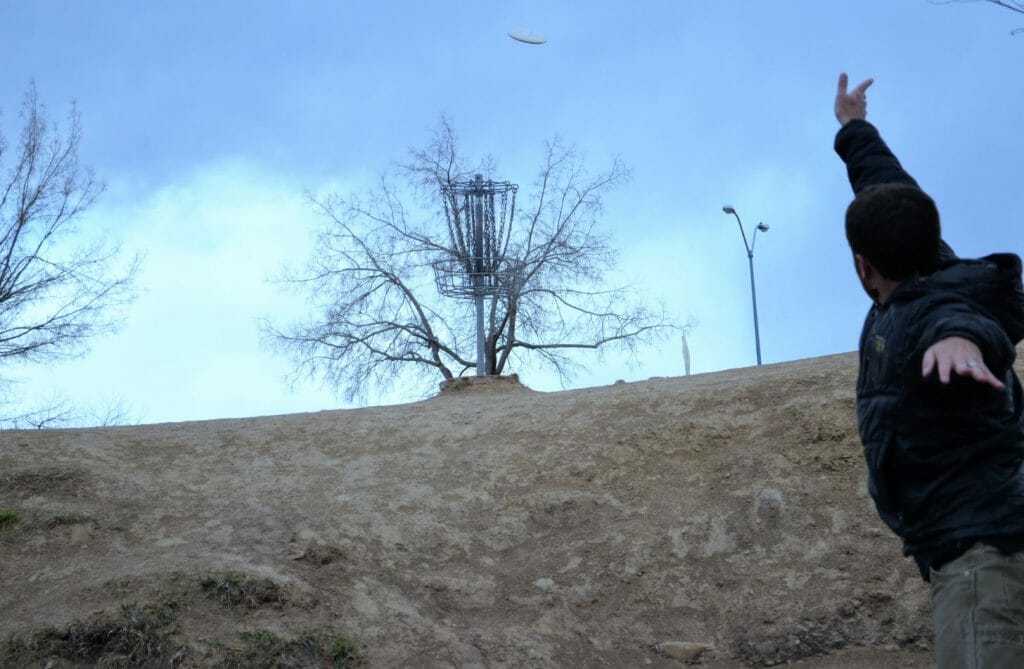 Editor's note: A version of this article previously appeared in Discgolfer Magazine and is used with permission.
"Drive for show, putt for dough." "Setting up a practice basket in the backyard will make you better." "Don't miss from within 15 feet."
We have all heard this advice in one form or another, but how do we transform good ideas into good performance? For one thing, we need to recognize that not all practice is created equal. Getting the most out of your practice requires having a well thought out plan and the discipline to follow it. Here is a simple putting practice regimen that I have used, and which I have found to be a very effective way to improve my results on the course.
The Routine
What you'll need: 1 practice basket, 1 putter. That's it.
The regimen consists of sets of 18 putts. Begin each set by standing next to the basket, and then stepping off six paces. Assuming each step is 3 feet, this should be an approximately 18-foot putt. Putt, then repeat this procedure at eight paces (roughly 24 feet) then 11 paces (33 feet). The long putts from 11 paces are just outside the 10 meter circle, so falling putts (aka "jump putts") are allowed. Putts from six paces and eight paces must demonstrate balance according to the PDGA guidelines (803.04.C).
Continue through this three-location cycle six times ,at which point you will have thrown 18 putts. You can use a disc golf scorecard app. such as UDisc, to track your scores, but a spreadsheet or scratch paper will work as well. After about a week of going through this 18-putt cycle at least once a day, calculate your average score (most disc golf scoring apps will do this automatically).
Now, it is time to set your daily goal: Take your average score — let's say, for example, your average is 8.5 putts made out of 18 — and round it up to the nearest whole number. This is your daily goal. Every day, your job is to complete at least one cycle of 18 putts that meets or exceeds this goal. Some days you will get it on your first try, but other days you may need three or four attempts. Keep tracking your average, and if it improves to, say, 9.1/18, then increase your daily goal (10/18 in this case) accordingly. Also, keep track of your personal best score as well as your personal worst score.
What You'll Get
This routine was developed with one goal in mind: to reproduce the experience of putting during a competitive round of disc golf. Here are the particular elements of the routine which contribute to this effect:
18-putt sets — Most rounds of disc golf are 18 holes, which means that you must put a disc in the basket 18 times. By practicing with sets of 18 putts, you are able to recreate the flow of a round, including scenarios that we are all familiar with: hot starts, cold starts, can't get anything going, approaching personal best scores, etc. Getting used to the highs and lows over the course of 18 putts will translate to better management of your emotions and concentration on the course.
Never putting from the same spot two times in a row — Many players will practice with a stack of putters, throwing all of them from a single spot before proceeding to collect and begin again from a new spot. But this is nothing like what you will experience during a round of play. For the most part, each putt that you take during a round will be from a different distance than previous putt. You need to be able to putt without the benefit of having dialed in the required power over the course of several attempts.
Stepping off each putt — After a few weeks of this regimen, you will be able to quickly estimate the distance of each putt that you take during a round, and this will help you know exactly how much power to put into the putt. You don't necessarily need to step off each putt during your competitive rounds (doing so would probably drive your card mates crazy – most players will only step off a putt if there is a question about it being inside or outside the 10 meter circle), but stepping off a putt can be a great way to slow yourself down in high pressure situations. Always step off each putt during your practice regimen. Don't, for example, place markers in your backyard so that you know where each spot is.
Add pressure to your putts by tracking averages, personal best, worst, etc. — We all know the feeling of a pressure putt with a lot on the line. This is, perhaps, the most difficult aspect of a competitive round to recreate during a practice routine. This regimen adds pressure to your practice a few different ways.
First, you are not done for the day until you hit that daily goal, so there is pressure to perform if you eventually want to go in and eat dinner. Also, by keeping track of personal averages, best score, and worst score, you will be motivated to not tank (i.e., give up) if a set begins poorly (you must be committed to recording each set score even when things go bad), and perhaps nothing recreates the pressure felt during a competitive round better than being oh so close to your personal best score.
You will miss short putts — There may be no worse feeling on the disc golf course than missing a short putt. The experience you gain by performing this putting practice regimen will prepare you to deal with this, because you will miss short putts during practice. You will get a better feel for your percentages from the various distances, learn to accept that some short putts will miss, and recognize the opportunity to make up for the short misses by hitting some of those long jump putts.
You don't need to follow this regimen exactly to reap many of its benefits. Try adding your own variations, such as alternating each putt between straddle stance and regular stance, and find ways to target the skills that you most want to improve. But the principles on which the regimen is based should, in some form or another, be present: vary your putting distances, tracking your progress, and recreating the pressures felt during a competitive round.
What practice routine do you follow and why has it, or hasn't it, been effective? Leave us a comment and keep the conversation going.