Hokom is five strokes back in second.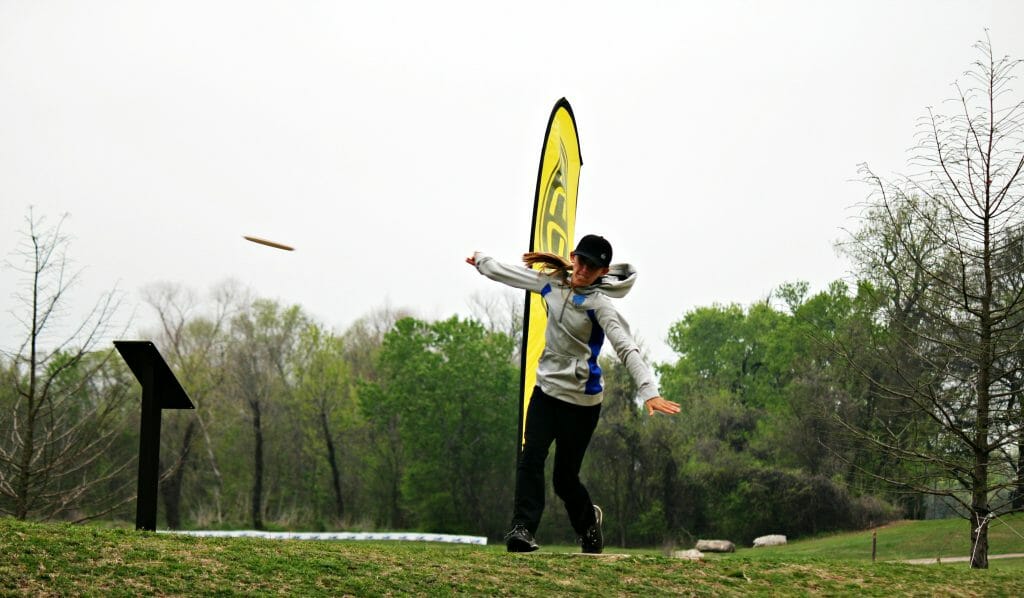 Paige Pierce made quite the statement after her Memorial Championship win two weeks ago, suggesting that she doesn't think she will lose this year unless she allows either herself or the course take her down. And, yesterday, in the first round of the Waco Annual Charity Open, she backed that up with another excellent performance, preliminarily rated at 1013.
Pierce went off, carding birdies on nine holes—by far the most in the field—en route to a 7-under par 60 first round. The 1013 rated round is already her third round rated above 1000 and her seventh rated over 990 this season.
Much like at the Memorial, her closest competition is Sarah Hokom, sitting at 2-under par 65. Hokom parred out through the first seven holes before carding her first birdie on hole 14. She collected two more birdies to go with one bogey, rounding out a solid 976 rated round. Completing the top four is a trio of Texas pros: Lisa Fajkus is alone in third place after a 2-over par 69 round, while Stephanie Vincent and Maria Oliva are both tied for fourth after 4-over par 71 rounds.
While Pierce and Hokom each had the most consistent rounds in the field—both carding just one hole over par—the field as a whole played the Brazos Park East course at 8.78 strokes over par. Despite her one subpar hole, Pierce was pleased with the result on the long par 67, 7,949-foot course.
"I feel like I played pretty smooth and consistent," Pierce said. "I had one really bad hole that was a birdie-able hole and I missed two putts inside the circle. Other than that I felt like I felt like I played pretty smooth and maybe a bad shot here or there but on the par fours you kind of have room to make up for that one bad shot as long as your next three shots are good."
Given the wind on the less wooded front nine, Pierce noted her ability to stay away from penalty strokes as another positive coming out of the round. "I tried to play safe," Pierce said. "Well, it kind of varies—if I think there's a chance of me going OB I lay up—that's just a silly added stroke to have, I feel. So any time I feel that there's a chance I just laid up."
Indeed, Pierce was just one of the two players in the field, along with Vincent, to avoid penalty strokes throughout their round. In this sense, their performance was an aberration as the rest of the field collected a combined 48 penalty strokes, most notably on the last two holes in play.
Starting on hole 7, to give the gallery of spectators more room viewing space on the open front nine, holes 5 and 6 were they last two to be played and ended up being the most difficult by far. Hole 5, a par 4 measuring in at 610 feet, played 1.56 over par; the 492 hole 6, which plays almost entirely over water, was played at 1.39 over par on average. Crucially, 27 penalty strokes were recorded by the field on these two holes alone, which was 56% of the total penalty strokes recorded during the round. Hole 5, in particular, was just one of two holes not to allow a birdie to the field.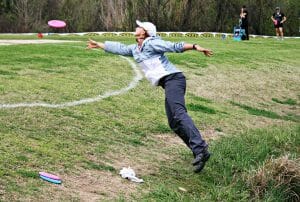 Towards the top of the pack, both Vincent and Fajkus spent time close to Pierce and Hokom early in the round. Both were within a few strokes of Hokom going into the final two holes, but each carded double bogey sixes on the challenging hole 5.
Likewise, Catrina Allen was within reach of the lead for much of the round, and had made 100% of her putts inside the circle through 14 holes until three putting from inside ten meters on hole 3 to card a double bogey six. She then carded a triple bogey seven on hole 5, before finishing out the round with a par on hole 6 after an out of bounds penalty stroke. Despite the difficult finish to the round, Allen is still tied for sixth heading into the second round, having thrown a 5-over par 72.
With similar conditions in store for round two, Pierce's plan is to do exactly what she did yesterday: play the course like she practiced it, execute some shots a little better, avoid unnecessary mistakes and step up to make big shots when the time comes. But she did want to keep a realistic perspective about the chances of carding a 60 again in round two.
"You never know," Pierce said. "It's going to be windy and it'll be hard to duplicate that."
The hottest player in women's open will look to keep the momentum going in an attempt for a third wire-to-wire win this season, while the rest of the field will have to find a way to keep up.