Homemade baskets and roaming peacocks make for a unique travel experience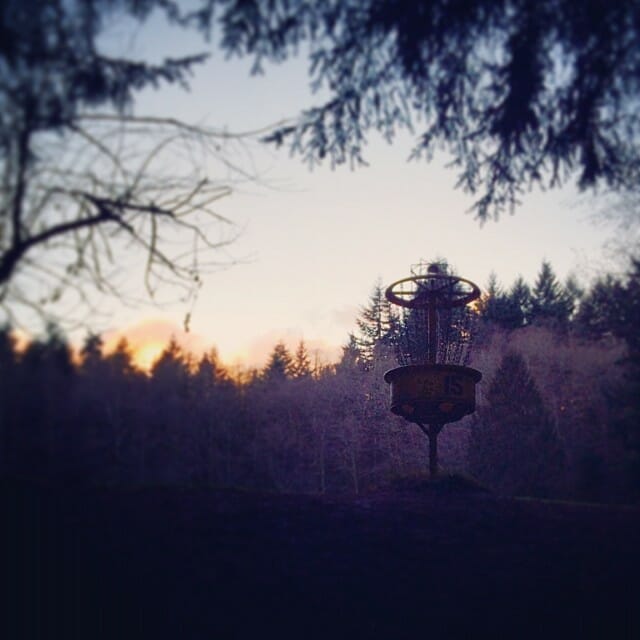 Close your eyes and imagine a windy gravel road taking you down a hill through a misty forest. Once the trees clear, you are met by 160 acres of beautiful land with peacocks roaming the property. You find four disc golf courses waiting for you with hardly anyone in sight, and all this can be yours for only $4 a day.
Sounds too good to be true, right? This disc golfer's paradise can be found just a short drive west of Portland, Oregon, at a place called Horning's Hideout. A private property owned by the same family for over 40 years, locals affectionately call it Horning's, and it meets the needs of pro players and families alike.
An Evolution Into Disc Golf
Back in the early 1980s, this majestic acreage in North Plains was used as a cattle ranch. With dreams of doing something more with his land, owner Bob Horning began converting his homestead into a private park. Introducing fishing, horseback riding, and a venue for weddings in 1986, Horning was pleased with how his land was attracting people. A handful of years later, he built a stage for music performances, and to this day still holds one of the Pacific Northwest's largest Bluegrass festivals, The Northwest String Summit.
A few of Horning's close acquaintances began asking him about including disc golf on the property, but at the time he knew nothing about the sport. That quickly changed, as Horning found the PDGA to provide a wealth of information. From there, he drew upon his mechanical savvy and started crafting fairways.
"I knew about the flight patterns of discs; If I could throw a disc the way this should be thrown, it should be able to go this way and around this," Horning said. "Based on mechanics, I started designing courses."
After a few local disc golfers provided their input for minor changes, the first course on the property opened on Memorial Day in 2008.
A Course For Every Skill Level
The property quickly caught on with locals, not only for its beauty, but also for its variety. Paul Compton, an area vendor and tournament organizer who runs Portland Mobile Disc Lab, said he can take his kids and enjoy the venue's easier layout, or be challenged on a professional level by its other two tracks.
"Horning's Hideout is, of course, one of a kind in the fact that there are three 18-hole courses on the property, all of varying degrees of difficulty," Compton said.
Here's a quick breakdown of what the property offers:
The oldest Horning's course, Canyon, was designed as a blue tee layout. It provides a nice variety of par 3 holes, with a few longer holes mixed in. Multiple basket positions make Canyon enjoyable for nearly everyone. It ends on a dramatic downhill hole measuring in at 700 feet.
Installed in winter of 2009, Highlands is the easiest of the three. As a white tee course, PDGA-sanctioned events can't be held there, but it's a great place to warm up your game. Hole length ranges from 125 to 245 feet. It's great for kids or people playing for the first time.
Finalized in 2010, Meadow Ridge will test your resolve. The course took a lot of work to install, including logging a fair amount of the property, and while the holes are reasonable in length at an average of 390 feet, the dramatic elevation changes will give you a great workout. In 2016, Horning installed a second set of baskets on Meadow Ridge, allowing for an easier blue tee course to be in play at all times.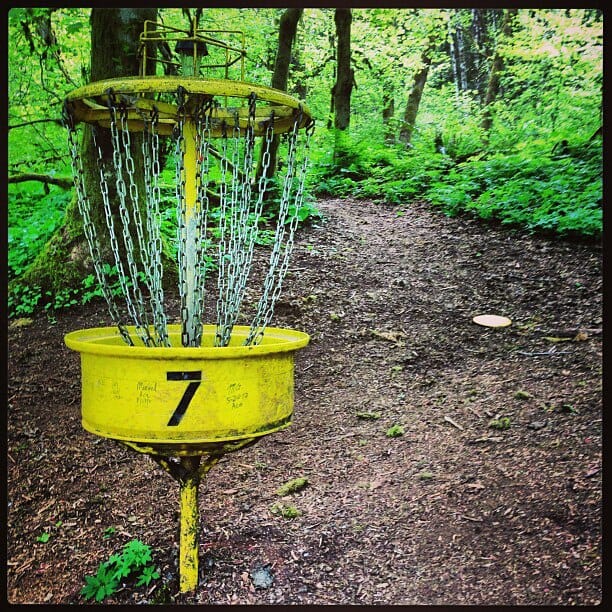 What's Up With The Baskets?
Anyone who's ever seen a basket at Horning's Hideout is always a little baffled at first. Designed and built by Horning himself, the homemade traps were an effort to reduce the cost of supplying 54 baskets for all of the courses. With a good amount of chains, and a smaller than average top, the most unusual part of the basket is the bottom cage: Painted bright yellow with its hole number stenciled on the side, it resembles a large tractor rim.
Given the bright color of the metal, you'll often find signatures, PDGA numbers, and quotes written in Sharpie over the years from people who have aced various holes. After making some small changes, Horning sent one of his creations to the PDGA, where they approved it for championship play on both the Canyon and Meadow Ridge courses.
A Prime Layout For Tournament Play
In addition to playing host to the PDGA's biennial Women's Global Event, Horning's is also known for one of the largest women's tournaments in the area, The Chick Flick. Run by Cindy McMahon, this event draws ladies of every skill level.
Both the WGE and the subsequent Chick Flick a few months later were this author's first tournaments, and playing at Horning's is just about the best experience there could be. The Highlands course allows for novice and junior divisions with propagators present, with Meadow Ridge and Canyon serving the Open players. Adequate camping space turns any tournament into an entire disc golf weekend, with players organizing casual glow rounds after each day's events. A large open field at the epicenter of the three courses makes a great spot for a lunch break, and allows awards and other games to be held with plenty of room.
From an organizational perspective, Horning's Hideout is conducive to tournament play, and allows for more unique events to be run as well. Entering its fifth season, Portland Mobile Disc Lab's SpAce Race is played on the Highlands course, where every hole is aceable.
"Being a privately owned course means that all I have to do is talk to the owner to schedule the tournaments," Compton said. "No paperwork or course reservation fees makes it incredibly easy to host tournaments there."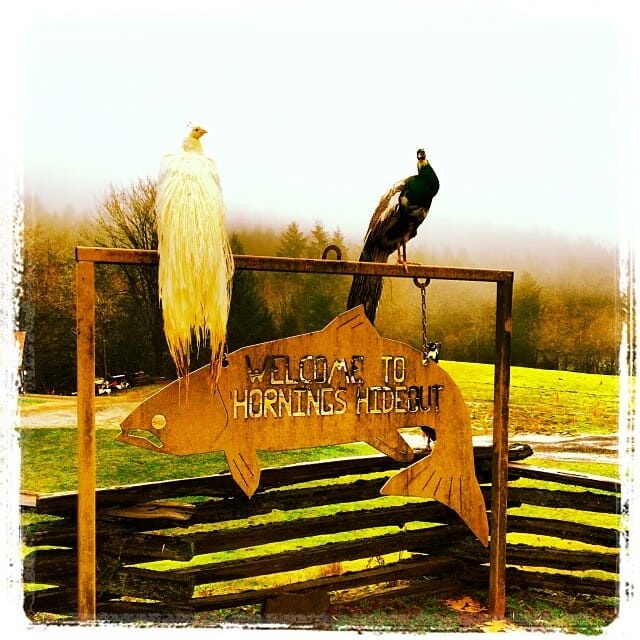 Good Vibes Abound
While the courses are varied and the tournaments are fun, what really sets Horning's Hideout apart and classifies it as a destination spot? Locals all agree that the property's overall atmosphere translates to an amazing disc golf experience.
Alex Russell, a semi-local from nearby Vancouver, Washington, noted that the combination of atmosphere and challenge makes all the difference.
"It's always peaceful up in the hills and when you do see somebody it's always friendly," Russell said. "These courses will force every shot you know how to throw."
And it's not just skillful throwing that makes Horning's the place to be. Often times brand new players will try disc golf for the very first time on the Highlands course due to its relative ease. Portland local Melayna Rosa headed out a few years ago and loved her experience.
"I had never played disc golf in my life, and having my first round here was an absolute delight," Rosa said. "This place is stunning. It has the Pacific Northwest nature stamp of approval all over it."
The one thing that makes Horning's Hideout truly magical? There are dozens of peacocks roaming the property as you play. As a mailman in the early 1990s, Horning came across a few of these creatures during his foot route. The local neighbors found them a nuisance and wanted to shoot them, Horning said.
"During springtime, they kept eating everyone's gardens," Horning said. "But they also call at night to mate."
He offered to take them back to his homestead, and later added a few more to diversify his group. While it's not uncommon for one to begin its call just as you're lining up a putt, the overall experience of having them there makes Horning's what it is.
****
Know a great destination worthy of some love? Drop us a line at [email protected] if you'd like to contribute to our travel files!
An earlier version of this article incorrectly identified the organizers of The Chick Flick. We regret the error.