The PDGA Women's Committee chair shares her ideas about getting more women involved in the sport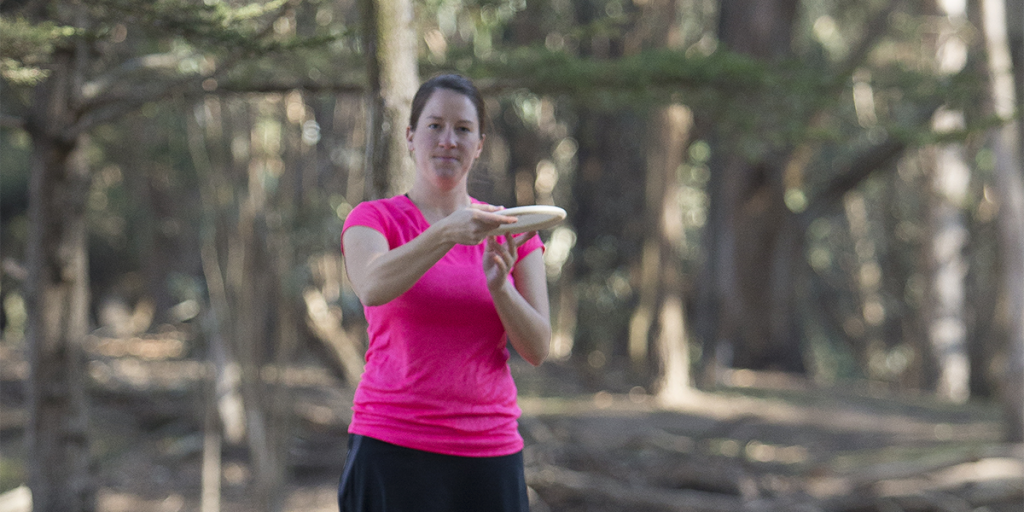 Women represent an underserved group in the disc golfer population. Per the Professional Disc Golf Association, between 1999 and 2015, the share of women among PDGA members has stayed within a range of 6.9 percent to 7.7 percent. A few surveys drawn from PDGA-centric populations have reported similar or lower estimates of the number of women who play disc golf.
At least two studies utilizing on-site interviews at disc golf courses in North Carolina1 and Florida2, though, have produced far greater estimates of the percentage of women who play. In short, the proportion of female recreational disc golfers may be two times greater than the proportion of female PDGA members.
These statistics raise questions about what motivates women to play disc golf, and how the organization of competitive disc golf shapes the way women experience the sport.
Four-time PDGA World Champion Valarie Jenkins took time to address these topics, as well as other issues, in a short interview. Jenkins has been the chair of the PDGA Women's Committee since 2011. We spoke over the phone on January 23, 2017 about women-only disc golf events, and the possible differences between male and female disc golfers. Here are highlights from the interview:
How do you think having only women or girls at an event changes the way participants experience disc golf?
The main thing is the atmosphere. There's so much energy that revolves around a women's tournament. From the moment that you pull into the course, just seeing other women out there playing—to have the whole putting basket all be women, to have everyone at the player's meeting all be women, you don't see that very often. When all these women get together, they're excited, they're excited to see other women like themselves.
I think that feeling carries through the entire tournament, and really creates an encouraging, motivating atmosphere. Seeing other women playing in your division, creating those relationships, that's the key to getting women to come out and play again. If you're the only woman out on the course during your league night, or at your local tournament, it can be discouraging.
RELATED: Inaugural PDGA Women's Symposium Broadcasting Tonight
There may be a large pool of interested non-disc golfers out there, as in, women who don't play, but may be interested in disc golf. How do you tap into that pool to grow the sport for women?
The first step is finding a way to reach that group of women. Whether it's retired soccer players, or some ladies that used to play on the ultimate team, you know they're still competitive at heart. So those are the key players you want to tap into. First and foremost, it's about finding those players and giving them the information.
Then you have to run a clinic. You have to teach them how to play. These people are already athletes, so they're going to learn quickly, and they're going to get it. They're going to be frustrated, and they will want to get better.
If you're going after people who have never played before and are not super athletic, teaching them the proper techniques is absolutely key. And from there, where do you go, what are you going to tell them to do? Go out and play recreationally? Or are you going to set up a women's league, and say once a month, or once a week, we're going to meet here? So, get them hooked, and then find a way to get them back.
 At the club level, how do you think a competitive atmosphere influences women's interest in disc golf? I'm talking about leagues that have bag tags, place an emphasis on winners, PDGA-rated leagues, and so forth. Do you think that elevating the level of competition is something that attracts women or constrains women's participation in co-ed leagues?
There's research on the motivations of men and women in sports. But you don't have to read the studies to know that men are clearly more competitive than women on average. Results-based competitions – based on tags or score – that's what really drives the men. That's a guy's mentality. The women's mentality is more about the social aspect. It is about getting better. And I think women should be keeping score, so they know how much they've improved over the season. But it really is about the social aspect of getting together and doing something competitive in a more friendly way. You can't run a women's league in the same style as a traditional mixed or co-ed league.
We all face constraints when it comes to playing disc golf. We have to find the time and money, for instance. But are these constraints the same for men and women?
I've read a study on this. I'll have to pass it along to you. [You can read the study here]. I think the main constraint is that women don't put themselves first, as often as men do. Women first think about their families and their jobs. These priorities pull them away from doing a personal hobby, like disc golf. Men are more willing to go full force and spend time doing whatever hobby they like. There's a different way of thinking between men and women on the hobby side of things.
The women in the study said that they were the main ones who put the pressure on themselves. Being a woman ultimately made them question their right to create this time for themselves, and yet a life of balance is probably the most important thing. Create time for your family and job first, of course, but you need to create time for yourself too.
Okay, one silly question. This is a spin on the last meal question. Imagine playing your last round of disc golf. What would that look like for you? Who would you play with, where, and what would happen?
I think I would bring everyone to Oregon. We'd play out at Milo McIver. That's in Estacada, Oregon. And it would have to be with my family.
And would you win?
Hmmm, there would be a lot of trash talking, that's for sure! But it would be hard to win in that group of people.
---
Oldakowski, R., and J. W. Mcewen (2013). Diffusion of disc golf courses in the United States. Geographical Review 103(3): 355-371. ↩

Mohoney, Haley K. (2014). An Economic Study of the Richmond Hill Disc Golf Course. Proceedings of the National Conference On Undergraduate Research, April 3-5, 84-94. ↩