Putting a bow on the festivities down under -- until 2019, that is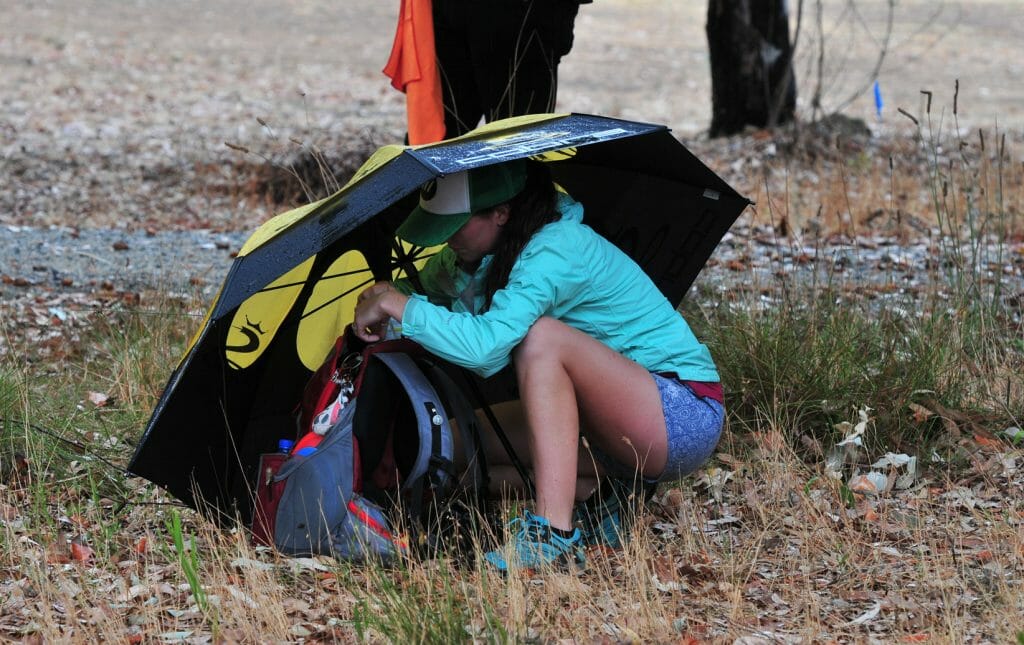 PERTH, Australia — Something strange and wonderful happens when the soft rain that drifts around the edges of a summer storm touches the West Aussie bush that hasn't seen water for a few months. Every leaf, twig, petal and blade of grass calls out, "Hey, we're in business!" and starts pumping pheromones into the atmosphere. The air becomes thick with the musty smells of lemon-scented gums, snakebush, wattle, baronia, and wet rye grass, with just a hint of kangaroo-poo – eau de Mundaring.
The mood changes, too. Disc golf in the Aussie bush normally has a soundtrack of crunch and scrape as the dry undergrowth broadcasts every footfall, betraying even the slightest movement. You think you stand still when someone else is throwing? Come and play here and we'll see how true that is. I noticed a few players almost holding their breath near an opponent about to throw, for fear of moving slightly and having the leaves underneath make a deafening rustle. But when the rain falls, it softens and becomes muted; even the birds cease arguing in the treetops. Watching the women's card, plus their gallery, slowly walking the twin avenues of the hole 4 fairway yesterday, all huddled and silent, it had the look of worshippers entering a monastery.
I looked around the gallery and noticed that not many people were wearing rain jackets or carrying umbrellas, either. After a week of getting oven-baked, being rained on feels pretty good.
***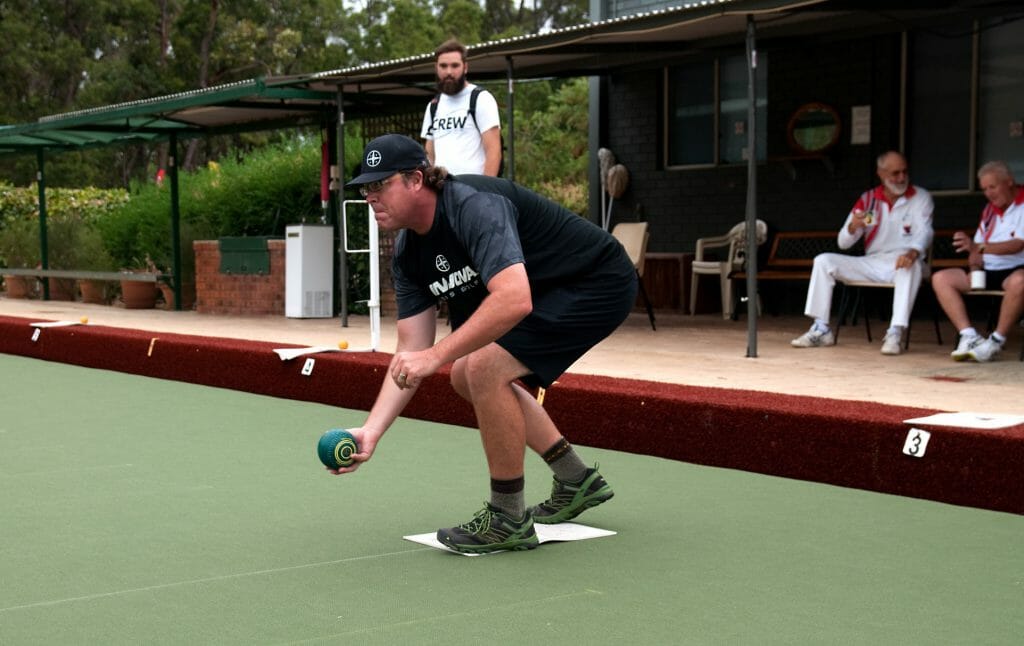 There are quite a few institutions that suddenly grew after the world wars. As those who served returned home, it seemed there was a vacuum in their lives for something to serve and belong to, a place with a bit of reassuring formal structure and hierarchy. So yeah, you guys got the Hell's Angels, and we got bowling clubs.
When I'm entertaining an overseas visitor to my island home, and they eventually have their fill of kangaroos and the beach, I like to take them somewhere that is indisputably Aussie. A bowling club is that place. You must remove your hat, out of respect, when you enter the clubhouse, which is a novel experience for the young players who seem to have a ball cap permanently grafted to their heads. There's not a polished floorboard, eclectic film poster, or hipster IPA to be seen. The playing members wear a mostly white uniform and are of an age where they speak the Aussie lingo of the '50s and '60s.
"Turn it up, cobber. You throw that Frisbee thing how far? Strewth."
I remember talking with Des Reading about husband Jay's "gift of accuracy" one day. She told me that every time they go to a fun fair she ends up carrying home some giant fluffy toy animal that Jay's won with his sharp-shooting. He's not too bad at putting a golf disc, as well.
So, when I wanted to set up a picture of one of the visiting disc golfers playing lawn bowls — just because I figured that no one in the US would have a clue about this game, which is pretty much a British empire thing — deciding which visiting pro was easy.
Big Yeti got some brief instruction on how the bowls rolled and how their bias worked before rolling a few for the camera. He then put his third bowl right next to the jack, the lawn bowl's equivalent of hitting a bullseye in darts or archery.
Geez, big fella. Where ya from? You don't want to sign up for our club, do ya?
***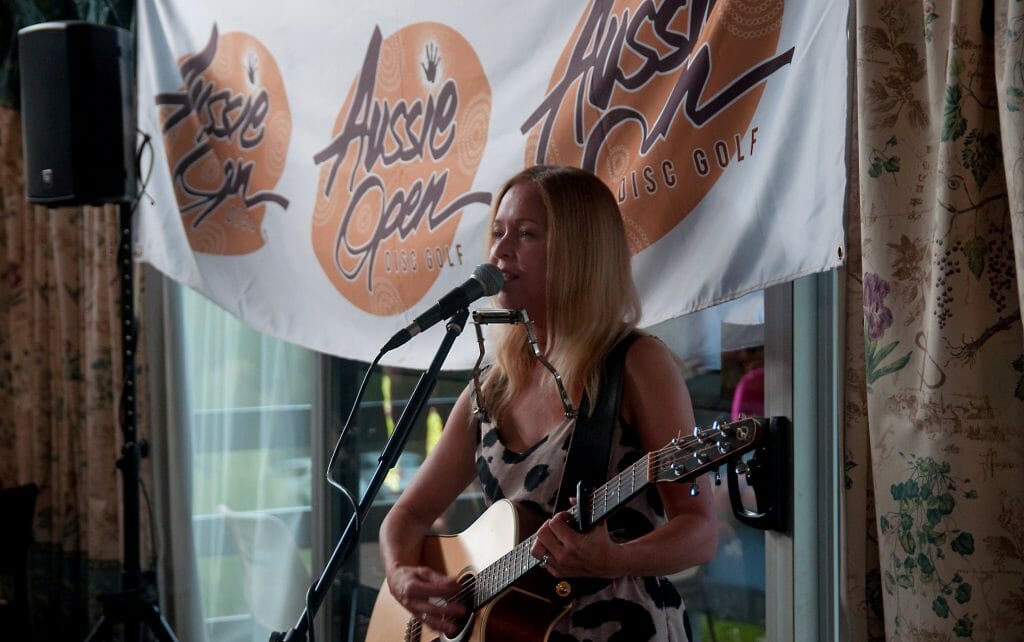 Saying goodbye to Jussi Meresmaa yesterday he, again mastered the art of understatement when he said, "Yeah, it's been an eventful week."
As much as he tried, Obie, the god of screwing with disc golf tournaments, didn't have his way with this event. The big storm that was forecast hit with impeccable timing, when the field were safely indoors drinking beer and telling disc golf stories. The Mundaring clubhouse was a sea of tired eyes, red faces, and roaring laughter as players, family and friends were entertained by Perth disc golfer Sue Summers and her guitar.
A few local players had their doubts about playing this event, intimidated by the thought of being matched for four days with visiting pros. My advice to them was based on my own experiences: When you battle with someone that long, you and that person become bonded for life. There forever exists an experience, a story, that only the two of you will ever understand.
So, in this place — this lawn bowling club that owes its existence to that need for all humans to bond and serve — among the joking, laughing, swearing, celebrating, and commiserating, I could see the union right before my eyes. Warriors together, and just good mates.
Until 2019.