Lessons learned as players disc down to stay in bounds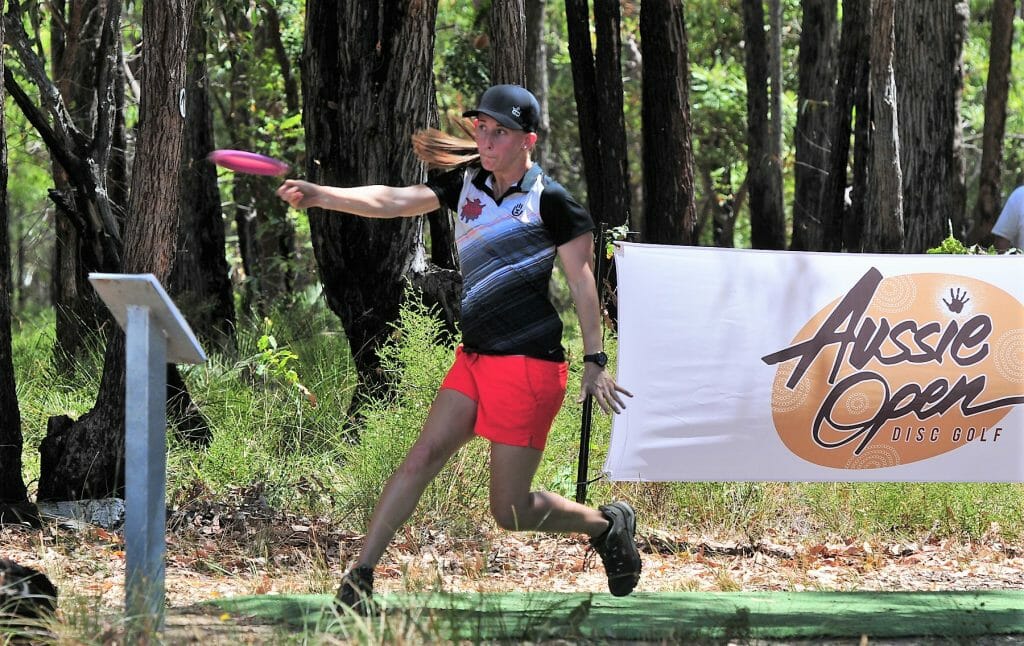 PERTH, Australia — Hole 12 at Mundaring DiscGolfPark has one of the trickiest greens you'll ever see: It slopes left to right, descending away from the direction of the upshot, almost purposely designed to make a disc skip with OB close behind. Throwing to the green during yesterday's third round of the Aussie Open, the three women on the lead card all uttered the same groan as the disc left their hands and the fluky winds took their throws too far right.
"Oh, hit something!" they all said.
For Madison Walker and Jennifer Allen, the discs kept flying into trouble. For Paige Pierce, there was a tell-tale thunk as her throw rebounded back inbounds off one of the giant jarrah trees bordering the right side of the fairway. The small gallery looked at each other, shook their heads and said, with wry smiles, "Yep, that's just the sort of form she's in, controlling discs in the air."
Pierce put on another commanding display today. Her 1022-rated, 6-under par 59 was third best score among all comers and equal to Paul McBeth's score on the day. She put the five throw improvement down not to supernatural abilities, but to correcting her approach on three holes.
"Yesterday I had a double-OB 6 on 14," Pierce said. "Today I disced down and kept it in the fairway for a birdie. So that's a three throw turnaround right there…I took the same approach on 16, throwing a Trespass off the tee, then my turnover Sheriff down the fairway, then the Convict down the right side. The basket is over the rise so I couldn't see exactly where the disc had gone. But when I walked up I had an easy putt for a birdie 4."
Pierce also explained her recent stunning form as an unanticipated side benefit of changing disc sponsors.
"Switching to an all new bag, I've had to be more fully focused on learning the intricacies of every disc," Pierce said. "I think it's improved my focus on each throw and I'm more aware of small errors, like a slightly different wrist angle…With these discs in my hand, if I mess up, I know it's me."
Allen also disced down on a few holes to avoid the OB lines, on her way to a 2-under par 63 that catapulted her into a seven throw lead over Walker, who struggled en route to an 8-over par 73. Allen credited most of her improvement not to disc selection, though, but physiological management in conditions that, although being milder than day two, were still energy sapping.
"I didn't realize how much trouble I was in yesterday," Allen said. "I can only appreciate how much difficulty I was in by comparing it to how great I felt today. After hydrating properly last night and taking some electrolytes, I had plenty of energy and clear thoughts. Even if I had scored over 70 today I'd be happy just because of how amazing I feel."
Walker was visibly distressed after her round. A few skips into OB in the middle holes shook her mental focus, and she battled to keep her game together, trying to match the power of Allen and Pierce.
Des Reading, who remains in fourth place, admitted that her 9-over par 74 — a four throw slide from round two that caused her to drift five throws away from third place — was due to a more common issue for female players.
"I got my period last night," Reading said. "I was a bit off-color. My energy levels were a bit lower and, after a couple of bad holes, I really struggled to stay in the round."
Reading had no problem with her frank admission being made public.
"If we are going to write about women's disc golf, then let's write about women's disc golf," she said.
Local player Kristina Bair credited a similar strategy to the top players in explaining her six throw improvement from round two, carding a 10-over par 75 that moved her into fifth place.
"On the first day I was just shaking with nerves," Bair said. "I could barely hold the putter right. But now the nerves are gone and I'm being more thoughtful with my shot selection, discing down and staying in bounds."
It was a sentiment echoed by Japan's Naoyo Yoshida, who put her eight shot improvement down to being calmer and more rested.
Now, the interest in the final round isn't in whether anyone can catch Pierce; her 19 throw lead is realistically insurmountable. But second to fourth are still up for grabs and, of course, everyone is pulling for Pierce to qualify for the United States Disc Golf Championship.
If the forecasters are correct, yesterday was the last day of hot weather, today will bring showers as the tropical build up that has affected the three days of the tournament so far finally breaks. The Women's Open division lead card tees off at 8:20 a.m. local time and will be filmed for later release by The SpinTV.