Getting to know Manabu Kajiyama, who's currently in second place at the Aussie Open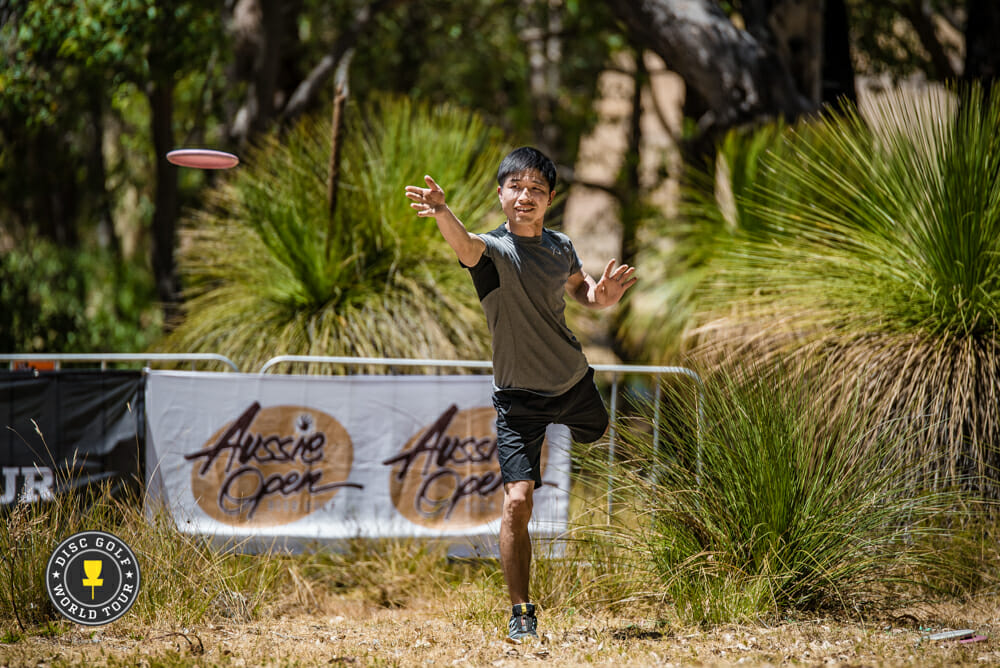 The lead card heading into round 2 of the Aussie Open is full of familiar names, with Eagle McMahon, Paul McBeth, and Ricky Wysocki sharing the bill. But the fourth name on the list belongs to someone who may require some introduction to the casual professional disc golf fan: Manabu Kajiyama, Japan's top-rated player.
Kajiyama, 31, hails from Yame, Japan, a city of 70,000 that lies roughly 35 miles south of the population-dense metropolis of Fukuoka. He began playing disc golf when he was 15 and joined PDGA back in 2002, competing in that year's Japan Open, a PDGA Major, at just 17 years of age. He first cashed as a professional in the 2004 Japan Open and has been a staple in the Japanese disc golf scene ever since, racking up 76 career wins and more than $29,000 in earnings. He currently boasts a 1028 player rating, and as of the PDGA's October 2016 update was the 23rd ranked player in the world.
Oh, and there's the little fact of the matter that he has won the Japanese National Championship a staggering nine times. He's currently on a five year winning streak at the event.
One of the best ways to get to know an unfamiliar player's game is to check them out on YouTube. While Kajiyama isn't widely featured as far as tournament round coverage is concerned, there is some great slow motion video of his buttery forehand, which yields plenty of distance. He was seen most prominently on coverage of the 2015 PDGA Pro World Championships, where he played alongside Prodigy Disc teammate Will Schusterick at Moraine State Park in Portersville, Pennsylvania. Only minutes into the video it's clear he has the distance and accuracy, both backhand and forehand, to compete with anyone, all supported by an unflappable push putt.
"He's one of the smoothest throwing players in the world," Schusterick said. "Also one of the nicest human beings I have ever met."
Kajiyama's first time competing in the United States was at the 2006 United States Disc Golf Championship, where he finished in 11th place, just one stroke behind Ken Climo, Dave Feldberg, and Eric McCabe's eighth place logjam. A year later he made his first trip to play in Europe, finishing third in the European Open.
Kajiyama has spent the intervening years cleaning up in any and all events in Japan, while making select trips to Europe and North America play various high profile tournaments. His first sojourn down under was in 2010, when he finished in second at the Australian Disc Golf Championship, an event also held in Perth — though not at the Mundaring DiscGolfPark, which did not yet exist.
He hasn't been rated below 1000 since the end of 2006, reaching a high of 1033 in 2012. In 2014 he joined Prodigy Disc as one of their most highly-rated sponsored players.
After the 2016 PDGA Pro World Championships in Kansas, where he finished in 30th place, Kajiyama spent some time traveling in California, playing some exceptional golf. Most notably, he took down a convincing win over the likes of Nikko Locastro, Steve Rico, Drew Gibson, Bobby Musick and Peter McBride at the End of the Trail Classic A-Tier in Visalia — all while averaging 1048-rated golf. He's been on a tear ever since, winning the Japan National Championship, Kyoto Classic, and Kyushu Open — all B-Tiers — by a combined 24 strokes to close out 2016.
All this is to say that, despite not necessarily being a household name, he shouldn't have any problems hanging with the rest of the leaders as the Aussie Open continues.