Tournament director Heinold looks to put the focus back on the competition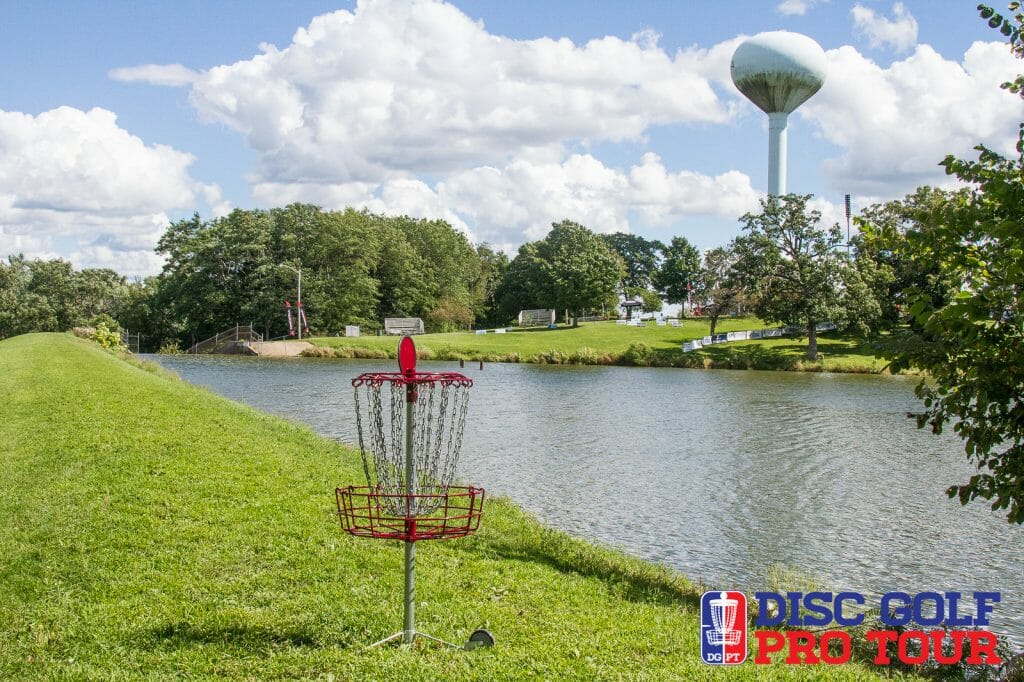 Stroke and distance at the Ledgestone Insurance Open is dead.
As the Central Illinois A-Tier enters its seventh year, tournament director Nate Heinold said he has heard the feedback: Instead of being an event known for a large pro purse or its voluminous contributions to charity, Ledgestone has become synonymous with stroke and distance, a method of scoring that penalizes players for out-of-bounds throws and, instead of allowing them to proceed to the last place their disc was in bounds, makes them re-throw from their previous lie.
The resulting high scores and frustrated players at the event's Lake Eureka temporary course dominated conversation the last couple seasons, and while Heinold said those weren't the only factors in making the switch, he acknowledged it was time for a change.
"I do think that the stroke and distance thing has been way overblown, and I didn't want that to be the full focus of the event," Heinold said. "I want it to be on other things, like [fundraising for] St. Jude, or just the competition. When people were thinking of Ledgestone, they were thinking of stroke and distance, and that wasn't the intention."
For 2017, then, Heinold has removed stroke and distance from Lake Eureka – he also said he did not expect the PDGA to grant a waiver for the rule's use, which may have put the tournament's sanctioning in doubt – while leaving the O.B. rope and modifying a couple pars, which he said might not result in a drastic change to scores.
"We're gonna make a couple other tweaks to the course as well, so at the end of the day it may not play any easier," Heinold said. "There just won't be stroke and distance, and it won't be what the pros think is unfair. It'll be a very fair test, but it'll be very challenging."
Heinold also said the tournament will add $50,000 to the pro purse for the second consecutive year, which will bring payouts in line with those of 2016, where the winners in the Open and Open Women's divisions received $7,000 and $2,000, respectively. He's able to do that, he said, with the assistance of presenting sponsor Discraft, as well as by taking advantage of local tourism grants.
"When you're bringing in over 1,000 players, it's a lot of hotel rooms and restaurants and businesses that are doing well," Heinold said.
Aside from big rules changes and big money, Heinold will make other, more subtle modifications to the tournament, which will also serve as the seventh stop on this season's Disc Golf Pro Tour. The Open division will play all four rounds at Lake Eureka, as opposed to two there and two at Northwood. Additionally, the Open Women will split their time between Northwood and Sunset Hills, as Heinold again took player feedback into account.
"Last year [Open Women] played Westwood, which is a great course, but it doesn't do the best in rain so they didn't like playing there because of the conditions," Heinold said. "So they'll get to play two very good courses for them."
That flexibility was something 2016 Ledgestone champion Paul McBeth said he appreciated about Heinold's approach to tournament directing, and he thought the stroke and distance decision was the right call.
"It's good because he listened to his players," McBeth said. "That's something they all complained about, and that's really the only thing that was wrong with that course."
Disc Golf Pro Tour Director Steve Dodge agreed that the changes would make the event more well-received.
"I think it's important that the players have a fun and fair experience at the event, and taking away stroke and distance is going to help make that happen," Dodge said.
Catrina Allen, who has won the tournament four years in a row, took her praise of the event further. Aside from the larger payout, she said the tournament's organization and finishing touches — as well as Heinold's leadership — are why she returns.
"I really think Nate is one of the better TDs we have out there," Allen said. "Every year he's trying to do something different. He takes the criticism well, he's always trying to change it for next year…As soon as the tournament ends, I guarantee he's starting to plan for next year."
But first, he has to get through this year. The Ledgestone Insurance Open takes place August 3-6.