Disc golf players, stakeholders weigh in on what qualities the next director should possess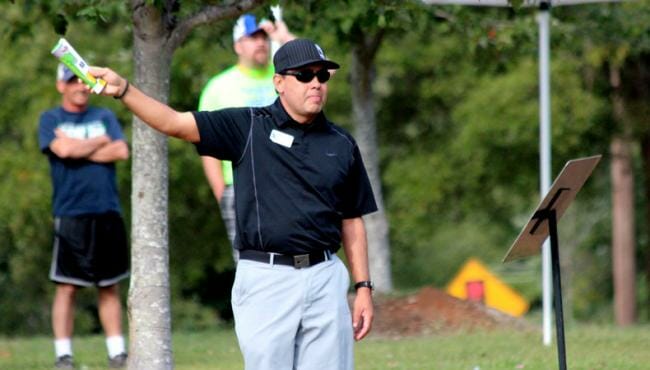 When the PDGA announced Wednesday that executive director Brian Graham would resign effective December 31, it certainly qualified as one of the more surprising moments in a year seemingly filled with them.
PDGA board members, though, knew Graham's departure could be a possibility, and they praised his professionalism through the process while pointing to what the organization has accomplished during his tenure.
"The board actually knew it might be coming," PDGA Board of Directors President Rebecca Duffy said. "Brian was very forthright with us. He was granted an opportunity and he was going through the motions of that opportunity, and finally he grasped that opportunity. He kept the board apprised of everything. He had a great opportunity, and any one of us would have taken it."
Board member Justin Menickelli echoed those sentiments and called the move "bittersweet."
"We were disappointed because he's well-liked," Menickelli said. "But at the same time, we understand."
Graham will take a job as the director of corporate events for Morris Communications Company, an Augusta, Georgia-based media brand that traces its history back to a weekly newspaper that started in 1785 and now holds a dozen daily newspapers, 36 radio stations, and a variety of other publications as assets. He'll take with him a long track record of growth over his decade guiding the PDGA, with membership reaching new heights and organizational reach expanding rapidly overseas.
"Brian has been a great asset to the PDGA," Duffy said. "He has grown the organization, he's worked well with the board…As you can see, the growth records for the PDGA have been phenomenal, and I want to continue that."
Disc Golf Pro Tour Director Steve Dodge, who was a PDGA board member when Graham was hired, also praised Graham's tenure.
"I think Brian shepherded the PDGA through a pretty important phase, and I think — just like Brian Hoeniger before him — a decade is about right," Dodge said. "He did a good job of getting us to this point, and whoever he hands it off to is gonna be in better position because of Brian's efforts."
Who that person is, though, remains to be seen. The board will look for the next hire during what Menickelli said would be an international search not necessarily limited to those within the sport.
"We want someone who's going to be a leader in the field and someone who's going to be good at not just managing the office staff, but good at marketing the sport and growing the sport," Menickelli said. "If we can continue the steady growth of the sport, I think that's important because all metrics point that the sport is steadily growing. I think steady, sustainable growth is important for the sport."
The sentiment that the right candidate might be found outside disc golf was a common theme among those asked what they would like to see from the next executive director. Dodge – who said he lobbied for an executive director to be hired from outside the sport 10 years ago but now admits he was "ahead of his time" — said he would like to see the job go to someone who has been able to bring a niche sport to a wider audience. He also dispelled the notion that he would throw his hat into the ring for the job.
"I don't anticipate doing that," Dodge said. "I don't think the paths – the PDGA is the governing body of the sport, and I'm very focused on growing the pro side of the sport. I don't think I'm a good fit for [the executive director role], but if the PDGA is interested in doing a split maybe I could be part of that transition."
Nate Doss, a longtime touring veteran and three-time PDGA world champion, applauded the work Graham has done and said the decision as to who takes over the role impacts not just top professionals, but all PDGA members. He also said the time might be right for someone who has not been closely involved in the sport to bring in some new blood.
"The PDGA and disc golf…that community is growing rapidly, and I think we really need to focus on looking forward, making decisions for the long term and not just trying to fix the short term," Doss said. "So maybe it's someone who can come in with a fresh pair of eyes and solve those questions that Brian or those before him couldn't."
Sarah Hokom, the PDGA's fourth-ranked women's player, said she hopes to see someone in the role who is "progressive" and unafraid to take risks.
"I'm a bit shocked [Graham is leaving], but wish him the very best," Hokom said. "He did a lot of great things and will certainly be missed. I'd like to see an executive director that is forward-thinking on issues like marketing and gender equity."
United States Disc Golf Champion Jeremy Koling said he has not known a PDGA under anyone else's direction – his career began when Graham's tenure did – but that he was excited by the prospects of the change. He used the same word as Hokom – "progressive" – to describe the sport's current standing and how it was important for the next director to embrace that position.
"Disc golf is growing so fast that a lot of things need to be constantly updated and changed because the sport is evolving so quickly," Koling said. "We are so new that we don't need to be rooted in the old ways, because we don't really have the old ways. Our sport isn't a well-established sport still. We're still growing and still progressing, and we need to constantly progress with it to ensure that we maintain that edge that disc golf has."
Koling also had one more requirement for the incoming director.
"I think it's important whoever they bring in shares the same passion that we have, and that's a very important aspect of who they select as well," Koling said. "We're all excited to see who that person is that steps up and who they go out and recruit, but I'm happy for the progress that Brian has given and I think the next person is in a really good position to take the sport to the next level."