Ulibarri surges into second place heading into today's final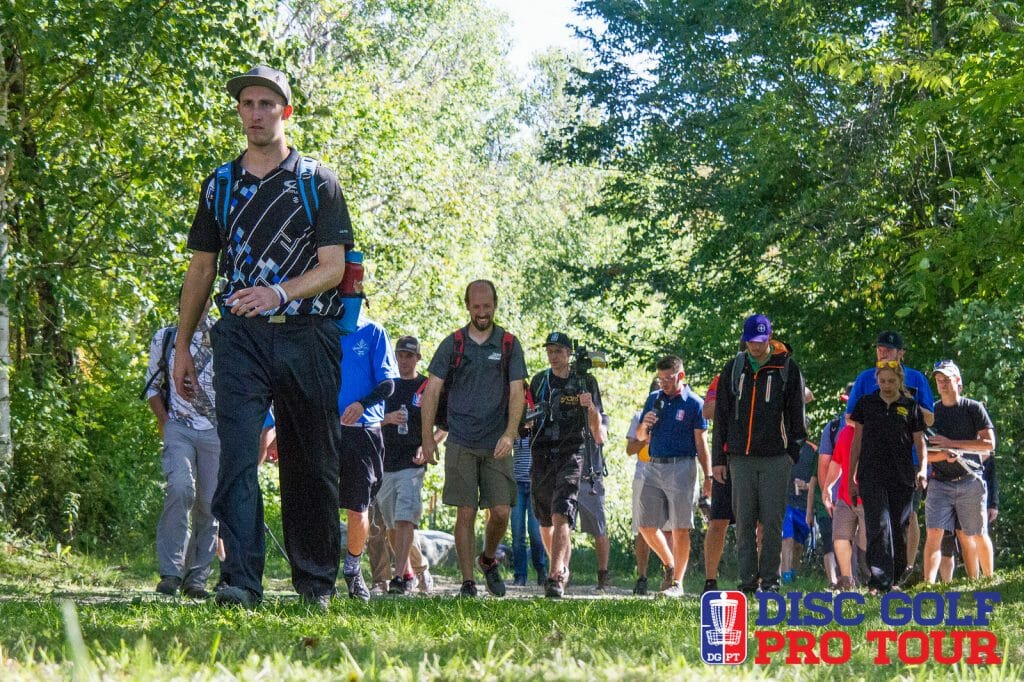 Surprise, surprise.
Ricky Wysocki carded another hot round at the Green Mountain Championship on Friday, extending his lead with an 11-under par 52 at Fox Run Meadows to bring him to a 22-under par 101 for the tournament. Paul Ulibarri vaulted into second place after a 10-under par 53 and sits at 18-under overall, while Jeremy Koling's 7-under par 56 left him in third place at 17-under for the tournament.
Wysocki was one of only four competitors in the MPO field to score a bogey-free round. He hit 94 percent of his putts inside 10 meters and was a mere three missed birdie putts from matching his second round score of 49 from the second round at Fox Run in last year's GMC.
Ulibarri made the jump all the way from the fourth card after recording 12 birdies and only two bogeys. Joining Wysocki, Ulibarri, and Koling on the lead card for the third and final round is Nikko Locastro, who carded an 8-under par 55 and sits at 16-under par for the weekend.
A.J. Risley, Steve Brinster and Eric Oakley also tossed strong second rounds in the MPO field, as all three finished with 8-under par 55s. Risley's score was good enough to put him into the Top 10.
Catrina Allen had by far the hottest round in the FPO field, carding a 2-under par 61 to take commanding control of the lead. Paige Pierce's 7-over par 70 dropped her to second, eight strokes behind Allen, while Sarah Hokom sits in third place after a 3-over par 66. Rounding out the lead card is Valarie Jenkins, who, along with Hokom, is fourteen strokes off the lead after a second round 8-over par 71.
One presumptive favorite at the start of the tournament did not enjoy a full round of success. Paul McBeth's second round got off to an unspectacular start before he righted the ship halfway through.
It took him six holes to card his first birdie—he parred all holes prior—but it was hole 7 where his round took a turn for the worse. Each of his first three throws went out-of-bounds, and he then air-balled his putt and dropped in for an eight. He went on to bogey hole 8 before turning things around by birdieing eight of his remaining 10 holes. McBeth currently sits eight throws off Wysocki's lead.
Other MPO front-runners after round one had an equally challenging day.
Gregg Barsby never seemed to find a rhythm after throwing straight out-of-bounds off the tee on hole one. Nate Sexton moved through the first two holes with ease, but found trouble on hole three. After his forehand roller tee shot was closest to the pin, his roughly 60-foot putt chained out, rolling downhill through densely packed trees behind the basket and into an out-of-bounds area.
Sexton recovered with a birdie and a par on the next two holes, but on the par 5 hole 7 his first two shots went out-of-bounds and he ultimately took a double bogey 7. He managed six birdies to finish the round, but the two subpar holes dropped him back into an 8th place tie.
Michael Johansen also threw out-of-bounds twice on hole 7 to take a double bogey. It was the only blemish on his scorecard, but he was unable to score enough birdies to hang with Wysocki and remains tied for fourth.
As Sexton and Johansen's struggles demonstrated, hole 7 proved to be one of the most challenging for the MPO field, yielding only four birdies on the day.
With play heading back to Brewster Ridge for round three, Ulibarri may have an advantage. His scramble percentage during round one at the same course was 100 percent, while Wysocki and Koling converted on 75 percent of their opportunities. Locastro, meanwhile, had the highest greens in regulation percentage of the group during round one, landing within 20 meters of the pin on 83 percent of his chances.
Live coverage of the MPO lead card for today's third and final round of the GMC begins at 8:30 a.m. local time. Instant scoring updates will be provided by UDisc throughout, with the GMC final followed in quick succession by the beginning of the Disc Golf Pro Tour Championship this afternoon.