New world champ emerges from McBeth's shadow to answer preseason criticism with actions, words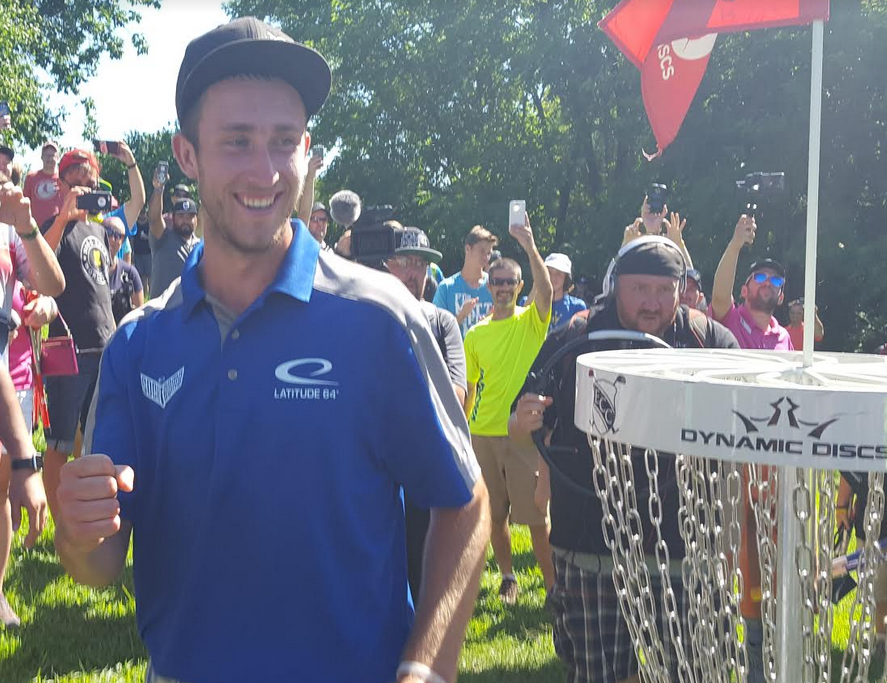 As Paul McBeth won four straight world championships and asserted his dominance over the last half decade of the disc golf landscape, there was never a question as to who the world's best player was. It was always McBeth.
Over the past few years, however, another contender emerged in the form of Ricky Wysocki. After breaking onto the PDGA National Tour scene with a fifth place finish at the 2010 Brent Hambrick Memorial Open, Wysocki truly attacked in 2011 with two second place NT showings and a Major victory at the PDGA Championship. In 2012, he snagged another Hambrick victory and took second at the United States Disc Golf Championships, but was outshone by McBeth's first world title in Charlotte, where Wysocki traded volleys with the eventual champion all week before McBeth pulled away in the semifinals.
2013 saw Wysocki collect three more NT victories, but he never came close to another major, taking fifth at the European Open, fifth at Worlds, and a lowly 23rd at the USDGC. McBeth, meanwhile, won two of those three majors – including his second world championship – and the hearts of disc golf fans worldwide with his penchant for dominance.
The next two years found more of the same from Wysocki, as he racked up close calls at both world championships and sprinkled his résumé with flashes of brilliance, including a Major win at the 2014 Japan Open and a signature victory at the 2015 Vibram Open. Still, he always seemed to be hiding in McBeth's shadow, taking second fiddle while McBeth went on a tear to win yet another world title in 2014 and the "disc golf grand slam" in 2015 by sweeping the majors.
As 2016 opened, it appeared that the year would follow a similar trend, as McBeth rattled off wins at the Memorial Championship and the La Mirada Open to start the season, while Wysocki took sixth and second, respectively, at the events.
Then, something shifted.
The move was more subtle than seismic, but still created a noticeable ripple in the ether. Perhaps it was due to the fact that, as McBeth took nearly a month off of touring, Wysocki pounded the pavement and racked up three confidence-boosting A-Tier victories. Maybe he finally learned the nuances of the new discs he was throwing as part of his sponsorship with Latitude 64, the company he jumped to at the beginning of 2015.
And while Wysocki has most certainly dedicated himself to his craft by developing a stronger backhand to accompany the deadliest putt in the game, there's no doubt that an extra push came from his closest rival. Much was made about McBeth's assertion in an early season Los Angeles Times feature that "if it's close, you can pretty much count [Wysocki] out," and the controversy lingered through the beginning of the year.
Wysocki played coy about the comments from the outset, saying that they provided motivation but that they didn't alter his focus. And after a dominant week in Emporia, Kansas, that saw him throttle McBeth and the rest of the field to take his first PDGA World Championship, Wysocki further addressed the aftermath of the article with some pointed comments on Ultiworld Disc Golf's Upshot podcast. With a world title now in his back pocket, he didn't hesitate to lob a shot back at the man he had just dethroned.
"The type of player that I am and person that I am, I'm gonna speak with my actions," Wysocki said. "Obviously I'm speaking with words right now, but up until now I've been speaking with my play. That's the best way to handle situations like that.
"Clearly [McBeth's] not that type of player, but I'm the type of player where I don't have to say anything to you," Wysocki continued. "I'm just gonna show you and prove you wrong just by how I play, and that's exactly what I did and what I'm gonna continue to do."
And if that answer didn't provide enough of a response to any questions about Wysocki's resolve in the clutch, look no further than this season, where he came into Worlds on a four-tournament winning streak that included a one shot victory over McBeth in regulation and another win over Nate Sexton in a playoff. He's now won 12 tournaments in 2016, including the sport's most prestigious event.
His current play, combined with a newfound swagger, paints the full picture: Ricky Wysocki's ascension to the top of disc golf's mountain is complete. He now stands tall as the best player in world.