Locastro gets hot, while Allen retains FPO lead.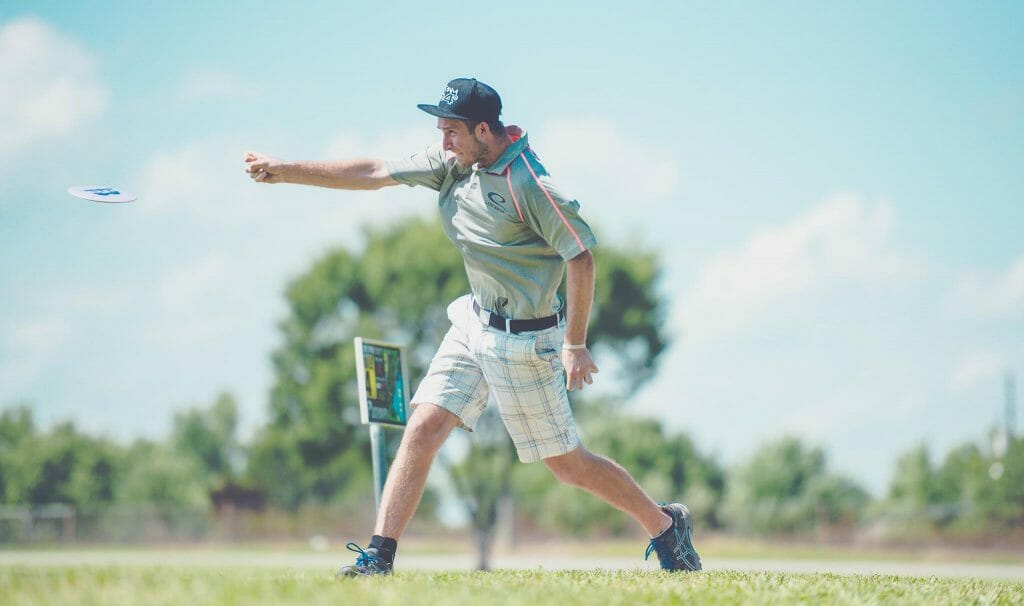 EMPORIA, Kan. – On a day when Ricky Wysocki's hot round put him squarely in the spotlight, a delayed two-stroke penalty assessed to defending world champion Paul McBeth added an unexpected twist to the second round of the PDGA Professional Disc Golf World Championships.
Wysocki's 13-under par 48 at Jones East Park on Wednesday vaulted him into first place with a 27-under par 95 total, while McBeth's 9-under par 52 initially put him into second place at a 24-under 98. Nikko Locastro, meanwhile, fired off an 11-under par 50 to move to a 23-under 99 after two days of play.
During the middle of round two, McBeth notified PDGA officials that he may have played Hole 7 incorrectly during round one after sailing his approach shot out-of-bounds without landing on the island green. The Jones East course notes state that any out-of-bounds shots that do not come to rest on the island must be played from the last spot at which the disc was in bounds. McBeth, however, played his shot from within one meter of where it was marked out-of-bounds, per standard PDGA out-of-bounds rules.
As a result, McBeth was assessed a two-stroke penalty after round two under PDGA rule 803.03D for misplay, bringing his total to a 22-under par 100 and dropping him to third place overall.
"If you don't make the island safely, you have to play it from the other side [of the peninsula]," McBeth said. "I played it from where it went out because that's where it was marked. And I heard quite a few people played it that way, so hopefully they own up to their mistakes as well."
The PDGA could not be reached for comment before press time.
The penalty extended the lead for Wysocki from three strokes to five, on a day in which he notably played more placement-style golf yet managed a stretch of eight straight birdies from Holes 4 through 11. He said the conservative approach was a calculated strategy.
"Just playing my own game — I talk about that a lot — but especially in the lead group," Wysocki said. "And everyone throwing different shots, and some people throwing more aggressive shots than others…I just stuck to my game plan throughout the whole round."
Wysocki also deftly navigated misfortune, recovering from an out-of-bounds tee shot on Hole 13 that resulted in a par by carding a birdie on Hole 14. When his putt for birdie on Hole 15 missed high and skipped into the adjoining road, he calmly cleaned up his bogey, then closed play with three straight birdies.
"I had a few hiccups, but overall I was happy with my score and obviously I'm happy with being in the lead," Wysocki said.
Locastro, meanwhile, also showed an ability to handle adversity. After missing a putt for birdie on Hole 1, he settled down to birdie four of the next five holes. When he missed his bid for eagle on Hole 6, he vented his frustrations and scored three straight pars before rattling off seven consecutive birdies from Holes 10 through 16.
"I slipped up a little bit, but I regained focus," Locastro said. "I was really feeling my game."
Though he acknowledged his play has been inconsistent this season, Locastro said his self-confidence was boosting his performance in Emporia this week.
"I know I can do it this year," Locastro said. "I've been practicing. I've had a couple tough tournaments, but it's made me want it more. I've put in a good run at a few World Championships. I really think this could be my year."
Devan Owens tossed a 9-under par 52 to bring his total to 20-under for the weekend, which puts him on Thursday's lead card alongside Wysocki, Locastro, and McBeth. Eagle McMahon's 19-under par puts him into fifth place overall, while Drew Gibson and Cam Todd are tied for sixth at 18-under. Will Schusterick and Bradley Williams carded 10-under pars on the day and are in a nine-way logjam for eighth place.
In Open Women's action, Catrina Allen still leads after her 1-under par 62 at the Emporia Country Club brought her to a 6-under par 114 total through two rounds of play. Sarah Hokom's 1-under brought her into a second place tie with Paige Pierce, who sits at a 3-under par 117 total, while Valarie Jenkins threw a 1-over par 64 to bring her to a 1-under par 119 total. Katka Bodová, Lisa Fajkus, and Jennifer Allen are all tied for fifth at 2-over par.
Open play moves to the Emporia Country Club for Thursday's round, with lead card action teeing off at 2:30 PM local time, while the Women's Open lead card hits Jones East at 12:50 PM.