We break down all the MPO contenders heading into this week's showdown in Kansas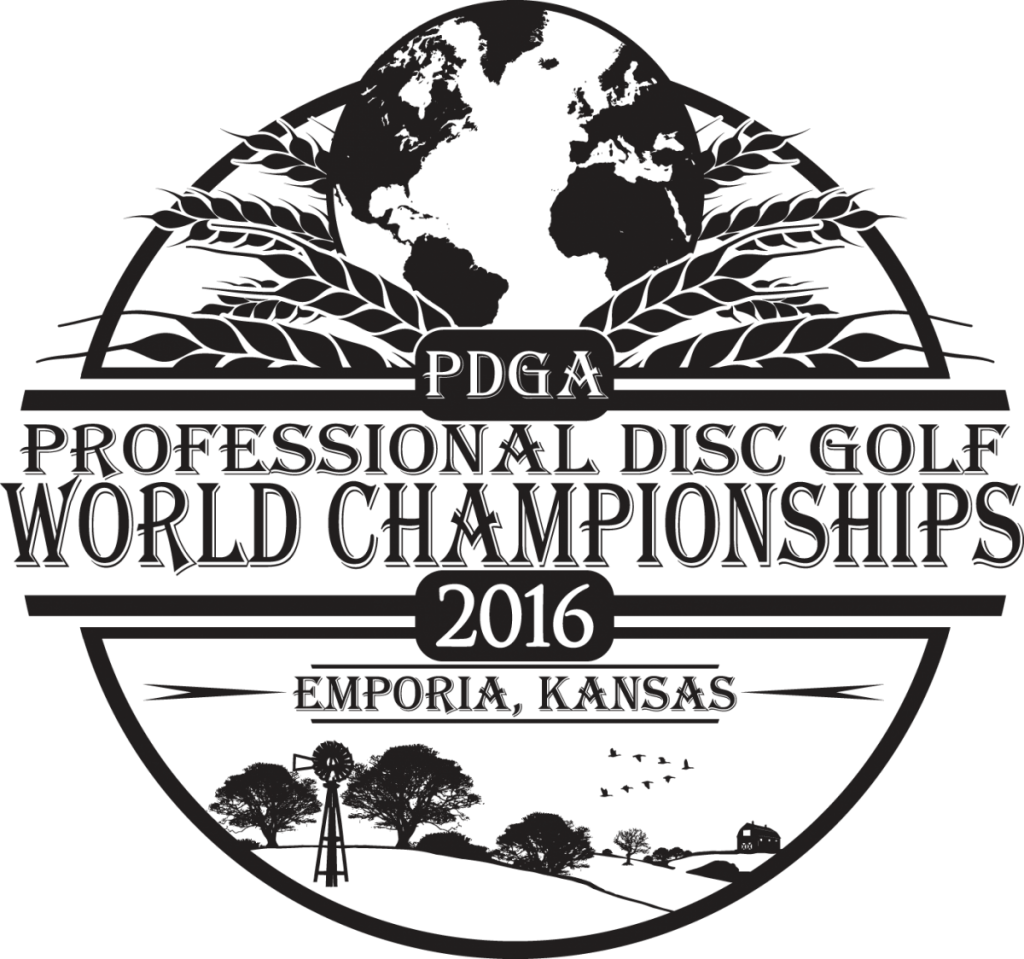 It's the most wonderful time of the year: The PDGA Professional Disc Golf World Championships kick off tomorrow in Emporia, Kansas, with the cream of the disc golf crop descending on the Midwest to decide who will walk away with the sport's most prestigious honor. It's a marathon event comprised of five full rounds and a Final 9, with Open players tackling the 8,035-foot, Par 61 Jones East Park and the 9,712-foot, Par 63 Emporia Country Club over the course of five days.
While there are obvious favorites, these courses – which also host the Glass Blown Open, now an annual staple on the PDGA National Tour – have lent themselves to some surprises. To wit: Since graduating to A-Tier status in 2008, there has only been one repeat champion at the GBO, with Will Schusterick taking back-to-back titles in 2012 and 2013. That makes eight different champions in nine years.
Worlds, though, isn't an A-Tier. It's a showcase of the sport's finest, which is why Paul McBeth enters the event as the defending world champion four years running. While he's experienced an inconsistent season, by his standards, he's displayed an ability to turn it on late in tournaments, which bodes well for his prospects in a longer event. Ricky Wysocki, meanwhile, has come in second two years in a row at Worlds and has put together his strongest season to date.
But what about the rest of the field? Glad you asked. The Ultiworld Disc Golf staff – editor Steve Hill, staff writer Alex Colucci, and metrics and research analyst John Klimp – collaborated to rank the players coming into the event and break down the field into three tiers: Lead Card Contenders, those players we expect to be within striking distance of the podium; Chase Card Contenders, who we expect to challenge the leaders; and Best of the Rest. Each writer will give his take, as well as where he agrees or disagrees with the rest in our Round Table Preview. Buckle up and enjoy the ride.
Lead Card Contenders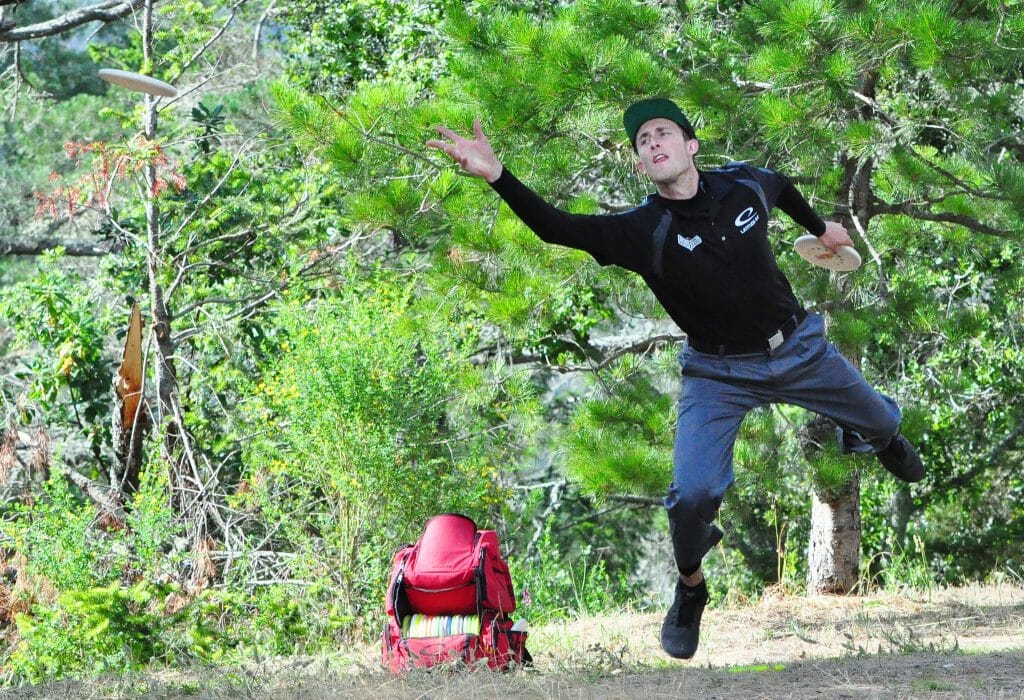 Ricky Wysocki Consensus Ranking: 1
Ultiworld Disc Golf Editor Steve Hill (SH): If Latitude 64 were looking for a name for a new Ricky Wysocki signature disc, they couldn't do much better than Momentum. That capacity to keep things rolling has been the 23-year-old's calling card this season – see his current four-tournament winning streak, for example – but he's also developed the uncanny ability to tip it back in his favor when it seems like it might shift elsewhere. That knack for stemming the tide after a bogey, or recovering soundly from an out-of-bounds shot, has led him to Emporia, where he finished second at this year's Glass Blown Open. It may not be fair, but Worlds is Wysocki's to lose. He's our unanimous favorite to take home the title.
Staff Writer Alex Colucci (AC): Wysocki has been the best disc golfer this season; I don't think anyone can produce a cogent argument otherwise. He's won plenty of big tournaments in every way imaginable: running away from the start, coming back from a rough start, and executing for the win in close contests, including playoffs. Plus, he's made so many big-time putts at the end, I've lost count. He's only lost five of the fifteen tournaments he's entered, finishing a close second in four of those five. Competing in fewer total events and concentrating on the bigger tournaments – with Worlds having the utmost priority – has been one of the elements Wysocki has credited for his success this season. The Emporia courses seem to play to his strengths: He's got the distance and versatile upshot abilities to have success and the hottest putting stroke around at the moment. All the evidence points to Wysocki finally not finishing in second at the World Championships.
Metrics and Research Analyst John Klimp (JK): 2016 has been Ricky's year. He's leading the tour in birdie percentage as well as SVEP  – strokes versus elite players, a measure of how player's scores compare to other top players rather than par. He's neck and neck statistically with Paul McBeth's performance in 2015, and has eclipsed him in Bogey Recovery and Bogey Recovery Plus, a preliminary measure of mental game.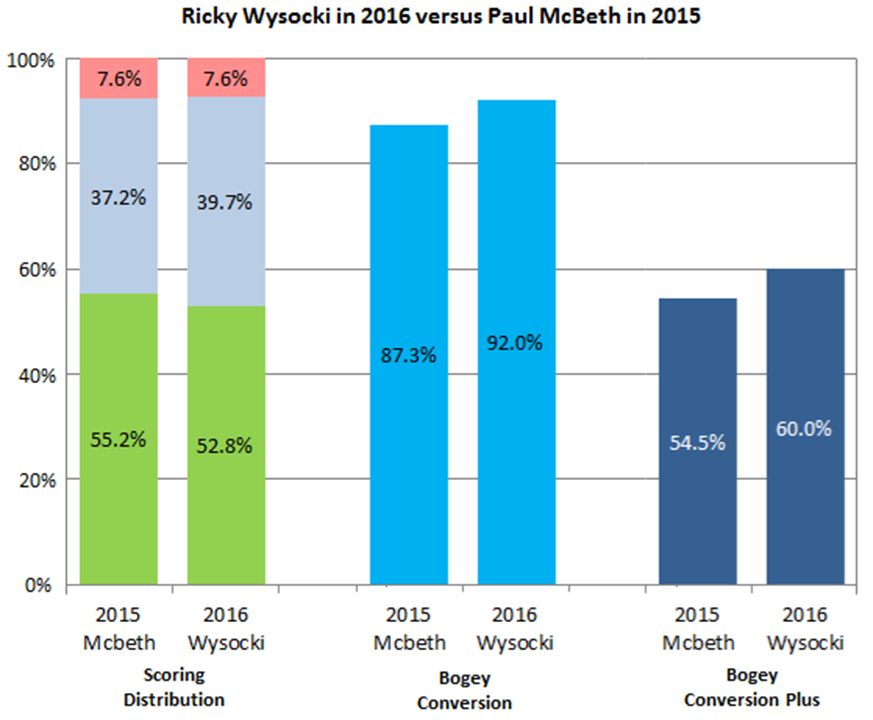 Ricky isn't coasting into worlds by any means. The chart below shows his Round SVEP throughout 2016, and after a slight decline he is charging into Emporia. Any SVEP over 1 is incredible, so his drop from 3 to 1.5 isn't catastrophic by any measure. It means he was still beating players with 1010 ratings or higher by 1.5 strokes per 18 holes.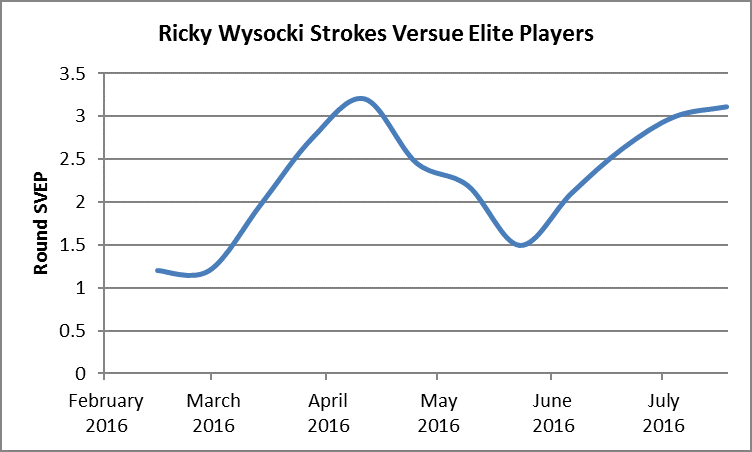 Ricky is the only player on this list who has never played a round rated below 1000 in Worlds. Like many players, Ricky has suffered from falling off after his third round, but in 2014 and 2015 Ricky didn't fall victim to marathon golf. Individual rankings: Steve 1, Alex 1, John 1
Paul McBeth Consensus Ranking: 2
AC: It's safe to say Paul McBeth hasn't been his usual self in 2016. Injuries have seemingly slowed him down, yet he still owns the highest rating of any disc golfer and – besides a 12th place finish at the Vibram Open – hasn't finished worse than third at any NT. One of the more uncharacteristic aspects of his play this season is his relative inaccuracy off the tee. At the Masters Cup he had difficulty playing the wind during the final round at the golf course, and at the European Masters he struggled with accuracy from the tee and from the fairway on longer par 4s and 5s. The GBO found him going out of bounds at a number of critical points during the final round, allowing Cam Todd to pass him for the win and Wysocki to catch him for a tie for second place.
Additionally, in the past few seasons he's been one of the best putters on tour, but that has also been hit or miss all season. It's strange to see him almost beat himself by allowing other players time to capitalize on his mistakes. This is in contrast to his few defeats last season, where he lost seemingly because he just got outplayed by a hot golfer that weekend (e.g. Michael Johansen at the Hall of Fame Classic, Simon Lizotte at the Ledgestone Open, or Jeremy Koling keeping it in bounds for all four rounds at The Memorial and coming out ahead in a playoff). He definitely still has a chance to win this year; he hasn't won the last four in a row on flukes. If he does win it'll be a close one, as he hasn't run away with a big tournament yet this year.
SH: Can we get the PDGA to make world championship rings? This preview could be a lot more entertaining if we got to talk about McBeth aiming for a handful, or going for a high-five, or some other numerically-based pun. In all seriousness, would anyone be surprised if McBeth turned back into the cold-blooded killer of 2015? For all the talk of him "struggling" this season – and I've been guilty of it, no doubt – he's rarely been out of the mix in the tournaments he has lost, and at the more open-style affairs he has been a staple on the lead card. This strikes me as one of those situations where all of the giraffes are drinking at the watering hole because they think the lion is sleeping, but really he's behind them licking his chops.
JK: In both the Disc Golf World Tour and Pro Tour, McBeth has an inside the circle putting percentage of 92%, which is squarely in the middle of the top players on tour. That's still excellent, but not the McBeth we have been expecting. Even with his current putting stroke, McBeth is trailing in SVEP only to Ricky on the year. Between May and June, his SVEP dipped below 0 (meaning he was scoring worse than the average 1010 player) but has been charging back, a sign that his health is improving and his chances at becoming McBea5t are increasing.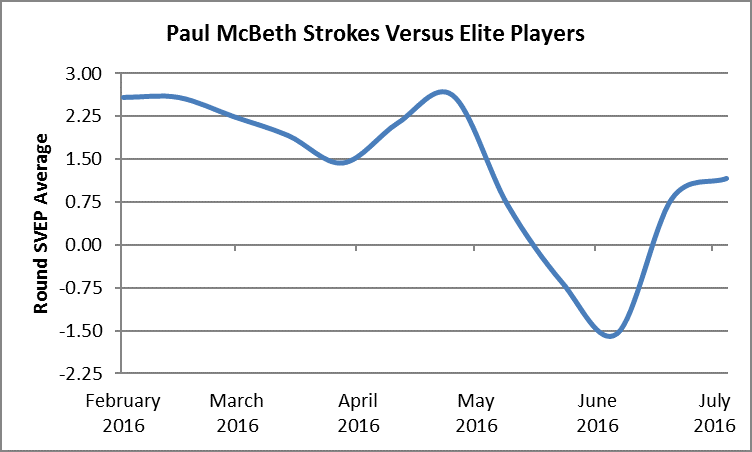 If winning a world title is about playing the rounds of your life, McBeth is certainly capable. In his Worlds appearances he has averaged playing eight points above his rating, which is especially impressive as the highest rated player in the world. In 2010, McBeth peaked during his fourth round, and decreased in rating every subsequent round. Two years later, he had learned the lessons of marathon golf and actually began to play better after the fifth round en route to his first championship. He also did not play a single round below his rating in 2012. Individual rankings: Steve 2, Alex 2, John 2
Nate Doss Consensus Ranking: 3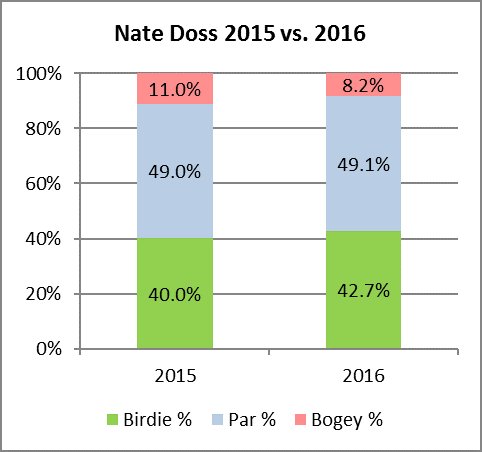 AC: Oh man, look at that: a consensus Top 3 from the Ultiworld writers. Go us! You know that means, right? This is what's going to happen now. It is writ. These three shouldn't even bother playing the first four rounds, just put them right into the Final 9 and let's watch them duke it out for the win there. Anyway, there shouldn't be any question that Nate Doss can hang with the best in the world, because he still is one of the best himself. He's only finished outside the Top 10 at Worlds three times since 2005, and, oh yeah, he's won this three times and finished in the Top 3 an additional three times in that span as well. Sometimes in the past two or three seasons you could question the consistency of his putting, but he just got done chilling in Vacationland brewing beer for the USWDGC; I doubt there's anything clouding his mind and his putt will be on point. I expect to see his neon green Z Predator staying inside the tall grass all week.
SH: It's interesting that you brought up the brewing, Alex, because when I saw that he was skipping out on a couple days of practice, I was shocked. Then I remembered, "Oh yeah, this is Nate Doss, consummate pro." If Doss is comfortable with taking a couple days off of Worlds prep to pursue other endeavors, who am I to question it? Plus, his 2016 season – one win, two 2nds, a 3rd, and only one finish outside the Top 10 – point to his consistency. He has the veteran savvy required for the marathon of Worlds, and wouldn't it be beautiful for him to take a title and be able to ride off into the sunset as a world champion?
JK: Nate Doss has been playing better in 2016. Most importantly, he has replaced some bogeys in his game with birdies, resulting in a two stroke swing. The percentages may seem small, but over a four round tournament this is four fewer strokes for the three-time champ. He's played incredibly consistently in previous Worlds, with the third smallest variability in round ratings. Individual rankings: Steve 3, Alex 3, John 3
Nate Sexton Consensus Ranking: 4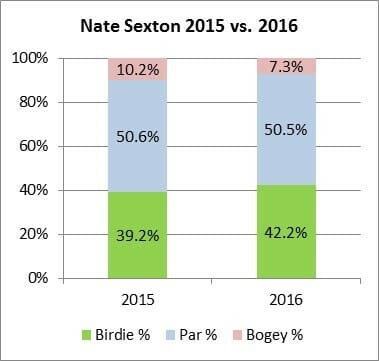 AC: What's the first thing that comes to mind when you think of Nate Sexton the golfer? Many of you probably thought "forehand," or  "putter flips." But the quality that perhaps stands out less than anything we can readily see and hear – but carries as much, or more, significance as anything else – is Nate's propensity for consistent, thoughtful golf. There's perhaps nobody better at working a course and letting the birdies come to them in today's game. You'll rarely see him force a shot, instead preferring to take what is given and move on, just waiting for the next opportunity as he puts himself in the best position he can. Watching Nate play at his best is like watching something be deconstructed into its constituent parts and reconstituted into a new form you couldn't have previously imagined. Just take that first round at The Majestic, for example: Hole after hole, shot after shot, he put himself in the position that gives himself the best chance of success, based on his understanding of his abilities. He plays within himself. He pushed for the win and nearly got it at The Memorial, did the same at the Nick Hyde Memorial, and did it once more just two weeks ago at The Majestic. He's had solid finishes at the GBO for the past two years, and his backhand drive off the tee is looking better than ever. There's no question in my mind he'll be in the hunt for the Final 9.
SH: Plus, does anyone outside of McBeth come into Worlds with more to prove than Sexton after his heartbreaking finish at The Majestic? He's got to have a Dory-like memory (Dad jokes, anyone?) to leave that in Minnesota and not carry it with him to the putting greens of Kansas. While we talk about his consistency, that Majestic performance – outside of the final placing – saw more outliers from Sexton than any other event in recent memory, with the missed putt eschewing his propensity for clutch play and his Round 2 heckling episode running counter to the notion that he rarely goes on tilt. If he's back in form mentally at Worlds, he's easily a lead card contender.
JK: If we gave a "Most Improved" award to players who were already among the best in the world, it would go to Nate Sexton. Just like Doss, he has dropped his bogey percentage and replaced it with more birdies. This change corresponds to five fewer strokes over four round tournaments. Sexton's been heating up with good showings in both Pro Tour events he's played in and will tee off on Tuesday trailing only Wysocki in SVEP for July. Individual rankings: Steve 4, Alex 4, John 5
Eagle McMahon Consensus Ranking: 5
AC: I wasn't quite as high on Eagle as my fellow writers were. Maybe I was considering his relative lack of experience compared to the field? He certainly has played well in Emporia before, placing 4th and 9th the past two years at the GBO. His first season of NT and Major experience in 2015 was really up and down, with a high finish of 9th and a low finish of 66th, and seemingly everywhere in between for the rest. 2016 has been considerably better, as he's five-for-five in finishing in the Top 10 at four NTs and one Major. He's got the game for the wide open spaces of Emporia, but can he put it all together when the pressure is at it's highest? His 10th place finish at last year's Worlds shows he's capable, but can he really push for a Top 5 this year? I'll wait and see.
SH: I'm willing to roll the dice on McMahon, but I understand your hesitation. Early in the season I would have said he was a boom-or-bust prospect, the kind of player who could just as easily finish in 2nd place at Worlds as he could 25th. But his recent play in Europe – on arguably the largest stage he's experienced at the European Masters – shows me the big moments aren't too big for him yet. He's got distance and confidence. Now it'll be a matter of endurance and mental fortitude over the slog of a week of Midwestern heat.
JK: Eagle rightly gets a great deal of credit for his driving distance, but he was also ranked 9th for fairways hits and 1st in inside the circle putting during The Majestic. That will be a scary combination for anyone on cards with the young gun. In his first Worlds last year he played 17 points above his rating to a 10th place finish. He may have been a bit shaken by the lead card last year, but he's been in the Top 10 of every NT and Major this year and has had plenty of time to get used to the pressure. Individual rankings: Steve 6, Alex 8, John 4
Paul Ulibarri Consensus Ranking: 6

SH: Paul Ulibarri has been a grinder all season. He's played 31 tournaments, winning a third of them, and has only finished outside the Top 10 twice. All season. And while he hasn't chalked up an NT or Major victory this year, he has turned in some absolutely scorching rounds at big events and has dominated chase card action throughout. With an increased focus on the mental game this season, he seems poised for a leap at Worlds. Plus, he performs well in Emporia, with 9th, 6th, 4th, and 3rd place GBO finishes to his name. If he gets his putter dialed in, he'll make some noise.
JK: Anecdotally it seems like Paul Ulibarri has been shooting a hot round every other weekend over the last few months. It seems that Uli sometimes falls out of the conversation when we talk about battles between McBeth and Wysocki, but he's second in points and third in cash on tour this year. He's also no stranger to Worlds with two Final 9s under his belt, and he was the 2006 amateur world champion. His mental game will be essential in such a long tournament, as we've seen that he is the least shaken by bogeys of all players on the tour. Paul has cut his bogey percentage in half since 2015, and we may very well see the FPO and MPO trophies pull out of Emporia in the same car.
AC: Uli shows up for Majors, that's for sure. He hasn't finished outside the Top 15 in one since 2013. He's had success at Worlds, too, with finishes of 4th and 7th in the past two seasons, in addition to a 2nd place finish back in 2010. What big tournament hasn't he played in since 2007? Like Steve said, if his putting is on he'll be right up there pushing for a Top 5. Individual rankings: Steve 7, Alex 6, John 6
Chase Card Contenders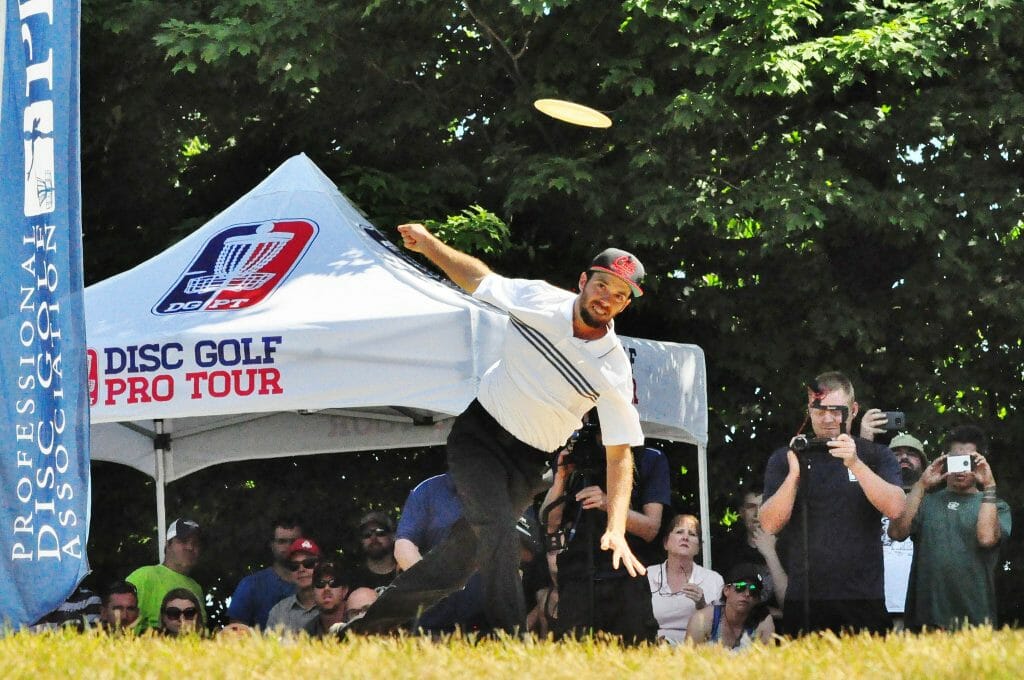 Nikko Locastro Consensus Ranking: 7

JK: The third-highest rated player in the world is a threat to take down any tournament he enters. Nikko Locastro has six Top 10 finishes at Worlds, but if he wants to push for the Final 9 and a possible win he'll need to focus on not peaking too soon, an issue that has plagued him before. In 2013, when he maintained stellar play throughout the tournament, he took a 3rd place finish.
AC: You could characterize 2016 as a bit of a down year for Nikko as far as finishes at NTs and Majors are concerned. But he's a tough competitor and it wouldn't be surprising to see him near the top at some point during the tournament. Last year he was only one stroke away from the Final 9, and his past record at Worlds is nothing to sneer at. He's got the long game to play with the best, but will the putting be there? That's what might hold him back from a Top 5 finish in the end.
SH: Yeah, I honestly don't know what to make of Nikko this season. Maybe it's learning the mixed bag he's throwing, or perhaps it's the competition around him being more consistent than in years past. Whatever it is, I can only describe his 2016 as manic, as his placings seems to fluctuate wildly from one big event to the next. That said, he's due for a ride on the higher side of the spectrum, as his last two events saw 14th and 29th place finishes. Individual rankings: Steve 10, Alex 5, John 7
Bradley Williams Consensus Ranking: 8

AC: Some might say Bradley Williams has come out of nowhere this year. But upon closer inspection – to those not in the know – he's been playing great golf for some time now. Sure, a lot of that has been in B- and C-Tiers in Texas, where he's been dominant, but this season that knowledge of winning as translated to the victories at the NT Vibram Open and the high profile A-Tier Delaware Disc Golf Challenge. Plus, his last two finishes at Worlds were 7th and 8th. He hasn't been rated below 1013 since August 2010, which by my count is six years ago. In the 12 World Championship rounds he's played, none have been lower than 1022 rated, and when he finished 7th in Portland in 2014 he averaged 1040 golf through all seven rounds. That's consistent, and there's no reason to believe that won't continue this year. Perhaps the added confidence of an NT win could see Williams challenge for a Top 5, and a Top 10 seems like as safe a bet as any.
SH: I think Williams might take offense at your calling Texas "nowhere." All jokes aside, I would have been happy to see Williams in the lead card tier here, because I think he's the most realistic threat in this second level of players to be able to challenge McBeth, Wysocki, and the like. There's another point to consider with Williams, though: He didn't play the GBO this year, so he has less experience there in recent memory than most of the field. While some might see that as a disadvantage, I think there is something to be said for coming in with a clean slate this season.
JK: When this season started I wasn't keeping track of Bradley Williams in my database. After he won Texas States in April I ran the numbers for him, and he was in the Top 10 of nearly every statistic. Only Wysocki has recorded a smaller percentage of bogeys in June and July. In the Pro Tour, Bradley is 5th in Circle 1 hits in regulation which, combined with a 90 percent putting conversion rate, is going to give him a lot of looks for birdie. Individual rankings: Steve 5, Alex 9, John 10
Devan Owens Consensus Ranking: 9
AC: Devan Owens has spent plenty of time on the lead card this season, but has only stayed in the Top 4 at the end of a big tournament once: at the GBO, where he finished 4th. The high finish in Emporia earlier this year is working in his favor, in addition to his familiarity with the golf in the Great Plains (he's from Oklahoma). What isn't working in his favor is his recent experience at Worlds: Finishes of 23rd and 47th the past two seasons don't exactly bode well. But, in 2010 and 2011 he finished 10th, and in 2012 and 2013 he ended up 20th and 16th. So, he's done it before, but not lately – finishing inside the Top 15, that is. He's never finished outside the Top 10 in any GBO he's played in since 2010, so this seems like a good year to put all that GBO experience to good use.
SH: Alex is making these blurbs a little too in-depth. Come on, man, leave me something to write about. Oh wait, let's not forget that in those past couple seasons you mentioned Owens was still coming back from a broken leg, and he's a lefty. Lefties automatically get plenty of love in my book (especially when they shred Maple Hill the way Owens did in June). He's got spoiler written all over him this week.
JK: It should be obvious that most top players are consistent putters, but few have shown the consistency of Devan Owens. His inside the circle putting percentage at the Vibram Open of 93 percent led him to a 6th place finish. At Silver Cup, his putting percentage was also 93 percent. During the World Tour? You guessed it, 93 percent. Since 2010 he has averaged playing only 0.14 points from his rating. He'll have to step that up this year, but I expect to see Devan Owens fighting for a Final 9 spot. Individual rankings: Steve 11, Alex 10, John 9
Philo Brathwaite Consensus Ranking: 10

SH: At this point, Philo Brathwaite has already won Worlds. That's how much good his albatross did for exposure of the sport on a mainstream level, honestly. Give the man the world title based on that alone, and hold a real tournament next year. No? OK, at least give him a shout out at the PDGA awards banquet this week in Emporia. DO IT.
JK: Philo has had an exceptional 2016. Albatross aside, he's ranked 6th in both points and cash on tour. No player on this list has stepped up his play in 2016 like Philo. He has nearly doubled his birdie percentage from 2015 and dropped his bogey percentage by 28 percent. He hasn't had his best rounds during the Pro Tour, but he's got four Top 10 finishes at National Tour events this year.
AC: If you haven't seen Philo all over the disc golf internet by now you must not have been paying attention. Like John mentioned, his NT game has been strong, as he's only finished outside of the Top 10 twice in 2016. He's competed at Worlds for nine years straight, though, and only broken into the Top 20 once, finishing 10th two years ago in Portland. On top of that, he's only crested the Top 30 five of the nine times. That's not so promising. I hope he can change things up and bring home another Top 10 this year, because after the season he's had so far it feels like anything outside the Top 15 would be a let down. Individual rankings: Steve 9, Alex 12, John 12
Jeremy Koling Consensus Ranking: 11
AC: My colleagues seem awfully high on Big Jerm for this tournament, but I just don't see it right now. Which is really too bad, because Koling has brought us some of the more memorable moments over the past three seasons, winning two NTs while beating McBeth in dramatic fashion at The Memorial in 2015. He has plenty of experience at the GBO, but in the past four years at Worlds he's only broken into the Top 15 once, finishing 11th in 2012 for his best placement on his home courses. Maybe he'll surprise us and pretend it's just the GBO, but later in the year, and shake off the Worlds pressure and jump into the Top 10?
SH: For me, Koling's ranking has to do more with this tier of players being pretty muddied up than anything else. Sure, his recent play has left a bit to be desired, but he's the only player in the middle of the pack here who has even sniffed McBeth and Wysocki the last couple years at big events, so he gets a bump there. These courses may not suit his preferences, as they aren't wooded like his North Carolina tracks, but he can drive with the best of them.
JK: Since 2010, Koling has finished between 11th and 20th at every Worlds and will certainly be gunning for his first Top 10 finish this year. Jerm played five points below his rating at Worlds last year and still managed to finish in the Top 20. Every other year he has exceeded his rating during Worlds, and if he can do that again this year he can easily be on lead and chase cards all week. Individual rankings: Steve 8, Alex 15, John 11
Steve Rico Consensus Ranking: 12
AC: Steve Rico has only finished outside the Top 10 twice in the last 11 years competing at Worlds. That's as consistent as it gets, but he's still chasing a win, and his last Top 5 was a 5h place finish in 2005. He's really backed off of the big tournament scene this season, so maybe he's a bit rusty? I wouldn't be surprised to see him back in the Top 10 when it's all said and done, but since we haven't seen much of him this year, I think a more conservative estimate of a Top 15 finish is where it's at.
SH: And honestly, that Top 15 finish might be too generous of an estimate. In trying to extrapolate Rico's recent game to how he might perform in Emporia, look no further than The Memorial, where he placed 43rd overall, or the final round of the Masters Cup. Yes, he was 6th overall at the end of the event, but his 58 during the final round at the DeLaveaga Golf Course was seven off Wysocki's winning pace. Still, he has veteran experience, and that is a huge plus over a week-long tournament.
JK: Like Alex mentioned, consistency is the word for Steve Rico. Of all players in the rankings, Steve has the lowest variability in round ratings at Pro Worlds events. He hasn't cracked the Top 4 since 2004, but since that time he has only finished out of the Top 10 twice (2011 and 2012). He has the additional privilege of the lowest PDGA number on our list, so his experience is playing Worlds events is going to come in handy. Individual rankings: Steve 14, Alex 14, John 8
Steve Brinster Consensus Ranking: T-13

AC: Hmm, here's another pick I couldn't quite figure out from my colleagues, who picked him 14th and 17th (I ranked him 7th). Maybe they're looking at his record in 2016 and saying to themselves, "Ho hum, he's only played in two NTs so far and no Majors with a high finish of 16th at The Memorial way back in March." Well, Steve and John, let's see what he did just last year. [Peruses 2015 PDGA page] A-ha! Just like this year, middling finishes at handful of NTs and Majors – yep, looks just about right. Let's go further down the list. Oh, look at that, guys! Fourth place at Worlds in 2015, and then 8th at USDGC! No small feat there. Oh, and what's this? He hasn't finished outside the Top 10 at Worlds since 2009? Woah. Oh, wait there's more: He's the only person whose name isn't Paul, Will, or Ricky to have won an Open Major since 2012. Now I'm beginning to convince myself I should I have picked him 5th! I bet you both my old, beat up DX Wolf he finishes in the Top 10, easily.
SH: You're clearly gunning for that Steve Brinster Fan Club presidency, Alex. I'll give you the history, and Brinster is no doubt a solid pro and could very easily snag a Top 10 placement. I'm dubious that he will this year, though, because of the Emporia courses. His last two Worlds that you mentioned – in Pittsburgh and Portland – featured the wooded fairways he's accustomed to, but how we he handle the Kansas hyzerfest? Still, he's seasoned, and his 2013 USDGC title proves he can perform in the spotlight, so maybe you're on to something, after all.
JK: Brinster doesn't play enough events to have detailed metrics available, but he is the seventh-highest rated player competing this week. Beyond that, he comes to Worlds with victory in mind, with four Top 10 finishes in the last six years. Individual rankings: Steve 17, Alex 7, John 14
Gregg Barsby Consensus Ranking: T-13
SH: Disc golf is better when Gregg Barsby is on the lead card. He brings an infectious enthusiasm to the course, and that jovial spirit is a key to his success during the heat of battle. It seems as if the fatigue of a long stretch on the road may be catching up to the California native, though, as he only has one Top 10 finish – 9th place at the B-Tier Red, White, and Booom event – since the Beaver State Fling.
JK: Gregg didn't play Worlds last year, but in 2014 marathon golf was no problem for him. He played 32 points above his rating and finished off the tournament with a 1061-rated round to land him a 10th place showing. Gregg came back from injury just after the Glass Blown Open this year, and he hasn't played the GBO in the past, either, so he won't have the familiarity with the courses that some have. Individual rankings: Steve 12, Alex 13, John 13
Best of the Rest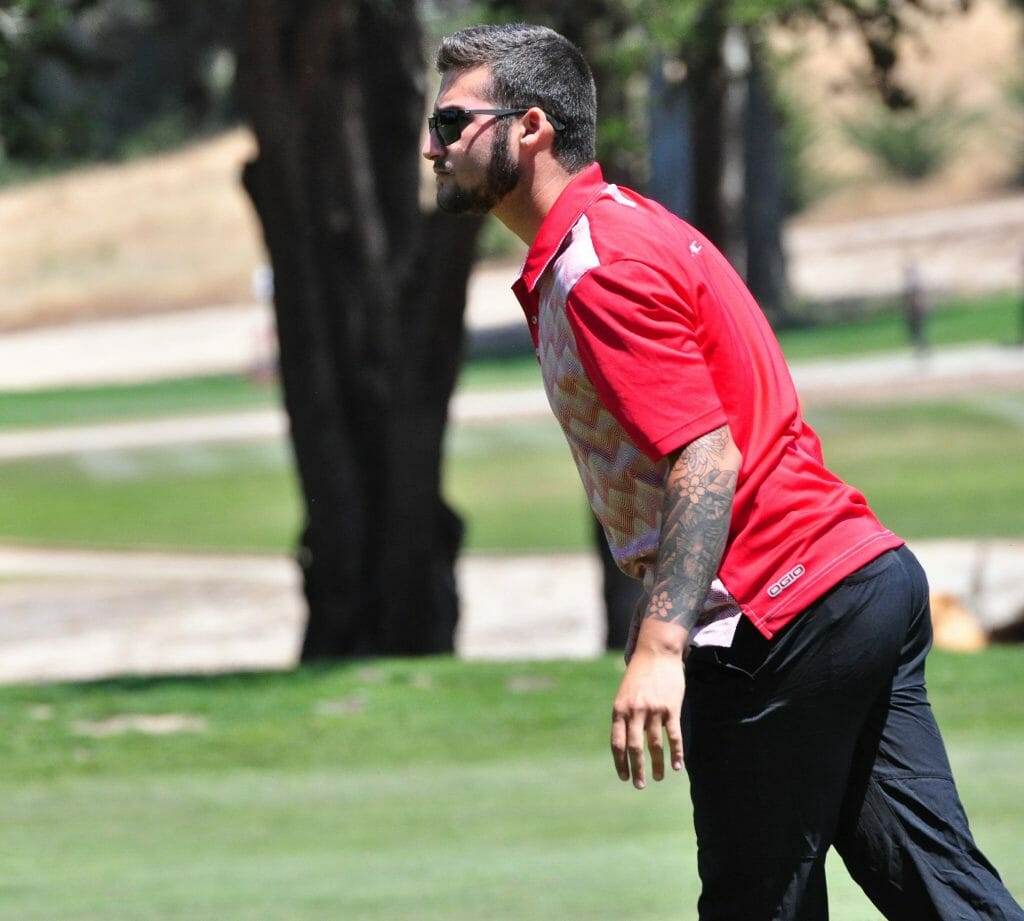 Barry Schultz Consensus Ranking: 15

SH: It's an interesting turn to see the wily two-time world champion (circa 2003 and 2004) jousting with the young pups in Open. His rating doesn't lie, and he'll have the knowledge of his own play needed to not wilt under the pressure. I'd love to see him challenge for a Top 10 finish and shock the world, Cam Todd-GBO-style. Individual rankings: Steve 13, Alex 16, John 18
Zach Melton Consensus Ranking: 16
JK: We've got seven tournaments now this year where inside the circle putting percentages have been calculated, and it seems like 90 to 92 percent is the gold standard for the top pros. At the Vibram Open, Melton had an ICP % of 97, the second highest of the tournament. His putting wasn't quite as on fire during World Tour events, but he was Top 10 in green hits. If he can put those two together he may surprise a lot of people.
SH: And wouldn't that be fun? Bearded lefties are always a pleasure to see play, but Melton will need to kick his recent slow performances to the curb if he wants to contend. Individual rankings: Steve 18, Alex 17, John 15
Matt Orum Consensus Ranking: 17

AC: Going back to 2005, Orum only finished outside of the Top 10 four times in all of his 11 attempts at Worlds, and frankly three of those four times seem like he just had a bad week. Take out those three events, and his average finish is well inside the Top 10. He has years of experience in NTs, Majors and a solid finish at this year's GBO to hang his hat on. Sure, he doesn't get out to that many events compared to most top pros, but there's no doubt he's still a solid golfer.
SH: You definitely like those guys who aren't playing much this year, don't you? I'm with you that Orum has his solid GBO performance in his back pocket, but I will be curious to see how he handles a full week of play against a strong field.
JK: Matt had one of his best Worlds finishes last year when he sprinted to the finish line playing better every round after his low Round Four. Only Sexton, Wysocki and Ulibarri can claim lower bogey percentages than Orum this year, and avoiding fours is going to be crucial in pushing for another Top 10 finish. Individual rankings: Steve N/A, Alex 11, John 19
Drew Gibson Consensus Ranking: 18

JK: Drew Gibson has the distance and accuracy to do well in any tournament. He's also been 93 percent from inside the circle this year and is ranked 11th in the World Tour's ranking of outside the circle putts per round. Drew is just shy of a birdie percentage of 40 percent, which is what separates the elite players from the rest, but he is well on his way to exceeding that. Just two years ago he was at a birdie percentage of 30 percent, and he's a player to look at for this year and all Worlds for the foreseeable future.
SH: Will Gibson's youth be a help or a hindrance at Worlds? He should arguably have the physical fortitude for the event, but the mental game is where it counts. He does enter Worlds after winning a B-Tier last month and has continued to make some noise on the Pro Tour. He may not have the seasoning for a Top 10 finish, but Top 20 should be a lock. Individual rankings: Steve 16, Alex N/A, John 20
Eric McCabe Consensus Ranking: 19
JK: I think Eric McCabe is a real wild card on this list. EMac hasn't cracked the Top 20 at Worlds since his 6th place finish in 2011, but it's easy for me to imagine him finishing anywhere in the Top 20 this year. He's got two Top 10 finishes in National Tour events, this year including 9th at the Masters Cup. Last time EMac took 9th at the Masters Cup was in 2010, when he went on to win a world title.
SH: Do not sleep on EMac. He may not be the tour de force he was in his prime, but he's got something no other player does this week: home field advantage. He has reportedly been shooting in the 40s at Jones East during practice rounds for the last month, and his local knowledge will give him a huge edge if the weather turns. John mentioned Top 20, but I think he's a sleeper for Top 10. Individual rankings: Steve 15, Alex N/A, John 21
Cam Todd Consensus Ranking: 20
JK: Staying neck and neck with Paul McBeth and taking the win at GBO in April make Cam Todd a shoo-in for this list. He's also been putting at the high end of pro players, hitting 92 percent from inside the circle during the Pro Tour. He hasn't put it together lately, but he logged four straight Top 5 finishes from March to May.
SH: Plus, he's a world champion, taking the title in 2001. He's got to have plenty of confidence after his GBO win, and it's always a plus to show up the younger players on the card. Individual rankings: Steve 22, Alex N/A, John 16
Don't Forget About…
Will Schusterick, Dustin Keegan, Miles Seaborn, Zackeriath Johnson