Wysocki shoots hot round to move into second, while Hokom extends FPO lead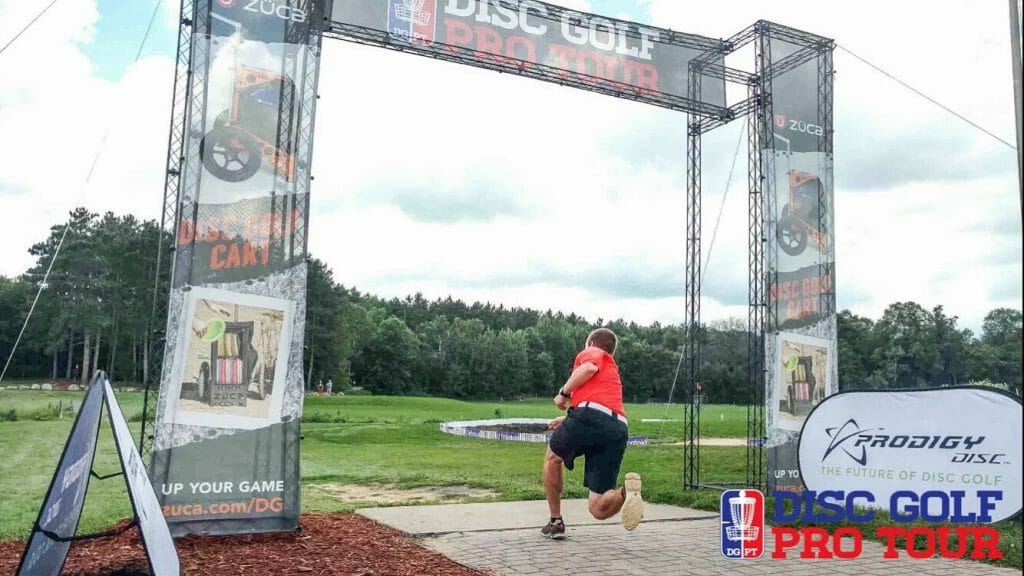 It wasn't another record-breaking performance, but Nate Sexton held on to the lead after Round Two of The Majestic on a day in which the course wasn't his only challenge.
Sexton's 8-under par 65 brought him to a 25-under par 121 through two days in Minnesota, giving him a two shot lead over Ricky Wysocki, who caught fire en route to a 14-under par hot round. Cale Leiviska (-13) and Eagle McMahon (-12) will comprise the rest of today's final round lead card, as the two are tied for third place at 22-under par 124s. Bradley Williams, Alex Geisinger, and Dutch Napier are all tied for fifth place at 20-under par, while Nate Doss rounds out the chase card at 19-down.
Unlike the smooth sailing he experienced in Round One, Sexton's Saturday at Blue Ribbon Pines constituted a turbulent affair from the start. After a birdie-birdie opening that made it look like he was primed for a re-run of Friday, Sexton parred Hole 3 and then struggled off the tee on Hole 4. After finding trouble on his second throw, a spectator shouted at him from the gallery, and Sexton went uncharacteristically on tilt.
"I threw my shot and hit a tree pretty early and kicked down. So a pretty pathetic shot," Sexton said. "Then a guy, somebody in the crowd said…'soft course, my ass!'"
Sexton said the spectator's heckling was in reference to his post-round comments from Friday's live Disc Golf Pro Tour broadcast, in which he mentioned that he felt the course was playing too easily for a championship-level tournament.
"He's a local, I'm sure, and he thought 'Oh, this guy's bagging on our course,' but I thought I was pretty diplomatic about it with [broadcast host] Terry [Miller]," Sexton said. "I was saying it's a great property, I love this place. I would just like to see high caliber pro events – there shouldn't be a 17-down out of 22 holes. I know I played awesome, it was the best round I've ever played maybe. Even so, I just want to see a tougher, longer setup."
Sexton – who described himself as "not a confrontational guy" – entered the gallery to call out the offender, who did offer an apology. The conflict, Sexton admitted, affected his play for the next four holes, and his scorecard supported that claim as he carded a bogey-double bogey combo on Holes 4 and 5 before settling down.
"It was my fault, I let it get in my head," Sexton said. "It makes me real uncomfortable when I know somebody's mad at me, or just [when there's] that tension. I'm not good at just ignoring that and playing through it. It cost me some shots, which is on me. I've got to be ready to deal with whatever. It was a first for me, I've never really had anybody yell something out at me in the middle of my round."
Sexton shook off the exchange, birdieing Holes 10-14 and 20-22 to finish on a high note. And while he said he held no ill will toward the spectator, he lamented that the heckling even occurred.
"It's something that can't be tolerated," Sexton said. "In ball golf or something I'm sure they've dealt with that and people will get thrown out. We don't quite have that power just yet, where it's like people pay for a ticket and we've got a security dude. But maybe someday [that will happen], because clearly we can't stand for that kind of thing happening to players in tournaments."
In the Open Women's division, Sarah Hokom opened up a six throw lead over Catrina Allen with a 1-over par 74 during Round Two. Despite carding more birdies than Hokom on the day, Allen's 6-over par performance was marred by a quintuple bogey 9 on Hole 12. Lesli Todd's 2-over par day moved her up to third place overall, while Lisa Fajkus and Zoe Andyke are tied for fourth entering today's final.
Live coverage of the final round begins today at 2:45 p.m. Central on the Disc Golf Pro Tour website, with live statistics being provided by UDisc.