There's more to the young professional than a big arm and accolades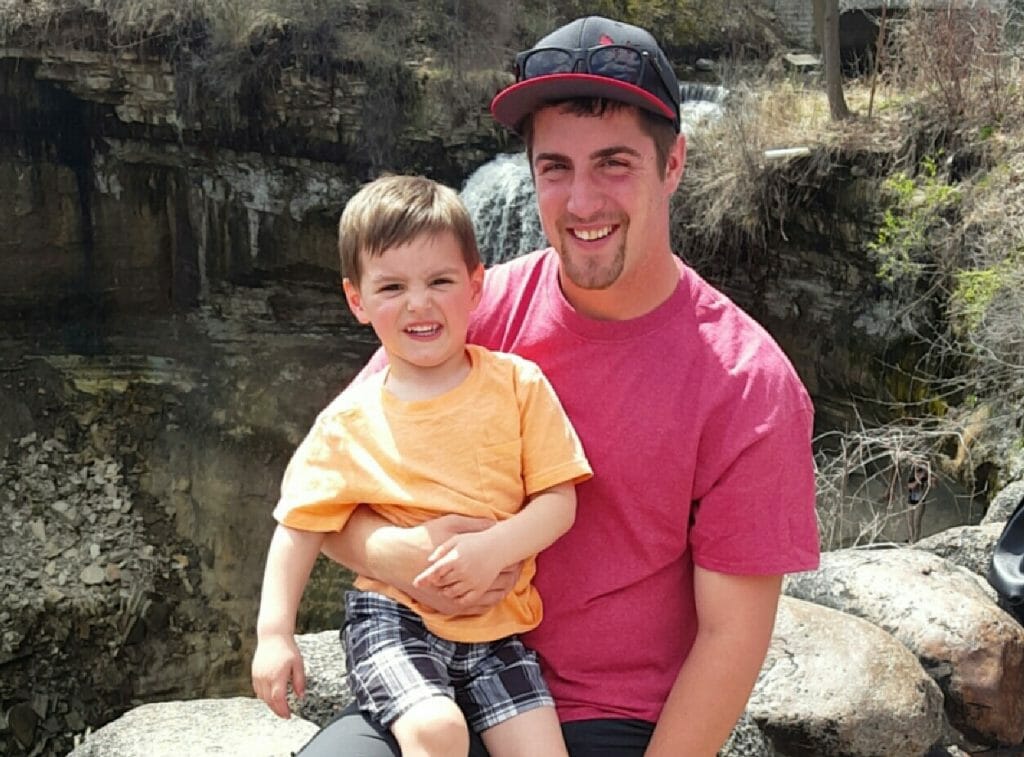 Standing at 6'3" and 225 pounds, 24-year-old Alex Geisinger is a monster of a man. The Minneapolis resident gained notoriety for his driving prowess when he threw farther than Simon Lizotte in last year's distance competition at the United States Disc Golf Championships, but there's more to him than measureables. He is also a dad trying to squeak in as many tournaments as possible.
He doesn't mind, though. To him, being a father to son Owen is far more important.
"I love disc golf, but it's not my life. It's a hobby," Geisinger said. "Owen is always a priority over playing. I wouldn't change being a dad for the world, and it's a big change. It's a lot more responsibility than you can ever imagine. I love watching him grow. It's great."
Owen is now three and a half and has a handful of hobbies himself. He loves to go out on the boat, take bike rides, play with his electric car, watch monster trucks smash cars, and throw any inanimate object he can get his hands on.
"He's pretty sporadic," Geisinger said. "He does something for two minutes and then bounces to the next thing. He doesn't sit still for too long."
Trying to navigate being a top level pro and a dad is a challenge, to say the least. And one person who has seen Geisinger handle the balancing act is his girlfriend, Jessica Gressman.
"I'm surprised, for the amount of time he doesn't get to play, how good he is," Gressman said. "All these [other] pros do is disc golf. And he juggles work, and a kid, and here he is playing with the big boys."
According to Gressman, Geisinger is great with Owen, and they hang out all of the time. Both parents play specific roles in Owen's life, so when one is gone on a trip, the other steps in.
"I live with my parents, so they help me out a lot," Gressman said. "I try and make my work schedule so I can pick him up from day care. He's three and independent, so that makes it easier."
And while Owen has already been known to toss a Frisbee with the best of them, each parent has their own take on Owen's future.
"I'm not going to force [disc golf] on him," Geisinger said. "When I had stuff forced on me when I was little it ended up being the stuff I didn't like, and I don't want that for him."
On the other hand, Gressman thinks Owen will enjoy disc golf as much as his father, and hopefully one day be playing with the pros.
"I think he'll love playing when he gets older," Gressman said. "He likes going with Alex, but maybe not all the time. If there's something else he'd rather do, he'll do that right now. But as he gets older I think he will catch on and love it."
For only being a hobby – a 40 to 50-hour work week in veterinary supply delivery takes the bulk of his time – Geisinger has already amassed a solid rap sheet over his short career. He started in 2012 and came away with a victory in his second sanctioned tournament. In all of the sizeable tournaments – A-Tiers or higher – he's played over the last two years, his worst placing is 22nd at the 2015 USDGC. Over the course of that event, Geisinger was on the lead card and in third place at one point, showing that he not only has an arm, but that he can accurately throw with the best of them.
Then he went quiet until May of 2016. But that's just the way he likes it.
"I love to hit the big ones and make a bang when I'm there, and then disappear for a while again," Geisinger said. "It's the fun part: playing that well, and then I'm gone."
One person who has watched Geisinger grow as a player is Chris Meyer, a veteran and respected member of the Minnesota disc golf community. "Critter," as his friends calls him, has been throwing for 20 years and was sponsored by Discraft for five of those. His current sponsors include Teeboxx and Upper Park Designs.
"I noticed him at Alimagnet league. He was the kid who thought he was going to take down the world," Meyer said. "The next thing you know he was crushing at leagues, but his mental game was off and putting was too hard. Then he slowed it down.
"He's got all the talent in the world," Meyer continued. "It's if you can control your mental game. I watched him win Minnesota Ams a few years ago, and then I knew he wasn't' a fluke. His flick, backhand and putting were solid. I thought, 'If he can control his emotions and roll with the punches, he'll be something to look out for.'"
According to fellow Minnesotan Cale Leiviska, Geisinger has certainly improved in that department.
"He's definitely worked on controlling his emotions well, which is what I've tried to help him with," Leiviska said. "I told him to enjoy the game and understand that people are looking up to him now, and he's a role model to all these kids and people around here in Minnesota. He's definitely taken that into account and improved in all aspects."
And on the occasions when Geisinger is able to take his talents outside his home state, he still puts on a show. He won the Vibram Open distance competition with an accurate drive of 675 feet, and was one of a handful of humans to break the 850-foot barrier at this year's High Desert Distance Challenge.
In calm conditions, however, is where most who know him would say he shines. His best throw on flat ground, with little to no wind, was 810 feet while warming up for the USDGC distance competition.
Just let that one sink in for a moment.
As for now, Geisinger said that he wants to continue to play to his highest ability, but he knows it won't be forever.
"I feel like the next five years are going to probably be the peak of my career," Geisinger said. "And after that, it's going to be family life and real life. I'm still going to play, always, but I'm not going to be going through leaps and bounds to find holes to get to tournaments."
He won't have to go to much effort to find an event this weekend, though: He enters the A-Tier Majestic – which takes place in his backyard in East Bethel, Minnesota – as the defending champion two years running. There will be an all-star cast playing at the infamous Blue Ribbon Pines to battle it out for the title. Will home field advantage work in his favor? Only time will tell.
But if not, Geisinger has something even better waiting for him at home.