Doss gets hot to move up to second, while Hokom comes from behind for FPO victory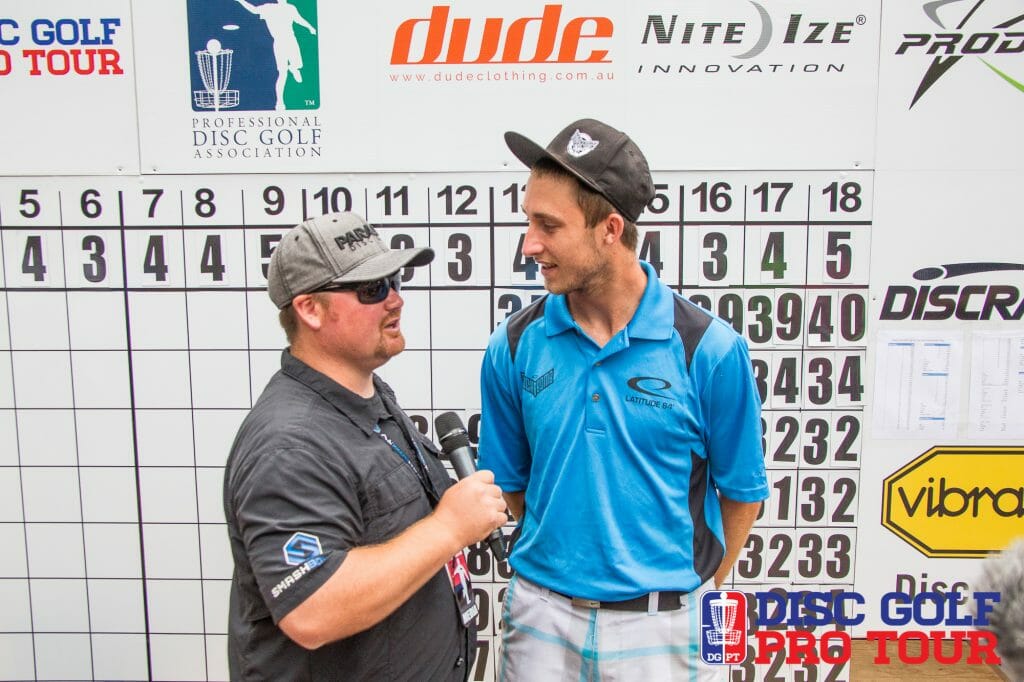 Six holes into yesterday's final round of the Silver Cup, Ricky Wysocki had just completed his fourth consecutive birdie and extended his lead to five throws. His drives were clean, the putter was humming, and by all appearances he was set to cruise to a ho-hum victory and an easy $3,030.
Then he encountered the next two holes, and those fortunes suddenly grew grim.
Lining up for a sure birdie from the edge of the 10-meter circle on Hole 7, Wysocki lofted a putt just over the top of the cage and into the lower portion of the chains. It spit out, opening the door for Allen Hermosillo to gain a stroke on Wysocki, which he did with his own birdie putt.
Visibly frustrated, Wysocki shook his head, tossed his par putt into the basket, and walked straight into more trouble.
Hole 8 saw his first drive kick off an early tree and off into the woods, where it was ruled to have missed a mandatory. He tossed a short forehand roller to make the marker, then proceeded to throw a massive overhand that, again, landed among the trees. He took a knee and tossed another high, long forehand to within 50 feet of the basket, but missed the ensuing putt.
When all was said and done, Wysocki carded a double bogey six on the hole, while Hermosillo took a birdie three. The two-hole, four shot swing left Wysocki with a one throw lead and a 20 minute backup to contemplate his fate.
"I just told myself, I have two options," Wysocki said. "I can either be really pissed off and frustrated about the round, or I can put it all behind me and move forward."
He chose the latter option, responding with a birdie on Hole 9 and adding five more down the stretch to cement the lead and walk away from the Silver Cup with a 40-under par 210 and a five shot victory.
Nate Doss got hot from the chase card, shooting an 11-under par 58 to vault him to a 35-under par 215 on the weekend and into second place, while Hermosillo's 34-under was good for third. James Conrad finished at 33-under to take home fourth place, while Michael Johansen, Nikko Locastro, Alex Geisinger, and Matt Dollar all tied for fifth place at 32-down.
Sarah Hokom closed a two shot margin early and seized the lead late, taking a two throw win over Valarie Jenkins in the Open Women's division with a 4-under par 238 and collecting $920 in the process. Holly Finley (+1), Lisa Fajkus (+8), and Madison Walker (+15) made up the rest of the Top-5.
For Wysocki, the downtime before Hole 9 was a difference maker, he said, as it allowed him an opportunity to reflect and move on from his recent adversity before tackling the rest of the round.
"Putting it behind me really made a difference," Wysocki said. "People talk about it all the time, 'Put it behind you, put the last hole behind you,' but it's a lot harder to actually do it when you're in a spot like that."
It's something he has excelled at this season, as his Bogey Recovery Plus – the amount of time a player cards a birdie or better the hole after scoring a bogey – is at 58 percent, compared to a 52 percent birdie rate in other situations.
The difficult sequence was the only hiccup during an otherwise clean weekend that saw Wysocki lead the event by carding birdies on 56 percent of the Silver Cup's holes. He is now ranked first in the Disc Golf Pro Tour's series standings, positioning him well for an automatic berth into the circuit's semifinals that will put him one step closer to the Tour Championship's $10,000 first prize payout.
Doss, meanwhile, relied on a game plan that found him employing drivers more than midranges off the tee due to the shorter distance of some of the wooded Par 4s at Rollin' Ridge. Instead of having to play placement golf, he said, he was confident enough to take more risks with faster discs to land closer to the basket. His second place standing brought him up to fourth place overall on the tour.
"Sometimes when you only have one chance to see a course, I really do feel like it's better to be more aggressive than tentative," Doss said. "Trying to throw the perfect shot, I think, can become a little more difficult."
It wasn't just the tee shots that buoyed Doss' performance, though. He paced the field by making 64 percent of his putts from 20-meters, which he said was an unexpected development.
"That's very surprising to me, actually," Doss said. "[Besides] the fact that, of course, Ricky was in the tournament – he's a very good long distance putter, and quite a few other players [are too]. I felt fortunate, I did make quite a few longer putts. Had I made those putts out at Maple Hill, I think I would have been more of a factor coming down the stretch."
The improvement in distance putting, while not the norm, was no accident.
"It's something that I've been working on and something I've been trying to be more dedicated to," Doss said. "But I feel like every weekend is its own story that has to be written, and fortunately some of those longer putts did fall for me and that was a huge factor for me as well."
While Doss' tournament tale was penned by measurable physical improvements, Wysocki's was a more cerebral journey. The ability to have a short memory is something he's been working on his entire career and a skill that he says has improved with age.
"I think that me getting older as player, and smarter, I've been in those spots before and a few times I've let it slip away because I've had a bad hole," Wysocki said. "I'll let it affect my whole round, and it eventually will affect my whole tournament. Being on tour for how long I've been – which is like four or five years now – I've learned a lot and I've learned to put that stuff behind me. I think just being in that spot before, and learning from previous times where I haven't maybe put the double bogey or a bad hole behind me like I did today, made a big difference."
Wysocki and Doss will play at the European Masters, a PDGA Major and Disc Golf World Tour stop in Stockholm, Sweden, beginning July 21 before the Disc Golf Pro Tour resumes July 29 at the Minnesota Majestic.