Minnesota native in a four-way tie with McBeth, Doss, and Owens, while Hokom returns for FPO lead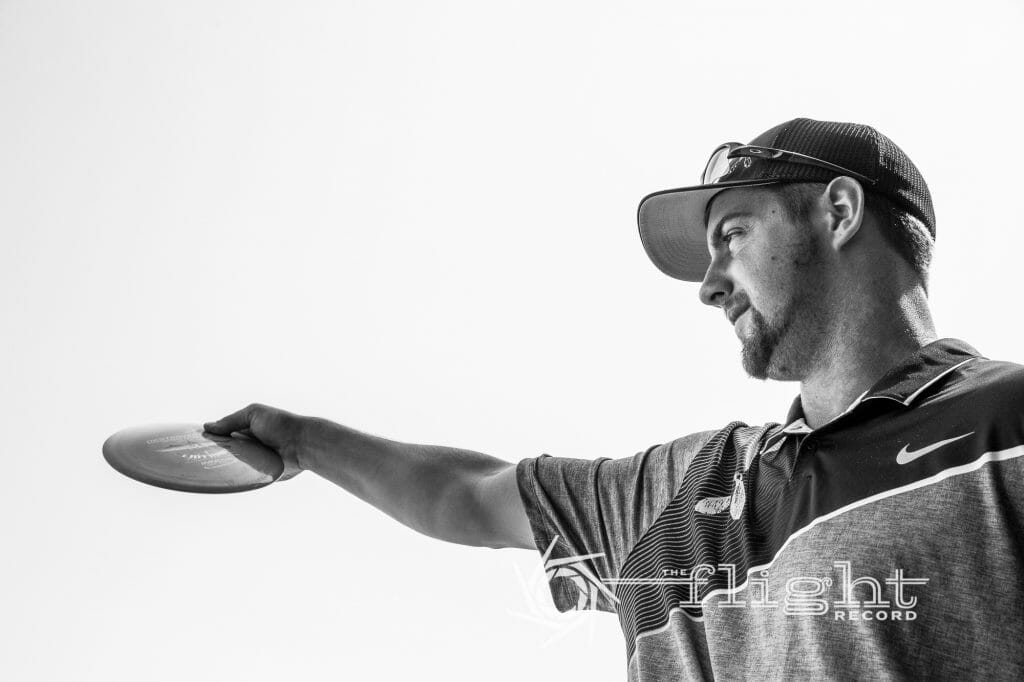 A quick glance at the leaderboard after Round One of the Vibram Open reads like a who's who of professional disc golf, with Paul McBeth, Nate Doss, and Devan Owens sitting at the top.
Then there's Alex Geisinger.
On a day that saw aces seemingly rain from the sky and a return to form for one of the top women on tour, it was the big-armed Minnesotan – playing in his first Vibram Open, no less – who produced the most surprising performance. Riding a clean sheet and a scorching putter, Geisinger carded a bogey-free 8-under par 52 to tie with McBeth, Doss, and Owens for a share of first place heading into today's second round at the Disc Golf Pro Tour's first stop. Scoring separation is slim, however, as 11 players – including Philo Brathwaite (-5), Nate Sexton (-6), and Cale Leiviska (-7) are within three strokes of the lead.
Disc Golf Pro Tour Round 2 Live Stream
For Geisinger, who gained notoriety by outgunning Simon Lizotte for the 2015 United States Disc Golf Championships Distance crown, the showing was fueled by his experience navigating the wooded fairways of St. Paul's Kaposia Park, where he's never lost an event. Still, he understood that his reputation for distance might not make his a name that is synonymous with the lead card.
"I think I probably surprised quite a few people today," Geisinger said. "The course fits my game pretty well. There are a couple holes I wouldn't say I'm very comfortable throwing the shots, but I executed them today. The holes I was actually worried about were the holes I didn't mess up on today."
Bolstered by two long putts from what the Disc Golf Pro Tour refers to as Circle 2 – 10-20 meters from the basket – Geisinger put together a stretch of three birdies on Holes 13-15 that was unmatched by the rest of the field. Those holes played, in order, as the 7th, 5th, and 8th most difficult of the first round. He also canned 89 percent of his putts from 10 meters and in.
Geisinger was not the only player with the hot hand, though. McBeth boasted a 94 percent conversion rate from 10 meters and in, while Owens matched that mark and added in a 100 percent Circle 2 rating thanks to three putts made from long range.
"I caught fire late," Owens said. "I birdied the last three, and two of them were outside the circle putts, or right at circle's edge putts. I made a par putt right at circle's edge on 15, probably like five feet inside, so I definitely had the putter going today."
Beyond the accuracy near the basket, though, Owens attributed his success to staying in the moment.
"I was just very patient today on the course," Owens said. "I wasn't trying to be antsy about anything, or I wasn't trying to think about the next hole. I was just being really patient and taking it shot by shot today. It was one of the easiest days at Vibram, and this is not an easy place at all. I probably shouldn't say that."
McBeth, meanwhile, was looking to clean up some driving accuracy that saw him card two bogeys that he deemed unnecessary.
"I'm not trying to park every shot, I just want to get close and give myself an opportunity," McBeth said. "But when I get O.B. strokes and throw it in the woods, to do that you have to miss your line pretty good…Just bogeys on the par 3s, you can't have those here. It's just giving away strokes."
And while McBeth was giving back some precious shots, others were taking them away, as four players – Bradley Williams, Zackeriath Johnson, Nikko Locastro, and Matt Dollar – aced on the day. The latter three found their jackpots on the 320-foot, water-carrying Hole 8, while Williams struck it rich with an 11x Innova Firebird on the 285-foot Hole 5.
"I filled out this survey about the holes I should get most of the time, and Hole 5 was the one I wrote down on my survey," Williams said. "On the tee there wasn't much wind coming to help my disc get back in bounds, so the only thought was, 'You need to throw this one extra hard, get it in bounds, and get that birdie.' And it just ripped out of my hands hard and flat, and just went straight into the chains."
Perched one shot off the lead heading into today's second round, Williams was aiming to tighten up his lines while enjoying a break from the summer swelter of his home state.
"The lines are a little tighter and the shots are a little longer, but the biggest joy is always getting out of Texas at this time of year," Williams said. "No matter what, it makes golf so much more enjoyable to play in 70, 80 degree weather."
While Williams might not be feeling the heat, Geisinger certainly will be as he steps into the limelight of the lead card. Even with limited National Tour experience and only one tournament round under his belt at Maple Hill, though, he was undaunted, pointing to his time at last year's USDGC as sufficient to prepare him for today's round.
"Your nerves are always going to be there, but I'm not so worried about it," Geisinger said. "I'm trying to have fun this weekend and just play my game instead of putting stress on myself. That's been one of my biggest issues thus far this season, is coming out hot the first round and then I overthink things and I put too much pressure on myself, and then I end up blowing up on some part of the round or the tournament. I'm here to have fun, and what happens, happens."
Further down the leaderboard, defending Vibram Open champion Ricky Wysocki struggled out of the gates, shooting a 2-under par 58 as he battled accuracy problems off the tee. He is tied for 27th place heading into Round Two.
In the Women's Open division, Sarah Hokom returned from a shoulder injury that held her out of the last four PDGA National Tour events in fine form, surging to an even-par 60 performance to take a three shot lead after the first round. Catrina Allen (+3), Valarie Jenkins (+4), Paige Pierce (+6), and Madison Walker (+8) round out the Top-5.
While her Fairway Hit Rate was the lowest of the Top-3 women, Hokom brought a strong showing with the putter and blasted her compatriots in Scramble Rate, as her ability to save par 73 percent of the time bested Jenkins by 33 percent and Allen by 44 percent. Pierce, meanwhile, led the group by converting 94 percent of her putts inside the 10-meter circle.
Round Two Coverage
As with yesterday, SmashboxxTV will live stream the men's lead card beginning at 2:45 p.m. EDT, and you can tune into the action at Ultiworld Disc Golf's front page. Play-by-play and live scoring are available through @PDGALive on Twitter.
Miss yesterday's round? Prodigy Disc Video has edited coverage of the Champions Card – which featured McBeth, Ricky Wysocki, Jeremy Koling, and Antony Cavalieri – available now.