There's no such thing as bad press, but the sport still has a ways to go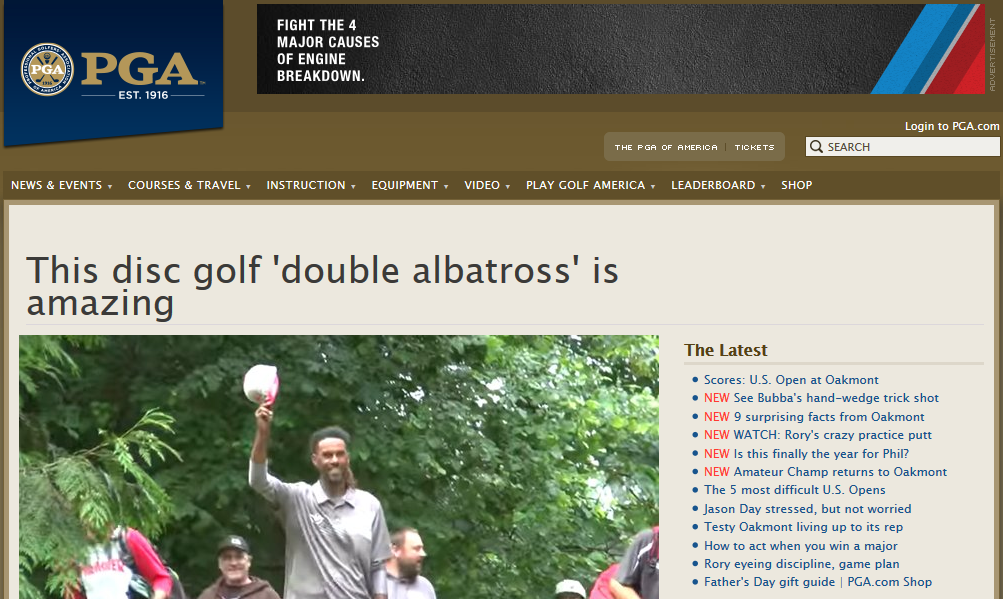 Memorable moments define sports, and disc golf had one of those moments this week.
During the third round of the Beaver State Fling, a Professional Disc Golf Association National Tour event, Philo Brathwaite stepped up to the Par 5 Hole 6 at Milo McIver State Park's Riverbend West course sitting at 3-under par for the day. Two shots later, and he was at 6-under under after recording the first known two – a double eagle, or albatross – on the 850-foot, tree-lined hole.
Central Coast Disc Golf, covering the event, not only captured Brathwaite's tee shot and his second shot, but also had a secondary camera stationed behind the basket around the dogleg and caught the perfectly-thrown S-Curve crashing into the basket. The video was quickly edited and placed online, then went completely viral.
It feels almost funny saying this so easily, but it's another shot that made it on Sportscenter. Landing on ESPN was once an unimaginable goal for disc golf, and now seems like it is a requirement when something like this happens. However, this one was a little different than Nate Doss's ace at the Memorial Championships last year or Paige Pierce's ace at the Ledgestone Open, or the dozen or so other throws that also made it on the worldwide leader. This one was picked up by almost all forms of sports media.
CBS Sports shared it. Fox Sports shared it. ESPN shared it beyond showing it on Sportscenter. Bleacher Report shared it. NBC Sports shared it. And perhaps most amazing of all, the PGA shared it.
"I decided to write up a short piece on it because it was a fascinating video," T.J. Auclair, senior interactive producer and lead writer for PGA.com, said. "The video was phenomenal, the way the cameras tracked the toss and captured how much curve was played to pull it off. The way it was presented on video was almost as impressive as the toss itself."
While I certainly live by the no-press-is-bad-press policy – especially in our sport – there were many errors reported about Brathwaite's accomplishment. Fox Sports and NBC Sports called it an 850-foot hole-in-one, for example, and even Auclair – whose knowledge of golf terms comes from a career that includes covering more than 60 major championships – made a mistake. He referred to the hole as a Par 6 and called the shot a double albatross, a term that he made up to try and explain the feat.
"I saw in the Brobible.com post that it was a two on a Par 6 and sourced that," Auclair said. "I was quickly corrected on Twitter by avid disc golfers."
At this point I should add that Auclair did the right thing after this happened: He fixed the error in his report, spoke with me about it, and even applauded members of the disc golf community for their politeness in alerting him on Twitter.
"That was refreshing," he said. "In my eyes, [the score only being an albatross] didn't make the video of the feat any less impressive."
As a result, though, I'm left with the impression that this moment shows a lot more about where disc golf is not as a sport than where it is.
I am not criticizing, blaming, or even upset with Auclair, NBC, Fox, or any other media company that shared this with incorrect information; even Ultiworld Disc Golf's initial article on the shot transposed the hole's distance, making it 580 feet instead of 850. However, the continued proliferation of misinformation does lessen the high that this single throw provided for a few days. Was this a hole-in-one? Was this really an 850-foot throw-in on a Par 6? People just discovering the sport might be misled.
Still, how many people saw the shot and thought, "Wow, that looks fun!" and did not care whether the article said it was a million foot throw-in for a two on a Par 15? That is what we get out of having guys like Auclair share this story: 15 seconds of fame.
Correcting the information, though, will need to happen for the sport to continue its ascension. So what can we do to make ourselves more aware to people like Auclair and other media entities?
"I'd say to make it a little more 'mainstream' if you will," Auclair said.  "Capitalize on the tools you have with social media."
This makes perfect sense, as the PDGA does a fantastic job with live tweeting and live scoring of all large events. But could a lack of social media exposure from within the sport have led to the error? After all, Auclair stated he sourced a website sharing the video, not the PDGA. Let's take a look.
After the throw-in occurred, the PDGA Live account tweeted that "Philo just threw one in from downtown on hole 6 for an albatross! Par 5, 850 feet!" Two tweets later, another reference to an albatross. And the final tweet, the last of Saturday from the account, shared the video that is now famous with the caption "Philo Braithwaite albatross on an 850' par 5."
The information is out there. We used social media. We got attention. But then, something as simple as the par of the hole was wrong. Why was the PDGA Twitter account not referenced? Why were PDGA Media Manager Matt Gregoire or tournament director Jeff Mittl not sourced, but a website I had never heard of until this week was?
The problem is, ultimately, it is an us problem. This is where all this media attention that started with Doss's ace at the Memorial quickly becomes a trip back to our own reality. Disc golf, for all the strides it has taken in recent memory, hasn't made it. The sport still is reaching for its next break.
Disc golf is still, at best, a sport that a majority of people have only heard of.
So how do we address this? How do we get disc golf into the collective conscience? We have to increase awareness of the sport. We need to focus more on getting kids and civic clubs involved to teach the sport from the bottom up. We need to realize that a shot as amazing as Brathwaite's would be even more amazing if the general public understood how insanely hard it is to make a disc fly that far, that accurately, and with the pressure of a National Tour event behind it all.
When that day comes and people understand our sport – have played it, or simply taken their child to the park to play it – that's the day we'll have made it. That's the day the media reports this as an albatross on a Par 5, and that will be quite the moment for disc golf.