With fundraising down, a three-step approach to bring the buzz back to the event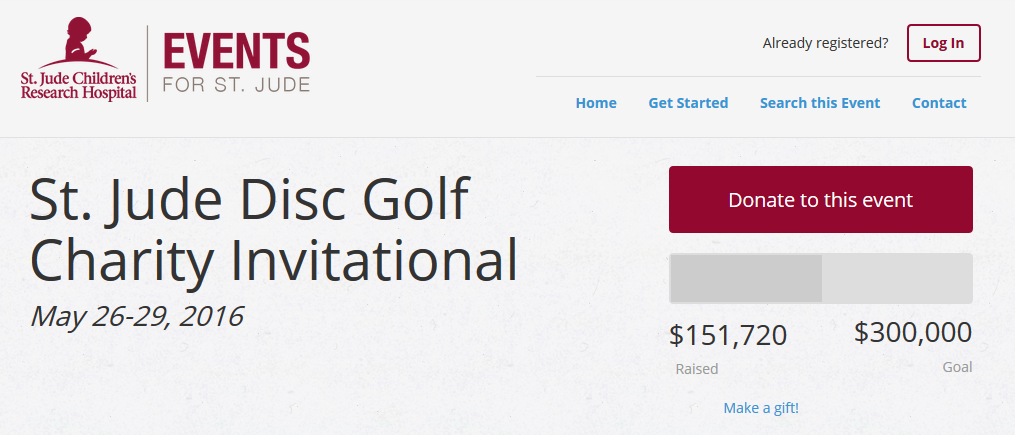 As far as charity partnerships go, the Professional Disc Golf Association could not have asked for a better one than the union it has forged with St. Jude Children's Hospital. Not only is the organization a leader in childhood cancer research and care, but it is a world-renowned operation that is scrupulous in its associations. In that regard, this weekend's St. Jude Disc Golf Charity Invitational in Seaside, California, continues to be a coup for the PDGA as it seeks to further grow and legitimize the sport in the public eye.
Now in its second year, though, the buzz that accompanied last year's inaugural soirée at the Bayonet Golf Course has quieted to a hum. The number of players registered in the Open division, for example, is down to 57 from last year's 79 (though the total number of registered players has increased). More importantly, though, fundraising currently sits at $151,720, just over 50 percent of the event's $300,000 goal. While that is a tremendous number on its own, the current donation levels the day before the event pale in comparison to the nearly $215,000 check that was cut to the charity immediately following the 2015 tournament.
With that in mind, the PDGA should consider an overhaul of the event to re-inject some enthusiasm and save the tournament from becoming simply another day on the calendar. With a vast majority of fundraising efforts being geared toward the everyday disc golf player and supporter, a three-step shift in the event's format can not only engage more fans, but also turn this tournament into the showcase it truly deserves to be.
The end result: The St. Jude Disc Golf Charity Invitational evolves from a typical tournament into the PDGA All-Star Game. It's a radical move, no doubt, but one that can make the event truly stand out.
Step 1: Change the venue. Hosting the tournament at the prestigious Bayonet Golf Course likely satisfied St. Jude's standard for a grand-scale event, but continuing at this venue would be a mistake. Not only does it not capture the true spirit of disc golf's grassroots, it likely also carries a five-figure price tag for the weekend rental. Yes, it has tremendous sight lines and scenery, but bringing in more spectators who can be invested in the cause is crucial to its growth, and those sight lines and scenery are about the only fan-friendly points the course has going for it. Otherwise, Seaside is an expensive locale for travel, and, at more than 100 miles from San Francisco, is not terribly close to a metropolitan area.
Attracting more people to the event can be a boon for fundraising, so here are some suggestions for venues that are not only more affordable, but also more accessible. These are disc golf-specific locations and might not show as well as a high-end coastal golf course, but the PDGA should be able to push for a move to one of its own venues as a way to show St. Jude that the event must appeal to more disc golfers. After all, they are the ones raising the funds.
These locations do not currently host any PDGA National Tour events or stops on any of this year's new circuits, but are placed close enough to current venues to make scheduling a breeze.
Pickard Park, Indianola, Iowa – In reaching out to players for this piece, the Des Moines area was suggested more than once. Featuring a bucolic backdrop and an 8,217-foot, Par 63 course, Pickard Park fits the bill for challenging disc golf and is located fewer than 20 miles from Des Moines' 207,000 people. A 4.5 hour drive from Emporia, Kansas, makes it easy to work in on one side of the Glass Blown Open.
Lemon Lake County Park, Crown Point, Indiana – Home of the 2010 and 2013 PDGA Pro World Championships, Lemon Lake is a venue with a proven track record of hosting major events. At just over an hour from Chicago, it can easily be played around the Disc Golf Pro Tour's Ledgestone Open or Minnesota Majestic.
Idlewild, Burlington, Kentucky – Idlewild's 24-hole, championship-caliber course is only 25 minutes away from Cincinnati, Ohio, and its 300,000 residents. Bonus points for being a two hour drive from Columbus, home to the National Tour's Brent Hambrick Memorial Open.
Twin Parks Country Club, Dripping Springs, Texas – Only 30 minutes outside the burgeoning disc golf hotbed of Austin (population: 885,400), Twin Parks played host to the 2012 Players Cup. Its closest National Tour event is the Kansas City Wide Open, at close to 11 hours – much shorter than most between-NT drives.
There are likely numerous other venues that would also be suitable for an event of this caliber, all at a much lower cost to the event's organizers than Bayonet. Put all of these into a rotation, and the tournament can move to a new population each year to showcase the game's best. Better yet: Accept bids on the event, just like Worlds, and increase the prestige factor.
Step 2: Add a skills competition. As mentioned above, a key factor in reaching the St. Jude event's fundraising goals has to be the common disc golfer. Why not give those disc golfers something to come watch in person by adding a nighttime skills competition to the event, much like major sports do for their All-Star games? Imagine charging spectators $10 to come and watch Simon Lizotte, Eagle McMahon, and Alex Geisinger square off in a long-drive competition (disc golf's Home Run Derby), or the thrill of watching Paul McBeth and Ricky Wysocki try to make as many 50-foot putts as possible in one minute (our sport's equivalent of the NBA's three-point contest), all under the bright lights of a local sports complex. Add in a roller showcase, accuracy challenges, and a buy-in ring of fire and you've got an evening of entertainment and players with bragging rights. Yes, other events already include similar highlights, but they're often afterthoughts that aren't highly promoted. Build these components in as a major piece of the marketing for the tournament and advertise it locally as a night of family fun under the lights, and it truly becomes something special.
Step 3: Adopt the National Collegiate Disc Golf Championships' team play format. This is the most drastic move of the event's overhaul, but again, the key here is to make the tournament stand out on the calendar. Team play can achieve that goal from a number of angles. It truly would not matter how the teams were crafted, but manufacturer-specific teams would likely get the fundraising juices flowing. How about an Innova Discs team of McBeth, Nate Sexton, Valarie Jenkins and Hannah Leatherman taking on a Prodigy Disc squad comprised of Paul Ulibarri, Jeremy Koling, Catrina Allen, and Paige Pierce? Can't you already see the fans of each team ponying up the dollars and getting behind their favorite pros? If sponsor teams are deemed less desirable, organizers could take a page out of the NFL Pro Bowl playbook and select two captains to draft their own dream teams.
No matter which way squads are composed, giving fans some distinct rooting interests for the event, as opposed to just looking for individual players to perform, can bring the tournament the hype it needs. Rivalries mean eyeballs, and eyeballs mean donations.
None of these suggestions are meant to disparage the amazing work the organizers of the St. Jude Disc Golf Charity Invitational have done over the past two years to raise nearly $500,000 for the children's hospital. But with the event seemingly hitting the wall, it's time for a refresh. A PDGA All-Star Game can be a means to that end and still be the special event that St. Jude demands from its partners. If the players are on board, and the fans bring the energy, it's a win-win.