MPO down to a two-man race, while Allen takes four shot lead into FPO final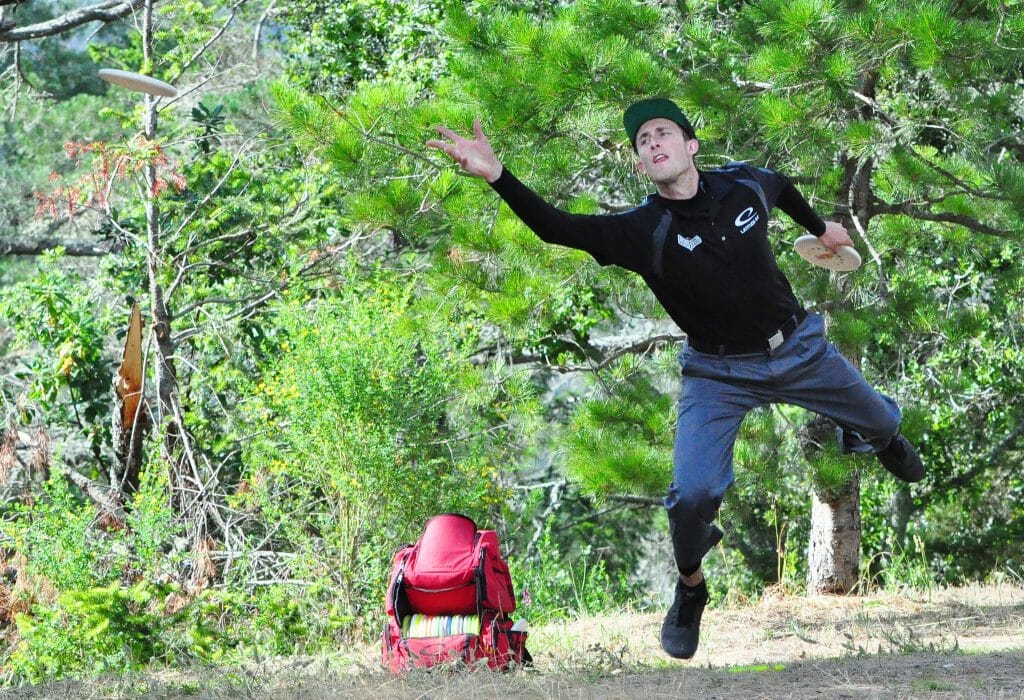 SANTA CRUZ, Calif. – When Paul McBeth turned a two shot deficit into a one stroke lead within the first two holes of play during the second round of the "Steady" Ed Memorial Masters Cup yesterday, it looked as if he was ready to pull away from the field and head into today's final round with an insurmountable lead.
That was before Ricky Wysocki shot the hot round from the chase card, though, to create a Sunday showdown between the world's top two disc golfers.
Buoyed by a stretch of five straight birdies from Holes 5 through 9, Wysocki's 11-under par 61 catapulted him to a 17-under par total heading into today's play at the DeLaveaga Park Golf Course, while McBeth's 10-under 62 brought him to 18-under for the tournament. Steve Rico, who led the event heading into moving day, struggled to maintain his momentum and shot a 1-over par 73; the performance moved him down to third place and into a five-player logjam at 9-under par that also features Nate Doss and Gregg Barsby, who will accompany McBeth and Wysocki on today's lead card.
Wysocki attributed his five-stroke improvement over round one to a greater focus at one of the National Tour's most notorious courses.
"For me today, I had a different mental approach today," Wysocki said. "[I was] very positive and visualizing a lot of shots and making them happen."
McBeth, meanwhile, played a well-rounded game that saw him only go out-of-bounds once.
"I think it was pretty solid," McBeth said. "[I was] throwing well off the tee – it's something I've had to touch up here and there – and then putting was a lot better today than yesterday. There's still a few more that I need to be putting in, but overall a good round today and I'm happy about it."
And that good round was highlighted not only by a fast start, but also by two huge putts in the middle stretch and some late-round birdies to put a ribbon on it.
After taking a birdie to Rico's par on Hole 1, McBeth parked his drive on Hole 2 with a Thunderbird for a tap-in birdie. Rico, meanwhile, ran his 40-foot putt aggressively and paid for his miss, as the disc rolled away off the back side of the green and he ended up with a bogey.
While the shift in scoring was an important early swing, it wasn't one McBeth was ready to rest upon.
"There are so many people so close that early, you don't know if those two birdies were really that big of a difference compared to the rest of the field," McBeth said. "So It was really me trying to start off good, start off hot and get those birdies, because those first eight holes are where you need to get a lot of birdies."
And get a lot of birdies he did, as he added three more within the first ten holes – along with one bogey after his drive kicked out of bounds on Hole 8 – to begin pulling away from the rest of the lead card.
Still, McBeth wasn't finished building a nest on his scorecard. While Rico continued to scramble and add bogeys on three out of four consecutive holes, McBeth canned a massive 70-foot birdie putt on Hole 12 and another 50-footer through a tight tree-branch window on Hole 15.
"It was one of those ones where I felt like I had an opportunity to go for it mainly because I had brand new putters," McBeth said of the latter shot. "They still had a little stability at the end, so I could anny it through there and it was going to hyzer out. So I knew that and kind of took my chance and was able to get it to stick."
A pair of long uphill birdies on the course's last four holes capped off McBeth's strong day and gave a preview of what his play might look like today as action shifts to the golf course. It is a change that McBeth noted will impact how he approaches the final round.
"I think really it's just the distance," McBeth said. "There are some Par 4s on that course now, a lot more O.B. on that course. This course doesn't have much, that one has a lot, so [it will be about] just basically not giving away strokes by going out of bounds. Force [Wysocki] to take strokes [from me] because it is basically just Ricky and I now because we have a pretty big cushion on third."
Wysocki, though, said he was worried less about who was on the final round lead card and more about continuing his strong play between the ears.
"I just know that if I play my game I'm going to win because my game is feeling good," Wysocki said. "If I go in with the same mental approach as I did today, then I'll win."
In Women's Open action, Catrina Allen shot a hot round of 4-over par 76 to open up a lead over Paige Pierce, whose 8-over par 80 left her visibly frustrated and practicing putts on her own as players and spectators vacated the course.
Valarie Jenkins carded a 77 to bring her total to a 13-over par 157 – good enough for third place – while Paige Bjerkaas' 16-over 160 helped her secure the last spot on the lead card for today's final.
Allen, despite what she called a roller coaster round, continued to persevere through the course's difficulties.
"I started horribly," Allen said. "I started four-five…My mental game, at the end of the day, kept me from letting DeLa get to me."
Jenkins, who said she caught a couple better breaks in round two than in round one, also spoke of the importance of staying mentally strong.
"It all just kind of evens out here," she said. "You can be on fire playing through a couple holes and then it'll catch back up to you. Bogeys are easy to get out here, so you have to stick to your plan and focus on every single shot out here."
While she wasn't ready to say today's final would be relaxing, Jenkins did say the move to the golf course would be less taxing on the brain.
"It's not going to be as difficult, trying to figure out how your putter's going to land next to the basket or if there's a root and you're going to kick up and roll down," Jenkins said. "It's nice grassy, green fairways, so I think it's going to be easier mentally. I'm bummed were not playing here [at the original course] for the final round because it's so technical out here, but we'll see how it goes."
Allen echoed Jenkins' sentiments about the course change, but also welcomed it as a breath of fresh air.
"It's bizarre, we were talking about how [the golf course] doesn't even fit the Masters Cup, as far as when you think of the Masters Cup," Allen said. "Am I stoked about it? Yes, I'd like to see our sport go that way. I could play DeLa every day for fun, but in a tournament it's so brutal."
The FPO lead card tees off at 11 a.m., while MPO action begins at 2:10 p.m. Scores and play-by-play will be posted at PDGALive.com and by @PDGALive on Twitter.