Pro tips on where to imbibe in the 2011 world champion's hometown and site of this weekend's Masters Cup

Not only is Nate Doss a three-time Professional Disc Golf Association world champion, but he's also an avid homebrewer and future craft brewery owner. So it only made sense, then, to reach out to him about his top watering holes on tour.
With that in mind, we introduce the second installment of Doss on Draft, a series where we'll talk with Nate about his favorite places to imbibe in and around the cities that host PDGA National Tour stops and other major events. On tap this week is Santa Cruz, California. The coastal city not only hosts the "Steady" Ed Memorial Masters Cup from Friday through Sunday, but it's also Doss' old stomping grounds.
Doss On Santa Cruz – Santa Cruz is my hometown, it'll always be my hometown. No matter where I live, this will be home for me. I have so many great friends here, so many great friends from disc golf, so many memories.
All the great disc golf memories are phenomenal, from seeing my very first Masters Cup back in 1992 as a 7-year-old kid, all the way to the 2011 Worlds and taking that down out at Pinto Lake down in Watsonville [about 20 minutes outside Santa Cruz]. While I haven't won the Masters Cup before and people may say that it's a shortcoming or there's a curse or whatever, I don't look at it that way. I feel fortunate to have been able to battle in all these great Masters Cups with the great champions of all these events, and I'm proud of all of them and proud to be a part of it.
Last year was, in my opinion, one of the best. It was my 30th birthday on the final round and I had a great battle with Paul McBeth. He came out the victor there, and I had the crowd singing happy birthday to me on the 27th green, the 27th basket and, long story short, I was given the "Steady" Ed Memorial Disc Golf Trophy last year. That's a lifetime achievement award, and those memories will be with me forever.
If we rewind 10 years to when I turned 21, there was only one, maybe two craft breweries in Santa Cruz. There was always one leader in craft beer around here, and that was Seabright Brewery. Fast forward 10 years, and that scene has changed tremendously. I think we have nine craft breweries in Santa Cruz County.
Nate's Best Brewery: Discretion Brewing – My favorite is a brewery that's right on my side of town – I think its official address is in Soquel – but it's a brewery called Discretion Brewing. They have a really cool vibe at their taproom, their beers are super good. They have a Rye IPA, an IPA, a Double IPA, and a bunch of other eclectic beers as well.
It's kind of a funny story – the brewery is literally right around the corner from where I grew up, and it's right across the street from a big supermarket. One day, me and Val were going down there and pulling into the supermarket, and we saw a little sign that said "craft beer;" they hadn't even put up their normal sign yet. It was this old area where I used to ride my BMX bike through and nothing was there, but they built it up with some industrial buildings. We turned in, and boom, it was Discretion Brewing. We walked, had a beer, loved it. That was two years ago, and you can tell the brewery is expanding and getting some new tanks.
Must drink: Uncle Dave's Rye IPA – I love IPAs that use cool adjunct ingredients, and their Rye IPA is at the top of the list as far as Rye IPAs I've had go.
Honorable mentions: Sante Adairius Rustic Ales, New Bohemia Brewing Company, Corralitos Brewing Co., Santa Cruz Mountain Brewing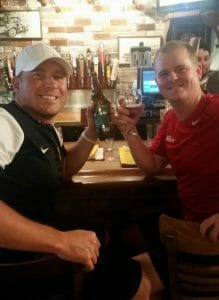 Top Taphouse: 99 Bottles of Beer on the Wall – It's in downtown Santa Cruz, and it's a great place to go hang out, especially if you're coming off the disc golf course at DeLaveaga Park. You can come down the hill – it's probably eight minutes to 99 Bottles – and you can step in and there are 99 beers to choose from; probably 20 or 30 of those are on tap. They have pretty good bar food, but what it ends up doing is putting you right in the heart of downtown.
They have 99 bottles, and they give you a little card with 99 little squares on it, and they stamp each one of them and people can go through the challenge. If you drink all 99 beers over a year's period, or however long it takes you, you get a little plaque on the wall. If you do it 25 times, you get a brick. And if you do it however many times, they actually draw a mural of you inside the 99 Bottles taproom.
I don't have a plaque. I should, because I have probably drank all 99, but I keep losing my card, and then you have start all over again. One of these days, hopefully, we'll have one.
Beverages To-Go: Lúpulo Craft Beer House/Beer Thirty Bottle Shop & Pour House – In Santa Cruz proper there's a place called Lúpulo. It's literally a couple of driver shots away from 99 Bottles, and it's a new place in town. They've already expanded their location, they have more tables and more seating. They have a really eclectic tap list, but also a pretty good-sized cooler with a bunch of to-go beers or beers you can drink in house.
The other place – this is more number one for me for a local spot, a great place to get a vibe for the Santa Cruz beach life – is a place called Beer Thirty. It's this place with mostly outdoor seating, which is great in California, and they also have a huge bottle selection for to-go or to drink in house. They also sport a bunch of cellarred beers that are kept at a cellar temperature, as opposed to being cold. You're going to see beers from Prairie Artisan Ales, from Cascade Brewing Barrel House up in Oregon. From Discretion to Beer Thirty, they're within five minutes of each other, so it's a super cool place to hang out and you can really get a local feel there.
Bonus Bites: Tacos Moreno  – When you think of California, you think of a lot of things. But when you think of food, Cali is really well-known for authentic Mexican food, and Santa Cruz is no exception. There are a ton of great places in town, but our number one favorite place is Tacos Moreno. The really cool thing is that it's right down below DeLaveaga. If you're coming off the course, you just drop down the hill and, five minutes into town, you're at the taqueria having a burrito or some tacos with some great fillings and awesome flavors. Their salsa is to die for. What to order: Al pastor burrito