Disc golf power couple's craft brewery the next step, not the end.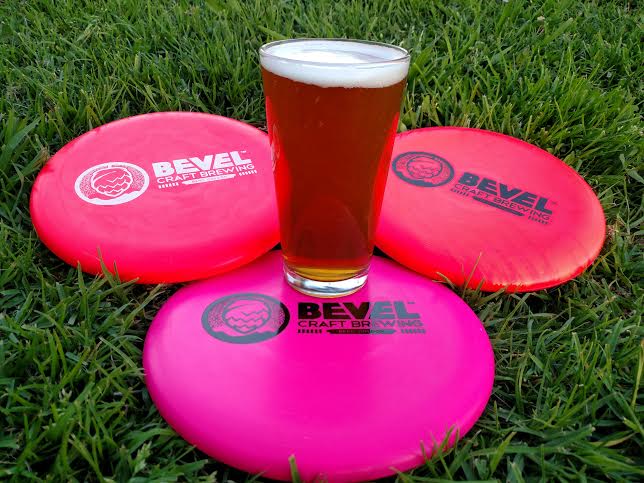 After more than a decade of relentless touring that has seen them amass hundreds of thousands of miles and a combined eight Professional Disc Golf Association world championships, Nate Doss and Valarie Jenkins are ready to put down some roots.
That those roots might flourish into a plant that yields hops, then, serves as a smooth transition into their new endeavor as craft brewery owners.
The couple recently announced plans for Bevel Craft Brewing, an India Pale Ale-only project the two plan to open as soon as next year in Bend, Oregon. Combining Doss' passion for craft beer – he has been an avid home brewer since 2012 – and Jenkins' background in business marketing, the two see the brewery as a way to move from living one dream into another.
"If you were to ask me when I was 15 years old if this is where I would be 15 years later, I could have never imagined it," Doss said. "The way we look at it is, hey, if owning a brewery is the next phase of our life and we have to set down roots here in Bend, Oregon, so be it. We feel pretty lucky about that."
Plans for the brewery have been in the works for two years, Jenkins said, with a detailed business plan being crafted to flesh out the pair's exact vision and direction for the company. It was a new challenge compared to the papers she wrote back in her college days.
"When Nate and I had to talk about every step of the business and what we want it to be and how we want it to look in five years, that was a different monster," Jenkins said.
The initial push for the brewery begins with a lofty GoFundMe campaign to try and gather seed money before seeking out loans from banks or angel investors. Jenkins noted that the initial costs to start a brewery are in the realm of $500,000, and the two are hoping that, with the connections they have made from their years on the road, they can merge their current lifestyle with the one in their future.
"The reason we did the crowdfunding campaign is not to draw on the disc golf world and take money and do those things," Doss said. "But from our experience within disc golf, being a part of the community and having the support of your friends and family is incredibly important, and I don't think our business is going to be successful without the people out there in the disc golf world."
It should appeal to those in the disc golf world, as well. The Bevel name is a direct nod to the aerodynamic breakthrough that ushered in the sport's modern era, and beer names – Understable Session IPA, for example – will cite sport-specific terminology. But that does not mean that the founders want to pigeonhole themselves into being the disc golf beer company, either.
"We want everything to have a double meaning," Doss said. "That word, bevel, you don't hear it often. I think the every day person would be like, 'Huh, what does that mean?'"
In fact, Doss and Jenkins will have to appeal to wider audience to succeed. By choosing to launch the business in Bend – a town with 22 established breweries on tap – they step into an extremely competitive market. In fact, one of Doss and Jenkins' compatriots, while expressing his support for the duo, added a word of caution about the endeavor.
Matt Cohen is the owner and head brewer at Fiddlehead Brewing, a 10,000-barrel facility in Shelburne, Vermont. He and Doss collaborated on a full-scale production of Understable Session IPA last year, and while he appreciates Doss' drive for craft beer, he acknowledged that the disc golfers will need more than that to enjoy success.
"I'm looking at it from 40,000 feet and what's happening in the industry right now," said Cohen, who previously served as head brewer for nearly 20 years at Magic Hat Brewing Company. "Craft beer is experiencing this explosion right now and this influx of people wanting to get into the business. I can't sit here and say everyone's going to be successful because that's a bit disingenuous. Do they have potential? Sure. They have the first step, which is the passion."
Cohen reiterated that he wanted his friends to succeed, but that his experience in the industry was informing his thought process.
"Of course, I want everyone to do well," Cohen said. "At the same time you've gotta be realistic. You can't just throw up an open sign and hope for success."
Jenkins, though, expressed confidence in their business and in the rising craft beer industry, regardless of location.
"It seems like breweries are becoming more like restaurants," she said. "If you want to open a restaurant, you wouldn't be scared that another restaurant was opening. That's kind of what we're looking at."
They are also looking at a change in their lifestyle. After completing the 2016 disc golf season, Jenkins said the brewery will be on the front burner.
"While we've loved touring and traveling all these years, we're going to need to shift our focus if we want this brewery to succeed," Jenkins said. "That's going to mean less traveling, less going to the big tournaments and focusing on our goal."
Still, she wasn't ready to call 2016 a farewell tour.
"Disc golf is a lifetime sport," Jenkins said. "If we're not playing the big tournaments this year, next year, we'll be back. We'll be playing and will be around and always supporting the sport."
Doss agreed, saying he envisions the company being a prominent sponsor in the disc golf scene, and that the pipe dream scenario sees the brand growing large enough to have land that will play host to a premier tournament.
"We'll always be around," Doss said. "We might not always be around as players, but we're always going to be around. This is our life. We're very lucky to have that."