The 1000 foot barrier has been crossed, and then some.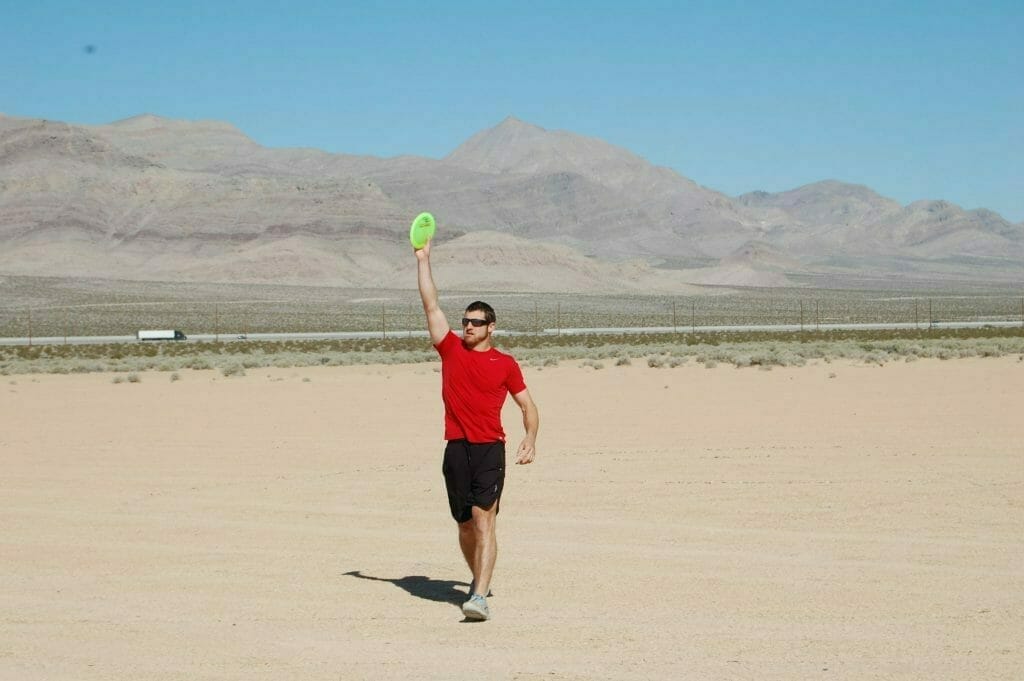 Ultiworld's disc golf coverage is just getting started. For the latest, follow Ultiworld Disc Golf onTwitter and Facebook. See all of our current disc golf coverage here and stay tuned for our dedicated website.
That didn't last long.
David Wiggins Jr. threw a 154-gram Innova R-Pro Boss a record 1,109 feet (338 m) in a ripping 38 mile per hour tailwind at the final day of the High Desert Distance Challenge yesterday, establishing a new World Flying Disc Federation distance mark. The mark is currently unofficial until the results are verified.
The throw bested Simon Lizotte's two-day-old 903.9-foot shot on a wild morning that saw three other throws travel more than 900 feet and two more eclipse 1,000.
With average wind speeds hovering between 36 and 42 mph and gusts of 70 mph mixed in, Wiggins said participants were using discs that were more understable than they usually would in order to combat the stiff gales. He broke the record on his second throw of the day.
"Definitely nothing we've thrown in, any of us," Wiggins said. "It took a high speed arm to overcome the wind. A lot of other players didn't have as good of throws today as other days because they weren't able to get over on their discs and beat the speed of the wind out of their hands."
Lizotte agreed that the conditions were off the charts for a competition of this nature.
"Today was absolutely insane," Lizotte said. "We were throwing a lot higher today than we were the other days. We were just throwing sky rollers, basically, and just hoping the disc would catch the wind and just go."
Though he broke the most recent distance mark, Wiggins is no stranger to the record. He set a new milestone in 2012 with an 836.6 foot (255 m) toss, outpacing the nearly ten year-strong record of 820 feet previously held by Christian Sandstrom. Wiggins also holds several age-protected records.
He did not hesitate to acknowledge the impact that the weather had on the new mark, though.
"It was definitely wind-aided to get to those distances," Wiggins said. "Those are distances that in my opinion weren't attainable until I actually saw them come out on the range finder today."
Lizotte did not plan to throw yesterday until someone broke his prior mark. He took the tee after Wiggins and maxed out at 1,030 feet, which was stunning in its own right.
"I would have never guessed we would break 1,000 [feet] in the next ten years," Lizotte said. "Wiggins' throw was just absolutely crazy."
Wiggins said he had seen some of the social media criticism of the outdoor distance record and the ability for wind to be a factor, and he suggested establishing a new standard for the competition in the future.
"I think we're going to start a record where we have a lot less variables as far as the conditions go," he said. "Something where you don't have any aid other than your personal power and skill."
Lizotte, while admitting the online chatter did frustrate him, pointed to the event's purpose as a distance competition to combat the naysayers.
"That happens with everything on the internet," he said. "You can post the most beautiful or best thing ever and people will dislike it in some way. So I don't really care too much about those comments or those people, so it really doesn't matter. I always agreed in some way with what they were saying, but then again we're just trying to throw as far as it's possible on this planet on flat ground, so why wouldn't we use the best conditions for it?"
Lizotte, though, did share Wiggins' sentiments that the competition would have to change in order to be sustainable in the future.
"I think this event, the way it is, will not really exist anymore because 1,109 feet will never be reached again, I think," Lizotte said. "So it does not make sense to go out there and hope for 60 mile an hour winds. This distance competition thing is pretty much over now, and we've got to find guidelines for wind or indoor records now which will be the future competition."
While there is a WFDF indoor record, it is not often attempted. It was last set in 2005 and took place on an aircraft carrier, and finding a facility large enough to contain the modern era's biggest arms would be daunting.
"That would be really cool [to be indoors], where it's just pure technique and power to see who can actually throw the furthest," Lizotte said. "I don't know where to find somewhere like that, but somewhere in the world it would be possible I guess."
If the event were to be kept outdoors, Wiggins mentioned a standard along the lines of Olympic field events, where wind has to be negligible at best. Still, he said that any changes in the future would not affect how he felt about the record he just set.
"I know I'm one of the furthest throwers out there with Simon [Lizotte], Alex [Geisinger], Garrett Gurthie," Wiggins said. "I would never beat Simon by whatever my record beat his by in normal conditions. When we're throwing neck and neck, we're normally coming within a couple meters of each other one way or another, and we've done that consistently. We all throw really far."
He did admit, though, that the magnitude of the record hadn't really set in.
"It's just a weird number, and it feels kind of strange because of the conditions," Wiggins said. "I don't know if it will be one that will be touched unless somehow we get these conditions again, so it's pretty wild."