A statistical retrospective.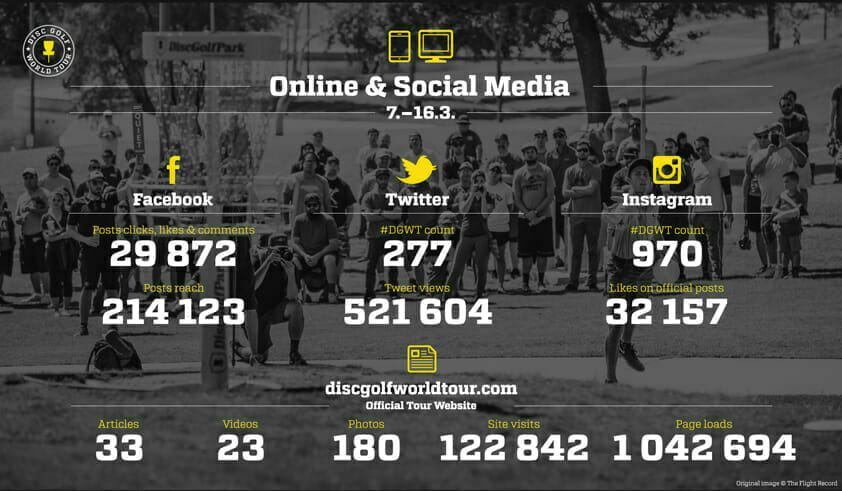 Ultiworld's disc golf coverage is just getting started. For the latest, follow Ultiworld Disc Golf onTwitter and Facebook. See all of our current disc golf coverage here and stay tuned for our dedicated website.
Hot on the heels of last week's La Mirada Open, Disc Golf World Tour organizers released spectator and social media statistics for the inaugural event, while announcing a change to its coverage plan for the tour's next stop.
The tour boasted 1,100 spectators on-site at the three days of the La Mirada Open, while also touting more than one million page loads on the tour's website during the week of the event. In addition, the event also collected a post reach of nearly 215,000 people on Facebook and more than 520,000 tweet views on Twitter. Videos from the tour posted on the Spin TV's YouTube channel were credited with nearly 300,000 views.
RELATED: Did The Disc Gold World Tour Live Up To The Hype?
"We got a lot of feedback from viewers and disc golfers," tour director Jussi Meresmaa said in an email. "Thank you for all for your feedback. I can see that U.S. viewers are by far the most demanding ones. They are telling you right in your face if they do not like it. All the years I've spent in the U.S., I have learned more and more. And I love it."
Missing from those numbers, though, are a hard number of views for the Spin TV's live stream of the event's second and third rounds.
Meresmaa conceded that the live streaming of the event was its weak link, chalking it up to technical issues leading up to the tournament. The tour's inability to secure a land line at the park required that it moved production 35 miles away, he said, causing a noticeable delay in the broadcast.
"We did a bold promise to deliver the best live broadcast in disc golf but we did not succeed on that," Meresmaa said. "We had it all planned out and we just could not execute that. All who are playing this great sport will understand that sometimes things are not going by your favor at the course."
Meresmaa revealed in a Facebook thread that the tour would be abandoning live streaming for its next event, the Konopiste Open, being held May 5-8 in Konopiste, Czech Republic.
While pointing out the level of attention organizers paid to post-produced video and other coverage, Meresmaa said the live viewership numbers did not meet with the costs involved.
"We has [sic] only 4,250 viewers (peak) that showed me that live stream was the worst investment of all above," Meresmaa said in his post. "We did learn a lot and next event will not have live stream but all other [media] above."
Meresmaa followed up on that post by confirming to Ultiworld that the lack of a live broadcast will only apply to the Konopiste Open, citing the time difference between Europe and the U.S. as a deciding factor.
He left the future of live streaming for subsequent events up in the air.
"We will make decisions on our media closer to each event," Meresmaa said. "USDGC will be streamed, and at least one of our European events."