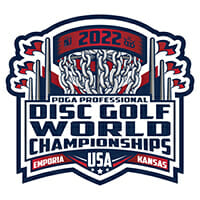 The purse at this week's PDGA Pro World Championships will be at least $200,000, tournament director Doug Bjerkaas announced during the event's opening ceremonies on Monday. It will be the largest payout in the event's history.
"I believe, for taking [only] the FPO and MPO field, no one has ever had the opportunity to start this number with a two," said Bjerkaas. "$200,000 will be awarded to disc golfers that compete and play well." Bjerkaas said that the "biggest chunk of money" in the purse is coming from ticket sales to spectators.
RELATED: 2021 Was a Record Year for Payouts & Added Cash
Last year's World Championships in Ogden, Utah, set the record for a PDGA pro tournament payout at over $173,000 before the 2021 Disc Golf Pro Tour Championship paid out $250,000 four months later to set the current record.
Although the 2022 Worlds purse won't set the all-time disc golf record, it will hold the distinction of being the largest-ever Worlds payout and the biggest prize pool of the 2022 season thus far, exceeding the Champions Cup's $130,000 payout back in April.