Both players cruised home in the final six holes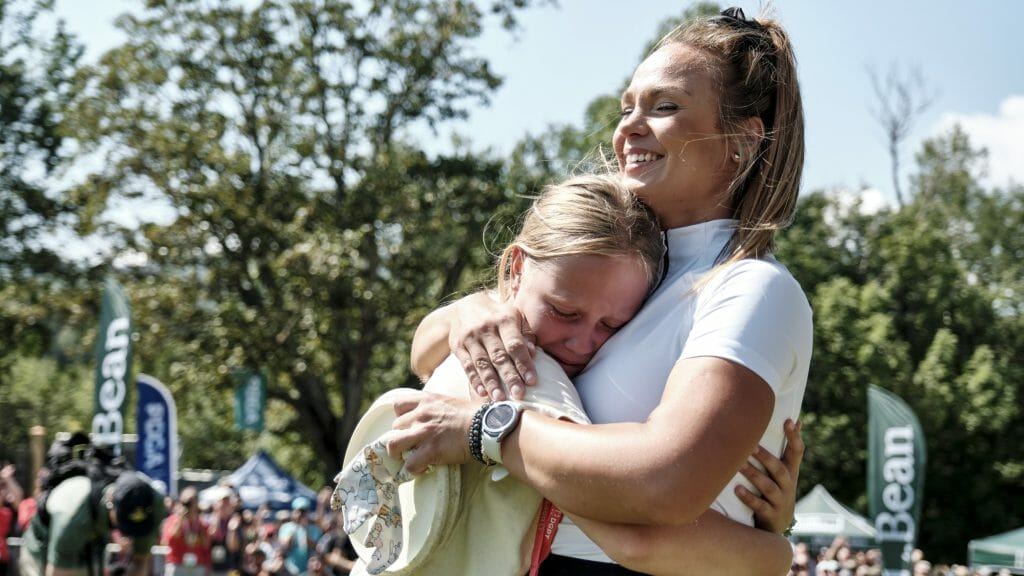 In the five-day long street fight between Kristin Tattar and Missy Gannon to decide the 2023 PDGA Pro World Championships, it was remarkable how seldom either player could kick the other when they were down. Hole 1 and hole 7 during round four were prime examples of potential two-stroke swings where Kristin let Missy off the hook with uncharacteristically loose play. Then, when there was a two-stroke swing, like the one that favored Gannon on hole 14 in round four, one of the lost strokes was gained back by Tattar on the following hole. It seemed that Tattar was unable to produce the knockout blow that would separate her from her chaser, and Gannon was unable to counterpunch strongly enough to swing the momentum back her way.
The pattern continued in the first hole of the championship round. Seeing Gannon's approach shot slide into the left side OB, Tattar's usually surgical forehand approach game failed her, with the upshot landing just outside the circle. Then, just as on the same hole in round four, Tattar's putt was low and into the cage and the lead was six strokes when it could have been 7.
A two-throw swing came soon after, though. On hole 4, Gannon's drive landed behind a tree, forcing her to shape a shot that turned too far and into OB just near the basket. Tattar's birdie took the lead to 8 strokes and with 14 holes left to play, Gannon was beginning to run out of chasing room. As she had all week, though, Missy continued to fight, birdieing the next five holes in a row.
Had Tattar not made circle-two putts on hole 6 and hole 9, the lead might have shrunk to four. Although strong from Circle 2, Tattar's C1 putting was keeping Gannon in contention. Through the middle stretch of holes, Tattar seemed to be trying to steer the closer putts in while Gannon's putts were machine-like. In the first 12 holes, Tattar's C2 putting percentage was higher than the percentage in C1. It was one of these missed putts that allowed Gannon to take her first stroke back of Tattar since hole 14 the day prior, then Missy gained another on hole 10, and it was back to a six-stroke lead with eight holes to play.
"Maybe it was just nerves," said Tattar after the round. "Something was going on with the putting. It wasn't as strong as usual so that made me kind of hesitant."
Tattar took one stroke back on hole 11 and, then, on hole 13, Gannon's drive faded left of the mandatory tree. The imaginary rubber band that had connected the two leaders since early in round two finally snapped. The air seemed to go out of the contest. Eight strokes in five holes were too much to make up. Both players made par or bogey over the remaining holes and walked the fairway of hole 18 with that same 8 stroke gap separating them.
Tattar's OB and layup for a double bogey finish only disappointed the fans who wanted to see her score yet another 1000-rated round. Kristin tapped in to become the first back-to-back FPO world champion since Val Jenkins in 2009; she raised her arms to her fans and was wrapped in a long, tearful hug by her daughter.
"It felt like the last three rounds I was just struggling," a relieved Tattar said afterwards. "But I just kept telling myself 'I might be struggling but I'm not failing' so that kept me going. I'm just very happy I pulled it off. It's great to be in that sort of a battle with Missy. It's exciting to win against a player who is playing their best golf. It's a big honor to play against her and actually win."
Gannon shot a provisionally rated average of 998 for the tournament compared to Tattar's 1007. "I was happy to be in the conversation and not make it too easy," said Gannon after the tournament. "It was pretty surreal and intense but those are the moments that we live for and it's why we play this game."
Holyn Handley shot the hot round of the day at 7-under to win the early battle for the remaining spot on the podium against Norway's Lykke Lorentzen. Handley then held off the fast-finishing Finnish duo of Eveliina Salonen and Henna Blomroos to secure 3rd place. Lorentzen faded to a share of seventh place — after hitting a huge emotional putt on the 18th green — but remains the highest-ever placed Norwegian at a World Championship.
Reflecting afterwards on her win and her overall dominance this year, Tattar was asked about the secret behind her last couple of years of unprecedented success. Kristen does not give glib answers, and she was silent for six full seconds before she answered. The reply was simple: "I'm very lucky to have found my passion. I don't think every person finds it in their lifetime, but I actually found something that I am in love with, and that passion fuels my fire on the course."
It's fueled her to four consecutive major wins — the first FPO player to do it since Juliana Korver in 1999 and 2000 — and she will head to the US Women's Championship in two weeks with a chance to win a single season grand slam for the first time in FPO history.
"It would be a dream come true," Tattar said.
Isaac Robinson Holds His Nerve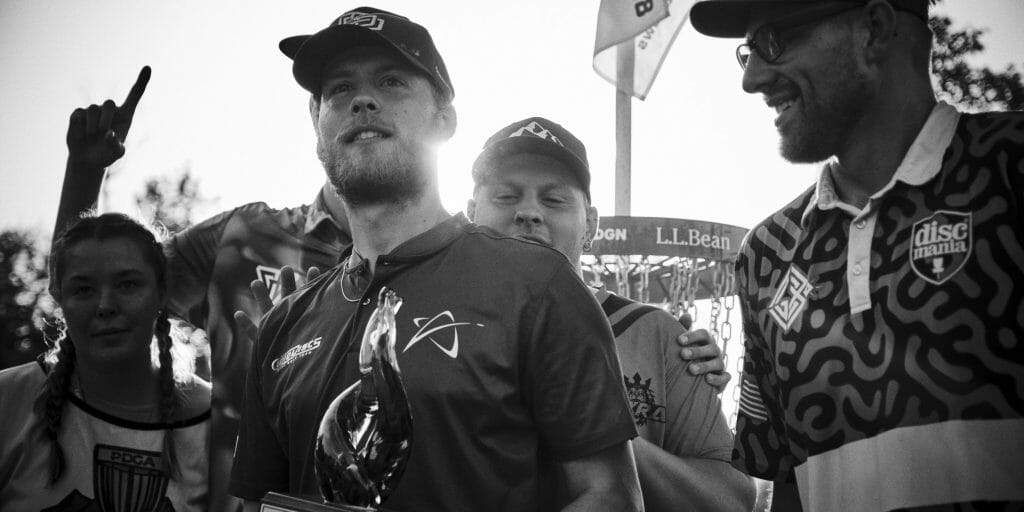 Despite the weight of history suggesting that a three-stroke lead going into a final round at the world championships will get you over the line most of the time, Isaac Robinson clearly wasn't going to start playing defense. He had the luxury of being able to make more mistakes that his pursuers, and with the chasing cards stacked with big-throwing, major-winning talent, he knew he needed to keep pressing.
Robinson and second placed Evan Scott peeled off four birdies in a row to start the show, while Calvin Heimburg and Kyle Klein bogeyed hole 3, allowing Anthony Barela to climb up into third place and begin the charge from the chase card.
The first pivotal moment of the round came on hole 5. Both Robinson and Scott faded left and into OB off the tee: Robinson 130-feet from the pin and Scott's disc rolling across the line just outside C2. Robinson got up and down for bogey, but Scott's par-save putt was low and turned into a roller that continued on, crossing the OB line outside the circle beyond the basket. Scott missed the comebacker and the double bogey sent him tumbling to a share of third place, five strokes back. Robinson's lead over his nearest chaser was now four.
The MPO lead card in a PDGA Major or DGPT event is not proving to be a comfortable place in 2023. As in the previous rounds in this world championship and in what seems like every event this year, while the lead card grows nervous and starts leaking shots, the chase cards play with abandon and light up the course. Add Anthony Barela, Eagle McMahon, and Mathew Orum to said chase card, get them firing off each other, and almost no lead is safe. Despite going OB twice in the middle holes, Robinson managed to save par and keep a clean sheet, but via the cheers that could be heard ringing through the trees at Fox Run, he knew the mercurial trio were on a roll.
One of those loud cheers was for Orum when he threaded a 60-foot anny flex putt through a downhill gap between the trees. The disc smashed into the chains and made every media person in disc golf wonder what a post-round, world-championship-winning interview with Matty O might actually be like.
Robinson had canned a 60-footer of his own on hole 8, though. But the crux of the chase was on hole 12, where McMahon and Barela both eagled the hole and Orum birdied. Right behind them, Robinson threw OB off the tee, and while he got up and down for par, up ahead, McMahon had climbed into second place, just two strokes back. Barela was three shots back, sharing 3rd place with Alden Harris, who was three cards ahead. Orum was four strokes back in 5th place.
"I felt pretty comfortable through the front nine," said Robinson after the round. "Then we got to hole 10 and they'd eagled hole 12 and I thought 'oh no' because [the lead] goes from four or five down to two. My Dad told me, 'Just get three more birdies,' and I was just counting them down: 13, 14, 16, and then 17 was just the cherry on top."
Barela missed a crucial birdie putt on 14 and McMahon ended his birdie streak by pulling his forehand shot across his body and into an early tree on hole 15. Robinson birdied holes 13 and 14; by the time he arrived at the tee of hole 15, all he needed to do was fire a clean shot down the tunnel of trees to make himself almost impossible to catch.
Robinson's backhand putter shot didn't quite make the turn into birdie range, but it was safe, and the par gave him a three-stroke lead with three to play.  There was still the test of hole 16, though, which had only been birdied 26% of the time. Robinson passed this test with another birdie, and after he hit the base of the frame holding the basket on hole 17 for a drop in birdie, the world championship was his.
The chasing trio of Barela, McMahon, and Orum all stood on the tee of 18 tied for second place. After all landed in the fairway, it was Barela who was able to dial up the bullseye hit with his approach. McMahon and Orum both landed in the bullseye but had their discs sit up and roll slowly and agonizingly out of bounds beyond the basket. The Eagle and Matty O show wasn't quite over, though. Both made their par-save putts to the roar of the crowd to capture a spot on the podium with a share of third place. They were all popular place getters, and it was sweet redemption for Anthony Barela after the European Open.
Like Kristin Tattar in the earlier round, Robinson stood on the tee of the treacherous hole 18 knowing he could almost deliberately throw out of bounds left and still get up and down for the win. Robinson turned, hugged his father who had been caddying for him all week, and then stuck his drive in the center of the fairway. His approach cut the corner around the guardian tree a little tight and got knocked down, but that didn't matter. From there, he chipped his way to a World Championship. The first person to grab Isaac in a hug was his brother Ezra.
"It doesn't feel real," Robinson said afterwards. "I didn't ever think this would happen, so I'm soaking it all in and it's not going to feel real for a while. I remember watching Gregg Barsby win out here. I was 16 or 17 at the time and to be able to do it at the same place is just crazy."
On what it was like to walk the hole 18 fairway knowing he was about to become a world champion, Robinson said, "I was just trying to soak in the moment, look at the thousands of people out here, sear that into my mind and have it forever."
Robinson becomes the fastest player to win a second major after their first, claiming the world title just 133 days after winning the Champions Cup. And he joins Paul McBeth, Ricky Wysocki, Will Schusterick, Dave Feldberg, Ken Climo, and Barry Schultz as the only player to win multiple majors in a single season.
Now he has a chance to cap a historic season with a win at the USDGC: last year, he finished 6th, his highest ever finish at the event.