Who has the best shot of winning Worlds?
Charlie Eisenhood and Josh Mansfield go through the Vegas odds for the PDGA World Championships and discuss some strategies before welcoming in the winners of DGLO, Simon Lizotte and Ohn Scoggins. The guys also preview the American Flying Disc Open, this weekend's lightly attended DGPT Silver event.
The Upshot: Worlds Odds, Simon Lizotte, Ohn Scoggins
Send in your Worlds bets to [email protected]! You get a $100 budget on the winner odds listed below: whoever has the most money at the end of the contest will win an Upshot Prize Pack. Any player not listed is available to bet on at +20000.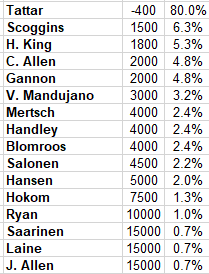 You can contact Charlie and Josh at [email protected].
Note: You can follow Ultiworld and The Upshot on Spreaker. The podcast is also available on iTunes, Spotify, Stitcher, iHeartRadio, Deezer, RSS, Google Play, and your other favorite podcasting apps.