The biggest crowds of the year at the tour's biggest European event.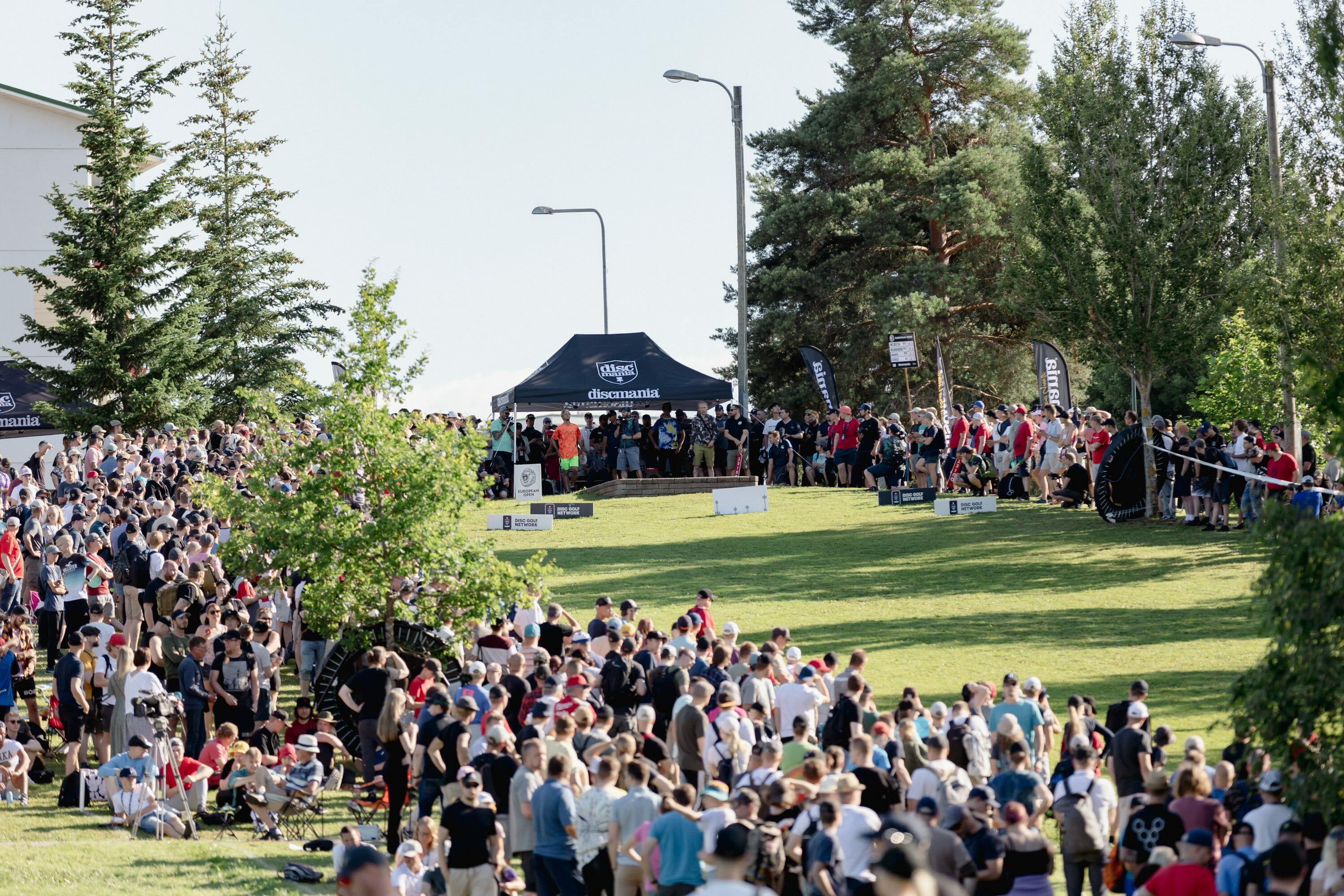 With three of America's four major sports leagues sitting idle in the offseason, most of the sporting world has focused in on Europe. Wimbledon came to a close this past weekend, an electric Tour de France is mid-race, and golf's 151st Open tees off on Thursday. It's fitting that the 11th European Open, disc golf's only international Major championship, kicks off this weekend as well.
With the picturesque landscapes of Nokia, Finland, serving as the backdrop, this prestigious event is unlike any other in the sport. The Beast is well-known as one of the world's top disc golf destinations, and it's the favorite course of 5-time champion Paul McBeth. No player has ever won their first career Major title at this event: all previous MPO and FPO champions had won at least one Major prior.
Last year, Paige Pierce was able to overcome a two stroke deficit in the final round to defeat Eveliina Salonen and set the record for most FPO Major wins. Pierce sadly will not be competing this year after dislocating and breaking her ankle in three places while practicing for last week's PCS Open. Paige is scheduled to have surgery next Tuesday, and in all likelihood will be sidelined for the remainder of the season.
The MPO division, of course, delivered one of if not the greatest battle in the sport's history. Eagle McMahon averaged the highest event rating in PDGA Major history at 1074 to defeat Paul McBeth by one stroke. McMahon had missed much of the year due to injury and did not throw a single forehand during the tournament. McBeth averaged the highest losing event rating in PDGA Major history at 1072, and finished 16 strokes ahead of the 3rd place finisher. The tournament hosted a record crowd of over 15,000 spectators throughout the weekend with over 5,000 people in attendance for the final day, and it has continued to grow its audience year after year.
Past Winners
| | PDGA Tier | Open | Open Women |
| --- | --- | --- | --- |
| 2022 | M | Eagle McMahon | Paige Pierce |
| 2019 | M | Paul McBeth | Paige Pierce |
| 2017 | M | Paul McBeth | Catrina Allen |
| 2016 | A | Paul McBeth | N/A |
| 2015 | M | Paul McBeth | Catrina Allen |
| 2013 | M | Paul McBeth | Paige Pierce |
| 2011 | M | Dave Feldberg | Valarie Jenkins |
| 2009 | M | Jesper Lundmark | Valarie Jenkins |
| 2007 | M | Ken Climo | Carrie Berlogar |
| 2006 | M | Dave Feldberg | Carrie Berlogar |
Five Things We'll Be Watching
Paul McBeth has historically dominated this event, winning five titles in a row between 2013 and 2019. A win this weekend would give McBeth his 18th MPO Major title, tieing Ken Climo for the most in PDGA history. Last year, he put up the best performance of his career on the Beast, only to finish one stroke shy of Eagle McMahon. When Paul announced his 2023 tour schedule, many saw his Euro Tour as a planned effort to slowly ramp up his game for the European Open. There is no doubt that the man who won this event 5 times in a row wants it this year more than ever.
Eagle McMahon defied the odds in multiple ways last year, overcoming injury, the Beast, and McBeast to claim his 2nd career Major title. Coming off back-to-back 4th place finishes, his game is looking solid enough to be one of the favorites this week. Surprisingly, UDisc gives McMahon only the 5th best odds to win at 8%, behind Calvin Heimburg, Ricky Wysocki, and Chris Dickerson, all players who have never won this event. McBeth currently has the highest odds to win at 19%. If Eagle can subdue McBeth once again and repeat as champion, consider the proverbial changing of the guard completed.
A European Open title is all that remains for Kristin Tattar to complete the modern disc golf grand slam. Tattar won the 2019 USWDGC, 2022 World Championship, and 2023 Champions Cup. Quite satisfyingly, a win would also complete the grand slam in just her first four Major wins. Kristin would also become the first European woman and first Estonian player to earn the title. While 3-time champion Paige Pierce will not be in the field, Tattar will have plenty of competition including 2-time winner Catrina Allen. Finns Henna Blomroos and Eveliina Salonen are also familiar with this track and are capable of shooting hot scores on the Beast. Just last year, Salonen registered a 1028-rated 2nd round, better than 79% of the MPO field.
No player has ever won their first career Major title at the European Open: could this be the year that streak ends? Calvin Heimburg and Missy Gannon stick out as the most likely candidates to claim their first Major this weekend. There are also a slew of previous major winners in both divisions who have yet to win this event, including Ricky Wysocki, Chris Dickerson, Isaac Robinson, James Conrad, Sarah Hokom, Eveliina Salonen, and, of course, Kristin Tattar.
On Wednesday, the 11th President's Cup takes place, a team event which pits team USA vs. Team Europe. Nate Sexton will act as the Team USA captain for the 2nd time in his career, while Dane KJ Nybo will captain team Europe for a 2nd straight year. Team USA has never lost this event, but the spread has grown closer and closer with each year. While team Europe should see a boost from the addition of Kristin Tattar, even without Paige Pierce, Team USA arguably has their most talented squad to date.
The Course
Designed by Discmania founder Jussi Meresmaa, the Beast is a crown jewel in the sport of disc golf. The front 9 holes are heavily wooded and require a variety of tee shots, with the back 9 featuring more OB and water hazards. Traditionally, the same layout has been used for both the MPO and FPO divisions, but this year the FPO layout will play shorter and two strokes easier to par.
For MPO, there are few changes: hole 7 has a new tee and measures 40 feet longer (12 meters) this year and hole 14 measures 33 feet longer (10 meters).
The FPO changes begin on hole 2, which has been shortened from 381 feet (116 meters) to 312 feet (95 meters). Hole 3 has been shortened from 863 feet (263 meters) to 787 feet (240 meters). Hole 11 has been shortened from 394 feet (120 meters) to 331 feet (101 meters). Hole 17 has been shortened from 459 feet (140 meters) to 361 feet (110 meters). The par changes come on hole 15, which was increased to a par 4, and hole 18, which goes from a par 4 to a par 5. These changes should lead to far more birdie opportunities for the division, and an eagle opportunity on 18.
2023 MPO: 9,167 Feet (2,794 Meters) Par 63
2022 MPO: 9,091 Feet (2,771 Meters) Par 63
2023 FPO: 8,825 Feet (2,690 Meters) Par 65
2022 FPO: 9,091 Feet (2,771 Meters) Par 63
Extended Forecast
Rain and thunderstorms loom as the weekend progresses. Hopefully, most of the thunderstorms can steer clear and not threaten any weather delays.
Thursday: Partly cloudy with highs near 70. Winds 5-10mph.
Friday: Scattered showers with highs near 70. Winds 5-10mph. Chance of rain 50%.
Saturday: Scattered thunderstorms with highs in the upper 60s Winds 5-10mph. Chance of rain 80%.
Sunday: Scattered thunderstorms with highs in the upper 60s Winds 5-10mph. Chance of rain 60%.