From the desk of Owl P. Jackson, Esq.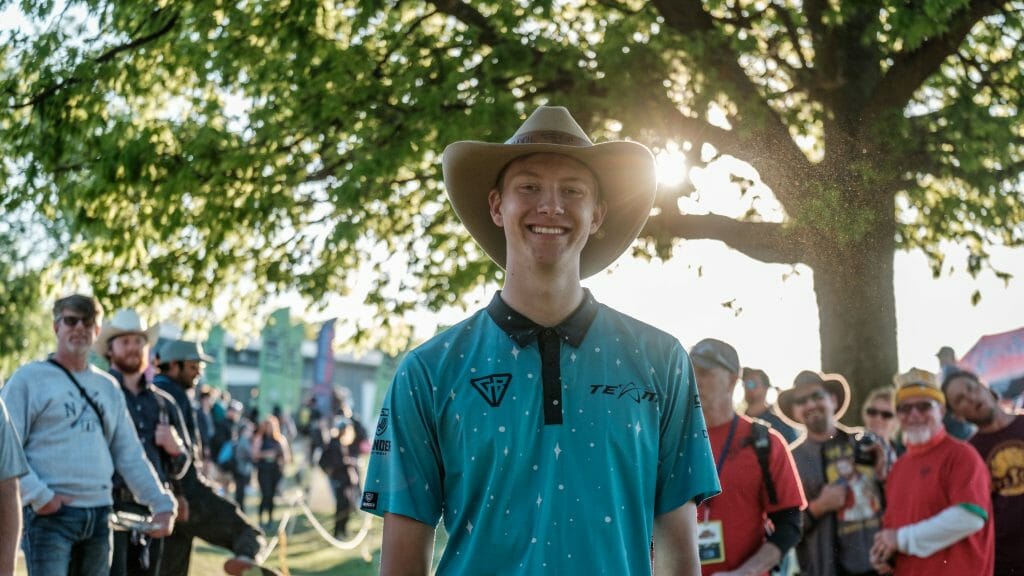 It's not every weekend that we get to see a new disc golf course on the Pro Tour. Over the past few years, the tour routing has become increasingly solidified and has started to run the risk of becoming a bit monotonous. But be ready. With a new course and a (sort of) new event come divided opinions—and there were plenty of them. So, let's keep it weird! In my opinion, these are the top 10 storylines of the 2023 Open at Austin.
1. Gannon Buhr from the chase card
"When were you supposed to be home?"
"Few hours ago, I think."
I wonder if Jomez is feeling a little frustrated. Probably not. They are well aware that this is going to become more and more common. For the second straight week, the MPO winner came from the chase card. This week it was an even younger star: teenager Gannon Buhr. This is Buhr's first normal Elite Series win, but certainly not his first or his biggest. He can add this one to his A-tier, Silver, and Major wins. At this point, it shouldn't come as a surprise to anyone. He is already one of the best 5 players in the world and is still getting better. What is surprising is his maturity, especially in regard to his mental game. In a week where so many others were moaning and complaining (more on that later), Buhr kept cool. In his own words, "A lot of people didn't like the course. I tried to stay positive about it and use that to my advantage." 🥶
2. Paige Pierce back on top
"You know, I'd like to quit thinking of the present, like right now, as some minor insignificant preamble to something else."
Paige Pierce had not won an event since last July's European Open. She hadn't won an event with Kristin Tattar in the field since last April's Champions Cup. Toward the end of last season, Paige let us know that she was struggling to find the competitive spirit she had become known for. Last week in her season debut, it looked like she still might be searching for it. This week, she showed that she had found something different and maybe something even better—perspective. After her round she said, "Disc golf has been my entire life, and so, I've been trying to just adventure off the disc golf course and find other things I like to do. And try not to make every shot I take so life or death feeling." Turns out the rumors of Paige's demise were greatly exaggerated—again.
3. Kristin Tattar's podium streak
"She was a hip—a hip, hip lady, man."
16 straight Elite Series podium finishes. It is not likely that we will see a similar streak again. It all came to an end this week with Kristin's T-5th finish. She went into the final day neck and neck with Pierce but quickly fell off the pace and out of contention. Really, it is a continuation of the final two rounds at WACO. Kristin just doesn't look like herself right now. Putts aren't falling, lines are missed—it all feels off. It doesn't help that we basically expect perfection from her, because that is the standard she set for herself last season. She said after her round that she doesn't really know what is wrong. I don't think it will take her long to figure it out. Time to start the streak again.
4. MPO: The best of the rest
"No, you can't give a build up like that and not deliver."
It was another insane leaderboard on the MPO side. People on the 5th and 6th cards had legitimate shots to win on the final day. It felt like half the field was in the mix. Therefore I'd like to give a few shoutouts. Simon Lizotte was the closest person in contention, seemingly out of nowhere. James Proctor continued his excellent start to the season, even though I don't think I saw him on coverage for even a millisecond. Austin Turner set the pace early. Eagle and Cole Redalen looked to have the best chance of winning but faltered late. Väinö Mäkelä and Joona Heinänen represented for the Finns. And Calvin Heimburg took three early O.B.s to knock himself out of true contention but showed us it's still the year of Calvin.
You missed most of that if you weren't watching live.
The moment it will really become weird is when someone wins from the 3rd, 4th, or 5th card, and there is barely any footage of their winning round. Just think—what if Proctor had somehow won?!
5. Paul McBeth's comments
"I might play ball. But I will never sign that."
If you watched disc golf this past weekend, you heard these words ad infinitum. McBeth was one of Harvey Penick's biggest critics, saying on day one, "I'm not the biggest fan of the course. We all gotta play it. We all gotta get through it. Just two more rounds now." About holes 17 and 18, Paul said, "Terrible holes. Terrible holes. 17…I throw a perfect drive and get absolutely nothing. 18, I don't think it's a great finishing hole. But only two more rounds of it." McBeth may have been right, but some of the greatest shots of the tournament were McBeth on 17. Also, Paul only seems to complain or criticize after something goes wrong for him. So much sore complaining.
6. Harvey Penick Golf Campus: The good
"Let me tell you this, the older you do get the more rules they're gonna try to get you to follow. You just gotta keep livin' man, L-I-V-I-N."
Despite what Paul and the Jomez practice round might have you believe, the reviews weren't all negative. This course forced players to throw a wide variety of different shots that we don't always get to see. I like watching players force ridiculous spike hyzers in nearly impossible directions. I want to see backhand exclusive players forced to throw sidearms. The best thing about this course, however, is the fact that it is in Austin. The Brooklyn of Texas is a huge disc golf city that showed up for every day of the event (although not necessarily for the day one Lone Star feature card). There might be major changes to this course. They may move to a different course entirely. But they will be back in Austin.
7. Harvey Penick Golf Campus: The Bad
"Well, best not to think too deep on it."
"Best not."
Here is my main problem with this course. You can't tell where you are or where you are going. Courses need to figure out a better way to mark artificial O.B. When a player threw a shot, you couldn't tell if it was good, bad, tragic, or the greatest shot that had ever been thrown. A windy first day brought horrible scoring conditions to this directionless course, as well as flashbacks to DDO's dreadful Supreme 18.
8. Catch Cam Dave
"Heard they got you pretty bad."
"Yeah."
One moment from this tournament went viral—at least in disc golf circles. Eagle McMahon threw a towering grenade into hole 4's woods-protected green. Viewers leaned in closer and closer to their screens to see where it would—THWAP! The disc absolutely smashed onto the top of a man's head with a sickening crack. It caused me to audibly react. It turns out this man was Dave, who was operating the catch cam for Gatekeeper Media. Play paused for a half hour or so, as the Pro Tour crew tended to Dave and waited for the arrival of an ambulance. Eagle was visibly shaken, understandably. Dave needed a bunch of staples but says he is doing well. It was a total freak accident, but it makes you wonder if anything truly terrible could ever happen.
9. Wrist-Watch
"Remember me? Second-period gym class?"
Ricky Wysocki returned to action in Austin. The return of the World #1 didn't end so well, however. Ricky DNF'd with 3 holes to go. Now, the cynic in me says that Ricky just dropped to preserve his rating and ranking. Really, you can't make it three more holes? But Ricky wouldn't do that, would he? On Instagram, Ricky explained, "I felt my wrist was ready for the event but ultimately I was wrong." Color me suspicious if Ricky miraculously returns to play this weekend for Texas States.
10. Cowboy hat trophy
It'd be a lot cooler if you did.
More of this, please. Let's lean into the unique trophies. No one wants another boring trophy. No one wants a stock disc—looking at you, OTB Open. No one wants the abomination that was last year's Worlds plaque. Give me Barsby's battle axe or give me death.
Thanks for reading, everyone! Let me know the storylines you think I missed. See you in Nashville!