It's a Major for MPO and a very important A-Tier for FPO.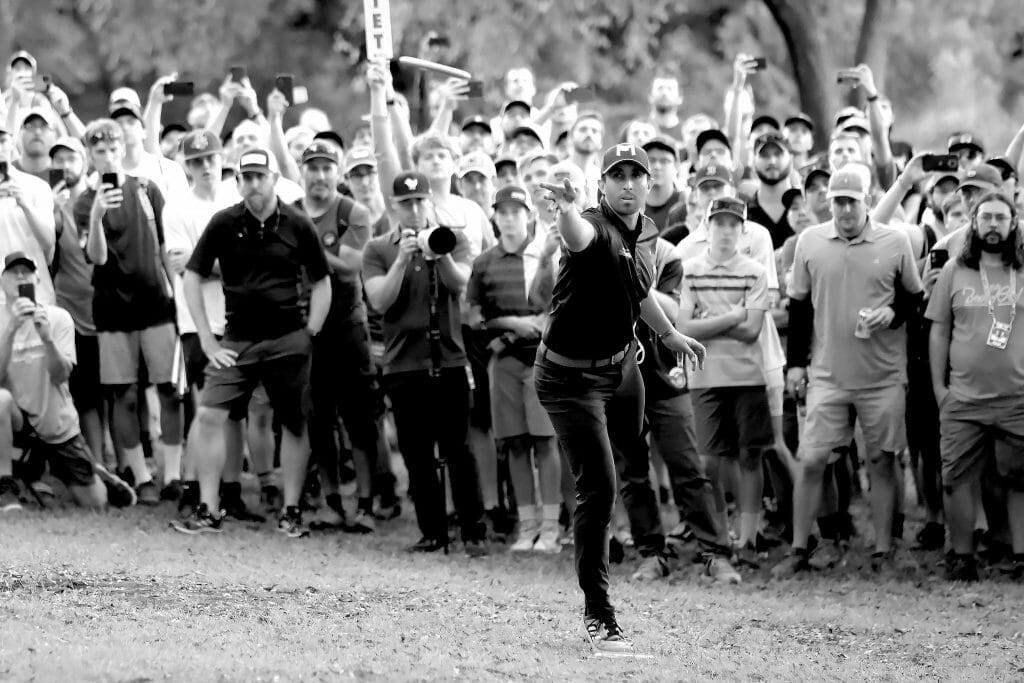 Since the beginning of the pro tour season in February, players have been battling for position in the standings to earn a spot in next week's tour championship. What often goes overlooked is that all of those months of hard work culminate this week as well. Many Elite Series events, and of course the Majors, offer players a chance to qualify for the United States Disc Golf Championship and Throw Pink Women's Disc Golf Championship.
At last year's event, both Paul McBeth and Missy Gannon entered the final day with a one stroke lead. Gannon was able to hold off Valerie Mandujano and Hailey King to take home a two stroke win in the inaugural TPWDGC. Though not considered a major, it's difficult to not give this event a similar level of prestige given the circumstances. That sentiment was evident as Missy would go on to win the Elaine King Player of the Year award, in large part due to consecutive wins at TPWDGC and the DGPT Championship.
McBeth, on the other hand, saw little resistance from his fellow lead card competitors. Ricky Wysocki, Joel Freeman, and Kyle Klein were all making moves from the chase card, but McBeth was somewhat unsure of just how much they were moving. When Paul reached hole 17, Kyle Klein was finished with his round and sitting in the lead. But as the UDisc scorer was making corrections to his scorecard, nobody was quite sure exactly what Klein's score was. This uncertainty forced McBeth to run a 60 foot putt on hole 17, which he converted in dramatic fashion. And then on hole 18, unwilling to trust that he was tied for the lead, Paul ran a very dangerous putt for the win, which luckily did not roll away after missing. McBeth would go on to win after a one hole playoff, sinking a circle's edge putt from nearly the exact same spot he had missed from seven years prior in a playoff against Will Schusterick.
Past USDGC Winners and Runners Up
| | Winner | Runner Up |
| --- | --- | --- |
| 2022 | Gannon Buhr | Niklas Anttila |
| 2021 | Paul McBeth | Kyle Klein |
| 2020 | Chris Dickerson | Calvin Heimburg |
| 2019 | James Conrad | Jeremy Koling & Nikko Locastro |
| 2018 | Paul McBeth | James Conrad |
| 2017 | Nate Sexton | Ricky Wysocki |
| 2016 | Jeremy Koling | Nikko Locastro |
| 2015 | Paul McBeth | Ricky Wysocki |
| 2014 | Will Schusterick | Paul McBeth & JohnE McCray |
| 2013 | Steve Brinster | Barry Schultz & Steve Rico |
| 2012 | Will Schusterick | Ricky Wysocki |
| 2011 | N/A | |
| 2010 | Will Schusterick | Nikko Locastro |
| 2009 | Nikko Locastro | Dave Feldberg |
| 2008 | Nate Doss | Avery Jenkins |
| 2007 | Ken Climo | Avery Jenkins |
| 2006 | Barry Schultz | Brian Schweberger |
| 2005 | Dave Feldberg | Scott Martin |
| 2004 | Ken Climo | Darrell Nodland |
| 2003 | Barry Schultz | Ken Climo |
| 2002 | Ken Climo | Barry Schultz |
| 2001 | Barry Schultz | Ken Climo |
| 2000 | Ken Climo | Al 'Sugar' Schack |
| 1999 | Ken Climo | Al 'Sugar' Schack |
Past TPWDGC Winners and Runners Up
| Year | Winner | Runner-Up |
| --- | --- | --- |
| 2022 | Catrina Allen | Kristin Tattar |
| 2021 | Missy Gannon | Kona Panis |
| 2020 (WNC) | Paige Pierce | Catrina Allen |
Four Things We'll Be Watching
Paul McBeth is by far the biggest storyline this week for several reasons, as is typically the case at Major championships. With a win this week, McBeth would tie Ken Climo for the most professional major wins in disc golf history at 18. And speaking of Climo, Paul would also become the only other player to win four or more USDGC titles, and the first to win it back-to-back since Will Schusterick did it in 2012. McBeth would likely become the favorite to win Player of the Year as well, adding to his win at WACO, strong runner-up finish at the European Open, and his World Championship win.
Ricky Wysocki and Simon Lizotte are the current front-runners for Player of the Year, and earning their first USDGC win would likely seal the deal for either of them. Both players have received some flack for underperforming at Majors: Lizotte has never won one while Wysocki is winless since 2017. In that time, Ricky still has three runner-ups and three third place finishes, while Simon has not finished on a major podium since 2018. Both players have the skillset to win on the Winthrop course, the question is whether they are mentally up to the challenge.
Many expect Kristin Tattar to come away with yet another win; she's an easy choice given her recent level of play and her success on courses with lots of OB. While Paige Pierce fell short of the playoff at the MVP Open, she played some of her best golf in months and has had success at Winthrop previously. Paige won the 2020 Women's National Championship in Rock Hill and is also the 2014 USDGC Performance Flight Champion. Pierce shot a blistering 7-under par opening round last year, but in round 3 shot one of the worst rounds of her career at 18-over par and fell well out of contention. Her aggressive style of play offers a high ceiling but also a very low floor. With the amount of OB and hazards at Winthrop, that floor is easily reachable when things get off the rails. Aside from Pierce, Tattar will need to fend off plenty of other terrific throwers like Henna Blomroos who has emerged as her closest competitor as of late.
To go along with Missy Gannon's two stroke win last year, the USDGC winner has been decided by just one stroke since 2018. Last year's TPWDGC featured four players who were rated 960 or above; this year, there are 10 such players. The average margin of victory in both divisions has continued to decline this season as the fields have become increasingly competitive. With the challenges presented by the Winthrop Arena, expect thrilling finishes in both FPO and MPO.
Course Changes
The Winthrop Arena has undergone several changes this year. In fact, there are changes to nearly half of the holes. Starting on hole 2, a mandatory right was added up near the green, and the MPO division will now play the hole 220 feet shorter as a par 3. Hole 3 is brand new and combines the former holes 3 and 4 into an 841 foot behemoth that will play as a par 4 in MPO and par 5 in FPO. Hole 4 is a new tightly wooded par 3 with a single mandatory: it was previously on the layout back in 2019, but at the time had two double mandos.
Jumping up to hole 9, the FPO division will now play from the MPO teepad, and the hole will score as a par 4 rather than par 3. Hole 10 has a new FPO teepad, making the hole 218 feet shorter, and it will score as a par 3 rather than a par 4. The hazard areas on hole 11 have been expanded, and hole 12 now has a ring of OB in the main landing zone. The famous hole 13 — commonly known as "888" or "999" — is a new par 4 layout that does not play across the parking lot to the island green like previous years. Instead, that space will be used to accommodate the extra spectator vehicles expected at this year's event. Now, the tee shot is blind and the basket is heavily protected by trees within two feet of it.
2021 MPO: 9,886 feet Par 66
2022 MPO: 9,812 feet Par 64
2021 FPO: 8,741 feet Par 68
2022 FPO: 8,787 feet Par 69
Extended Forecast
After hurricane Ian rolled through with rain and high winds, Rock Hill should be in for some very favorable golfing weather this week.
Thursday: Sunny with highs in the upper 70s
Friday: Sunny with highs near 80
Saturday: Partly cloudy with highs in the upper 60s
Sunday: Sunny with highs in the upper 60s
How To Watch
How To Watch The 2022 USDGC And Throw Pink Women's Disc Golf Championship
Ultiworld Disc Golf Subscribers, read on for PrizePicks Lines & Best Bets…
Bonus Content for 2022 USDGC & Throw Pink Preview: Into the Arena is only available to Ultiworld Subscribers
Already have a subscription? Log in
Whether you visit Ultiworld for our reporting, our podcasts, or our video coverage, you can help us continue to provide high quality content with a subscription. By becoming a subscriber, not only do you receive benefits like bonus content and full article RSS feeds, you also help fund all of Ultiworld's coverage in general. We appreciate your support!