Simon wins his 4th Elite Series event; Ryan wins her 2nd.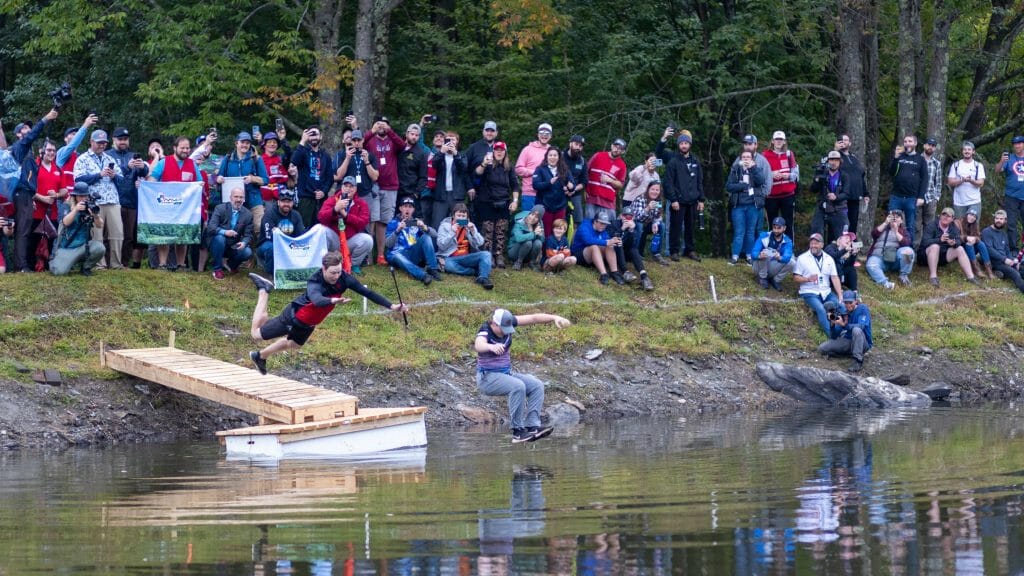 After 12 regular season and two playoff events, nearly 1,000 Elite Series competitors have been whittled down to 36 MPO and 20 FPO players to compete for the title of tour champion. Day one of the MVP Open was dominated by thunderstorms which caused multiple delays and forced the MPO division into a three day event. Meanwhile, the FPO division had to slog their way through the weather and play all four rounds as originally planned. Natalie Ryan entered the final day with a one stroke lead on Kristin Tattar and Missy Gannon. While Tattar was able to tie it up in regulation, Ryan managed to earn her 2nd win of the season after a one hole playoff. Massachusetts local Simon Lizotte made a charge on Sunday and became the first chase card winner on the Elite Series since Eagle McMahon did so at the 2020 Idlewild Open. Lizotte defeated Corey Ellis by one stroke, after Ellis threw his approach shot out of bounds on hole 18.
Simon Lizotte
Facing a six stroke deficit, Lizotte had just a 3% chance to win coming into the final round at Maple Hill, according to UDisc's new win probability calculations. Simon's 10-under par effort on Sunday included 8 birdies in a 10 hole stretch and came in as the hottest round of the weekend. Finishing 4th in strokes gained tee to green and 6th in strokes gained putting, Lizotte led the field in birdies as well as C2 in regulation. His familiarity with the course certainly paid off, as he collected just three total OB strokes and shot his highest event rating of the season at 1058. Simon was able to tie Ricky Wysocki for the most ES wins this season with four, including one playoff win for each player. Paul McBeth is the only MPO player to record more than four DGPT ES wins in a single season.
Corey Ellis
Despite holding a three stroke lead after two rounds, Ellis did not get redemption for his playoff loss at DGLO earlier this year. Corey finished 2nd in strokes gained tee to green, 3rd in strokes gained putting, and carded the same number of birdies as Lizotte. After a rough start in the final round, Ellis began to string some birdies together and clawed his way back up the leaderboard. Corey had five OB strokes in the tournament, the most crucial of which came on the final hole when he was attempting to make the peninsula green and win the event in regulation with a birdie. His approach shot went out of bounds and a missed 76′ putt from the drop zone handed Simon the win without going to a playoff. With his second runner-up finish this season, Ellis moved from 13th up to 10th in the DGPT standings. While this does not change his qualification status for the tour championship, it does increase his advantage in a potential tiebreaker situation.
Paul McBeth
The world champ also had a strong final round but wasn't quite able to put together as many birdies as Lizotte. While Paul finished 16th in strokes gained tee to green, he led the field in strokes gained putting and did not miss any putts from C1. McBeth took home his 4th podium finish on the ES in 13 events played this season. He also had a chance to surpass Ricky Wysocki for the tour points championship but came up five points shy in his effort.
Gannon Buhr
Unfortunately, UDisc is missing a large portion of Gannon's round 2 statistics, but there is much to discuss in terms of his season-long performance. In 14 ES events, Buhr had 11 top 10s, 6 top 5s, and 3 podium finishes including Maple Hill. Compare his average finish of 19.70 last year to a tour-best 7.71 this season, ahead of Wysocki, McBeth, and Calvin Heimburg. While Buhr finished 4th in the tour standings behind those players, his consistency this season was unmatched. Gannon was very much in contention to win this event before a tree kick on hole 16 forced him out of bounds. Still, he walked away with his highest event rating since winning the Masters Cup on the Silver Series earlier this spring.
Linus Carlsson
Just like Corey, Linus was tied for the lead going into hole 18 but could not get off the box cleanly. A triple bogey pushed him out of winning contention and down into 5th place, which is still his highest career finish at an ES event. He now has back-to-back top 10 finishes after a nice outing at the Green Mountain Championship last week. Most importantly, Linus jumped from 40th place all the way up to 29th and is now qualified for the tour finale. Carlsson was all the way down in 47th prior to the start of the playoffs.
Kyle Klein
Klein's rough start to the year seems like a distant memory, because he has been excellent in the second half of the season. After the MVP Open, Kyle now has top 7 finishes in six of his last seven ES events. Coming in with his 2nd highest rated event of the year at 1048, Klein moved up to 9th place in the tour standings at the MVP Open. While he was unable to earn enough points for a bye to the semifinals, Kyle will hold the top seed in the quarterfinal round of the tour championship.
Väinö Mäkelä
After a 51st place finish at the GMC last week, Väinö was knocked down to 30th place, leaving him sitting right on the play-in bubble. The Finn followed that up with a nice weekend in Leicester, finishing 11th in both strokes gained tee to green and strokes gained putting. Mäkelä missed only one Circle 1 putt but made just two from outside the circle. His biggest weakness was scrambling, converting on just 4-of-11 attempts from out of position. In his highest rated event of the season and 3rd highest of his career, Väinö jumped from 30th up to 24th and is officially qualified for the tour championship next month.
Ricky Wysocki
For the 2nd year in a row and 4th time in his career, Ricky Wysocki is the DGPT MPO points champion. Wysocki did just enough to keep the title from Paul McBeth, who is the only other MPO player to win the points title since the DGPT began in 2016. Ricky led the field in strokes gained tee to green and both C1 and C2 in regulation, but he oddly parked just one hole. His issues came on the putting green, where he finished 34th in strokes gained and uncharacteristically missed seven C1X putts. Though Wysocki only had a total of six over-par strokes on the week, he finished just 15th in birdie percentage.
Jake Hebenheimer
With a clean 9-under par final round, Hebenheimer jumped up the leaderboard to claim his 2nd top 10 finish on the ES this season. Jake finished 3rd in scramble percentage, converting on 14-of-19 attempts. Perhaps most impressively, he birdied holes 10, 14, and 18 in every single round. At a 1043 average, the MVP Open comes in as the highest rated event in Jake's career. Despite a great finish, Hebenheimer was only able to get up to 37th in the pro tour standings, leaving him one spot shy of the play-in pool — unless Eagle McMahon decides not to compete.
Paul Ulibarri
In his best finish at Maple Hill since 2018, Uli played relatively clean despite taking at least three bogeys in each round. Paul carded just one OB stroke, missed only one C1 putt, was 3rd best in holes parked, and 4th in fairway hits. Not only is this Uli's highest rated event of the year, it marked his first top 15 finish on the ES in 364 days.
Andrew Marwede had a tough time getting off the box in round one, being forced to scramble 10 times and converting on just four of those. Despite that, Andrew carded just two penalty strokes throughout the week and proceeded to shoot 10-under par in the final two rounds combined. Marwede made up several strokes on holes 17 and 18, which he birdied in all three rounds. He finished 5th in strokes gained putting and C1X putting, which is actually fairly pedestrian for the best putter in the division. Still, Andy did just enough to move to 30th in the tour standings and qualify for the Tour Championship.
Hats off to Brodie Smith, who played in every tournament besides four Silver Series events this year (one of which was in Norway). He accumulated just shy of 18 points in the three silver series events that counted towards his points total. Without those points, he would not have qualified for the DGPT Championship. At Maple Hill, Smith earned his 4th top 25 finish of the season and moved from 31st up to 27th place in the standings, getting him from the play-in to a guaranteed spot. Interestingly, Brodie has averaged two ratings points lower in his ES events this season compared to 2021. However, he recorded five events this year which scored at or above his highest event rating from last season. His average level of play may have remained the same, but his ceiling clearly rose.
Natalie Ryan
Shooting the highest event rating of her career at 986, Natalie Ryan was able to hold off Kristin Tattar and claim her 2nd ES win of the season. Always a good tee-to-green player, it was Natalie's putting that came into form at Maple Hill. She had the 2nd best C1X percentage, 5th best C2 percentage, and finished with the 2nd most strokes gained. Ryan led the event in birdies but also carded nine OB strokes, which ranked just 25th best. Even with 125 points earned, Natalie moved just one spot from 10th up to 9th in the pro tour standings.
Kristin Tattar
On Sunday, Kristin made up a one stroke deficit on Ryan but came up just a few inches short on her birdie putt in the playoff. Tattar finished the event 5th in strokes gained tee to green as well as strokes gained putting. One place Kristin struggled was on the famous hole 8; after making the island in round one, she failed to do so for the rest of the event. She continues her incredible streak of making the podium at every single Elite Series event she has played in her career (though not every major). Tattar's average finish at ES and Majors this year is 1.72, and she has averaged a 990 event rating on the ES in these last two seasons. Kristin also became the first new DGPT points champion in the FPO division since 2017. Prior to this year, Sarah Hokom and Paige Pierce have been the only players to claim the title.
Paige Pierce
In her highest rated event since winning the Preserve Championship, Pierce came in just one stroke shy of catching Tattar and Ryan from the chase card. Finishing 2nd in strokes gained tee to green, it was once again the putting that held Paige back — she finished just 18th in strokes gained on the greens. In the final round, Pierce had a birdie putt on hole 17, but would go on to three-putt and take a bogey. She struggled to scramble as well, converting just 4-of-15 attempts throughout the week. As the runner-up in the standings, this marks the first year since 2018 that Paige will not be the DGPT FPO points champion.
Holyn Handley
While Holyn came in 3rd at the world championship, 4th place at Maple Hill is her best ES finish so far. Handley finished 2nd in fairways hits, holes parked, C1 in regulation, birdies, and scramble percentage. She even managed to birdie the tricky hole 5 in all four rounds of the tournament. Most importantly, she moved from 17th up to 13th and is now qualified for the tour championship without needing to play her way in.
Ohn Scoggins
One of the biggest storylines coming into the week was the battle between Scoggins and Valerie Mandujano for 4th place in the DGPT standings. To much surprise, both players were underperforming and allowed Missy Gannon to creep up and have a shot at stealing 4th place. While Mandujano and Gannon struggled mightily on Sunday, Ohn battled back and secured her bye to the semifinals of the tour championship. Even so, Maple Hill was Ohn's worst ES finish since the Preserve Championship, and the first time she has missed the podium in that span. Nobody would have expected a 41-year-old player to average a 969 rating on the ES after averaging 947 just a year ago, but here we are!
Macie Velediaz
Macie had a very up-and-down week, shooting a combined score of 14-over par in rounds one and three, while shooting a combined score of 4-under par in rounds two and four. Velediaz led the field in strokes gained putting and C1X putting at 85%, her season average is just 69%. Even with a 5th worst 11 OB strokes on the week, Macie moved from 22nd up to 18th in the standings and will have a shot to play her way into the tour championship.