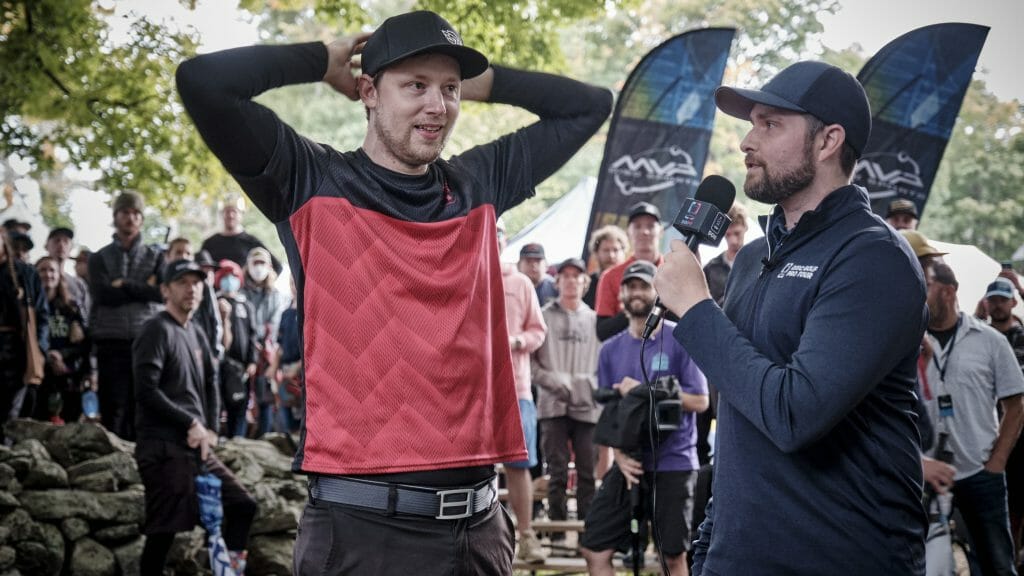 Does anyone else feel that we have been treated to an anthology of enthralling human stories in our game this year? From life-affirming press conferences and joyous celebrations to scenes of crushing tragedy, the tales of the last few weeks have been so rich in drama and pathos that I think I'll ditch Netflix and just watch disc golf.
Consider the last few throws of the 2022 MVP Open at Maple Hill. We had Simon Lizotte pacing around the scorer's hut, chewing his t-shirt nervously, as the final card played their upshots to the rock wall boxed green. Corey Ellis was 166 feet out on the left side. An almost perfect spot. He just needed to execute a tricky but very makeable hyzer forehand onto the green for a birdie and a one-throw win. It was the biggest shot of the West Virginian's career. But, as Disc Golf Network commentator Nate Sexton said when describing the weight of the moment, "It's this feeling, that your arm isn't really connected to your body in the way you are used to." Ellis's arm decided to pull the disc across his body, and it sailed into the crowd lining the out of bounds area on the left side. There was a collective groan of "Oh no" a few times, but it quickly turned into a chant of, "Simon! Simon!" as they realized their adopted hometown hero was in great position to win.
Ellis's 76 foot bid to force a playoff skipped off the rim of the basket. The camera was again on Lizotte as he looked slightly sheepish, smiled, hid his face in his cap, and generally didn't quite know how to react to the idea that he'd risen from 39th place and two-over par after round one to victory in a tournament that, outside of a World Championship, he prized over all others. Then, just after Steve Dodge handed Simon the trophy with the roars of the crowd still ringing through the staging area, DGN camera operator Matt Lavallee spied Cory Ellis sitting alone, head in hands, in the scorer's hut. "Those two impostors," as Rudyard Kipling called triumph and disaster, never sat so well side by side.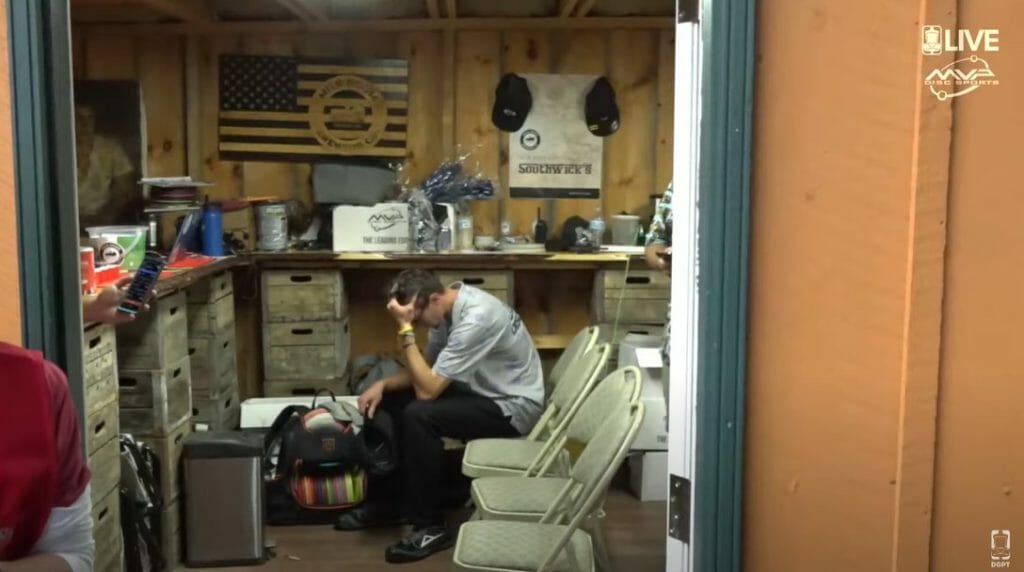 The last gasp snatching of defeat from the jaws of victory would have been hard for Ellis to absorb. After a rough start to the final round where he found no birdies and one bogey, on hole 5, his hyzer forehand over the lake hit the boards and dropped back into the water. "This is officially a disaster start," said DGN's Nate Sexton, before Ellis's throw from the drop zone left him with a missed putt and a double bogey. It was series of unfortunate events that would have tested the mental strength of any player, yet Ellis was able to fight back and give himself a chance to win. It's a moment he will surely learn from when he finds himself in the driver's seat at a tournament in the future.
There, She Said It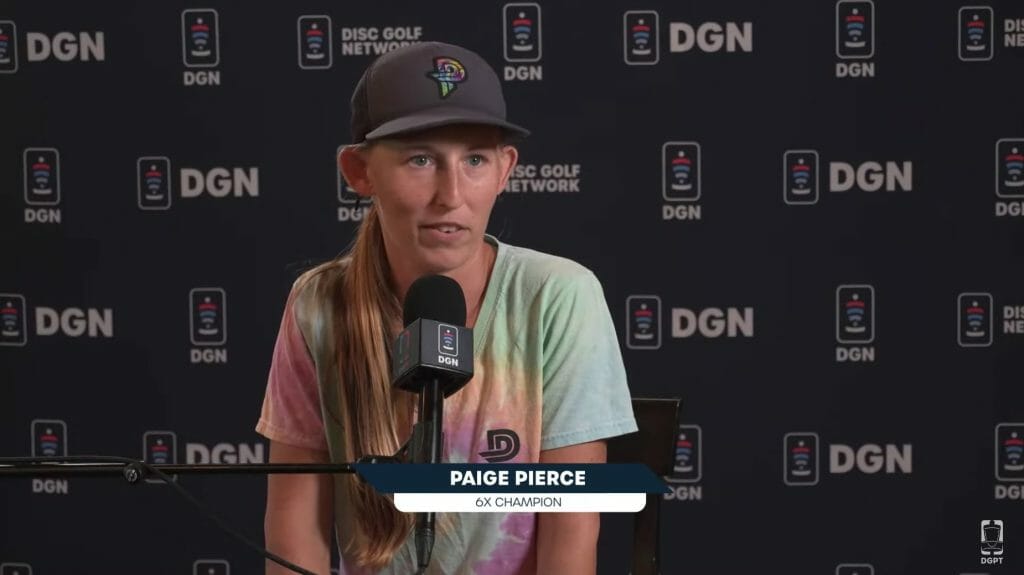 Setting the tone from the beginning of this wonderful, windy, and cold four days of disc golf was Paige Pierce in her pre-tournament press conference.
"My struggle lately is just trying to find that line of caring but not caring too much and making myself angry," she said. "I think that the playoff situation is really cool. I think that all other sports have playoffs, and I'm excited that disc golf has added that element. For me right now, I think my happiness is more important, so I'm trying not to put too much pressure on what place I get or anything like that and just enjoy my favorite course out here at Maple Hill."
Pierce then elaborated on something that many fans and commentators had been thinking.
"Life is all about perspective," she said. "I'm lacking the killer instinct right now and I don't care to get it back for some reason. Like I don't actually care that I got whatever place I got. I just want to throw good shots and when I don't I'm upset but there's no more of me punching my hand — and it feels good. It feels damn good to just be like there's just no stress in my life and it's so great. I think the biggest stress is when people are like 'what's wrong, what's wrong?' and it's like 'nothing's wrong actually, everything's great.'"
Pierce carried that rarely attained state of disc golf samsara into the tournament and was a factor all week, at times holding the lead outright and still sharing it with the final holes in sight. Bogeys on holes 15 and 17 dropped her just off the pace until a birdie on 18 put her one throw behind the two leaders with the lead card on the tee of 18. As the final card was walking the fairway of the final hole, Pierce could be seen practicing her putting and staying warm in case both Tattar and Ryan faltered enough for her to be needed in a playoff.
Tattar and Ryan had each left the door open for the other in their final round battle. After seeing Tattar take strokes with birdies on holes 12 and 13 to join her and Pierce in the lead, Ryan threw a straight drive over the lake on 14 that didn't fade back to land. Her bogey gave Tattar the lead and the momentum. But then, on 15, as it had done a few times during this tournament, Tattar's surgical instrument of a forehand misfired an upshot straight into a tree in front of her, the bogey bringing her and Ryan back together where they would remain until the playoff.
"Kristin gave me one back on 15," said Ryan in her post-tournament interview. "That was kind of a gift."
On the playoff hole, Ryan didn't repeat her mistake of clipping the trees on the right side of hole 18's chute. She powered a drive up high on to the left side of the fairway. Tattar, throwing first, had sent a more conservative drive shorter, leaving her with the choice of laying up or trying to make the green, knowing that Ryan was in prime position. Tattar's upshot was a little right but took a friendly kick off a tree to land just outside circle one at the mouth of the green entrance. Facing an eerily similar scenario to what Corey Ellis would face later in the day and throwing from a similar position, Ryan threw the forehand a touch wide left, but it banked off the wall and kicked to within a few feet of the basket. Tattar's putt to force a playoff went so close to clearing the front of the rim that it seemed to wrap around the steel momentarily before falling back on to the wood chips. The Estonian world champ and nigh unbeatable player over the last two months gave a shrug and a smile as Ryan tapped in to join the crowd in a victory roar.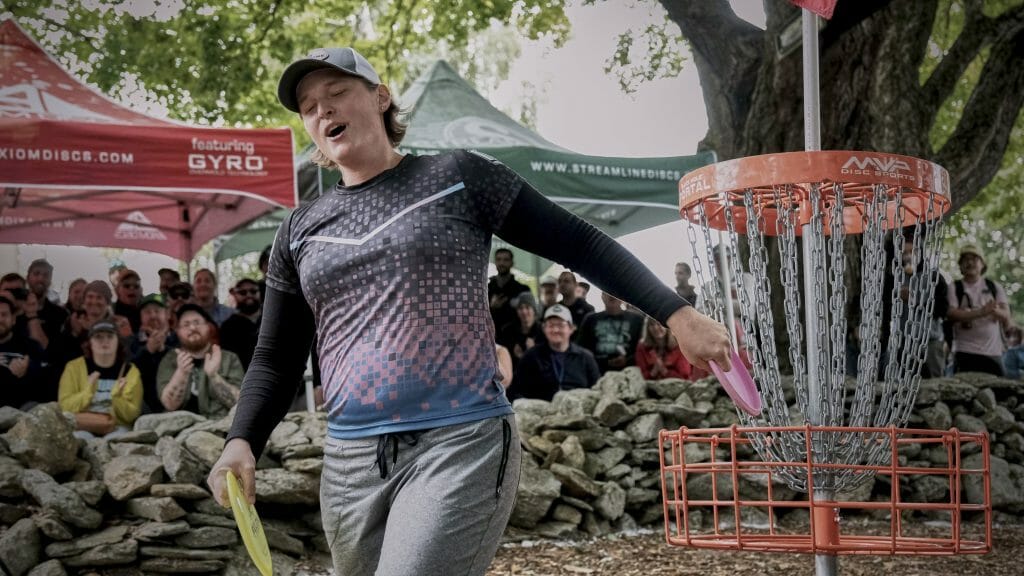 "I feel incredible," Ryan said. "I have a lot of friends and a lot of supporters around here, so it means a ton to me to win this one." Of Tattar, she said, "I knew I just had to keep pace, keep pushing, stay with her and I managed to do it."
It wasn't quite the heroics of Simon Lizotte's comeback, but Ryan nevertheless had to battle from 27th place after round one and threw seven under par for the final two rounds to claim a share of the lead. Both winners showed that in woods courses, you are never out of it if you persist.
Hometown Love
"It feels so unreal," said Lizotte. "It just doesn't make sense. At no point this weekend had I thought I had a chance to win. Maple Hill, the course gave me a lot of love the last two days. Great kicks here and there. I've been in that little hut behind us just shaking for the last twenty or thirty minutes. After the first round, I was seven back which on a course like this is not a huge thing but just the way my game was feeling and my performance last week in Vermont wasn't that great either. It's so weird — I'm either, like, playing for the win or playing for 30th place. Today, I was just cruising and feeling the vibes. On a course like this? I mean on round one I shot plus two and on round two I shot eight under, but my throws weren't much better, I just got better breaks here and there. I really got the hometown love of the course."
The Tour Champions
Kristin Tattar was rewarded for her dominant season with the FPO tour crown. But after all the drama, the big showdown between Paul McBeth and Ricky Wysocki for the DGPT points victory felt like a sideshow to the main event. Although thrilling in its own right – coming down to five points in favor of Wysocki, less than a throw over a whole season – those that are pushing for the season long tour standings to take on a greater significance in the eyes of the disc golf public are going against layers of mythology that places like Maple Hill have built up. It seems that winning majors and winning world championships have more significance for those that watch the pros play. This may change over time, but more prominence seems like something that would be hard to impose on the fans.
Now the show travels down I-95 to Charlotte, where this outstanding season of disc golf will no doubt give us more stories to tell.