GMC sets us up for an amazing conclusion to the 2022 season.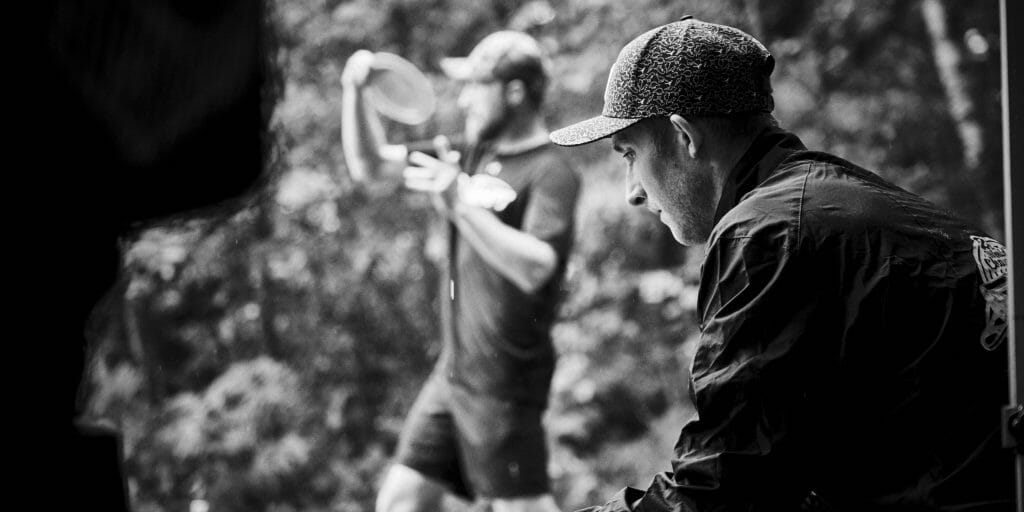 After the last umbrella was shaken off and the last disc wiped dry at the Green Mountain Championships this year, our two champions, Ricky Wysocki and Kristin Tattar, gave distinctly different takes on their play over the previous four days. Different, yet similar, because they both spoke of having to call on something that grows difficult to summon as the long season takes its toll and the pressure of the Pro Tour builds to its finale.
Wysocki was still riding the emotion from his last hole win over Chris Dickerson. After watching his tee shot clear the out of bounds area on the right side where Dickerson's throw had just landed, it looked like we were going to see the raptor legs run down the entire hole 18 fairway before Wysocki curtailed his charge and waited for the other players and his caddie.
Towards the end of the interview, speaking with his usual rapid-fire delivery, Wysocki said, "I think the week after Worlds I was able to gain my mental stamina back and I was able to show that this week. I think that really allowed me to play to the best of my ability and I think that, when I do that, I'm the best player in the world and I'm here to show that, and this is one step in the direction of being the best player in 2022 for the whole season."
In contrast, Tattar was again the queen of serene like after every one of her victories this year. "It feels amazing," she said. "It brings me almost back to Worlds. The same feeling. I mean all the competitors are the same, they are the best in the world and to be able to win here — it means a lot to me. I'm living my dream right now. This is what I've been dreaming of and it's here, and I'm just trying to enjoy every moment of it."
Tattar's time to summon the will came at a similar point as in her World Championships win two weeks ago – midway through the final round. After beginning the final day sharing the lead, Tattar and Henna Blomroos exchanged bogeys and birdies in the early holes before a birdie on hole six gave Tattar a one-throw advantage. Tattar had some opportunities to stretch the lead further in the early going but couldn't replicate the stunning circle 2 putts that were a significant part world title two weeks before.
Blomroos had some difficulty with her footing in the final round's wet conditions. On the tee pad of hole eight, she shook her head while taking some time to be satisfied with the position of her plant foot. She then threw an early release out of bounds left and followed this up with one of her inexplicably missed short putts to card a double bogey. The one-throw gap was now three with 10 holes to play — you can't give Kristin Tattar an advantage like that in her current form.
At 22 years of age, Blomroos is still assembling the various parts of her game. One glitch that she must surely fix is this tendency to miss crucial gimme putts in key moments. Most pro players have a routine that does not vary regardless of the distance to the basket. Blomroos sinks into her straddle stance less, stands more upright, and pushes the disc with more effort from the arm the closer she gets to the chains. Those nervous tics have cost her dearly in the last few weeks.
Tattar, too, struggled with the putter this week, but she was able to dig deep and turn it on when it mattered. "I was a little bit frustrated because my approach shots were kinda bad," she said. "I kept giving myself good spots off the tee and then not making good on the approach and leaving it to circle 2, and today was not my good putting day, so it was a little bit frustrating. But then at the most important moment, when things got really tight, then I found some strength in me to make the putts when it mattered the most."
Tattar did have her struggles this week; she had lost a four-throw advantage over Blomroos in the last nine holes of round three, aided by a three-putt double bogey on hole 9. "I'm already starting to feel that the body is tired of too much golf I guess," she said in her post round one interview.
Despite Tattar cruising to a seven-throw win in the end, the contest between her and Blomroos was tight for most of the week. Tattar and Blomroos are becoming the story of FPO in the Disc Golf Pro Tour at the end of the season. Without them, we'd be speculating that maybe Paige Pierce and Catrina Allen are losing their crowns to a host of hungry challengers like Ohn Scoggins, Ella Hansen, Valerie Mandujano, Lisa Fajkus, or Natalie Ryan. But that narrative is being squashed by the two dominant Europeans.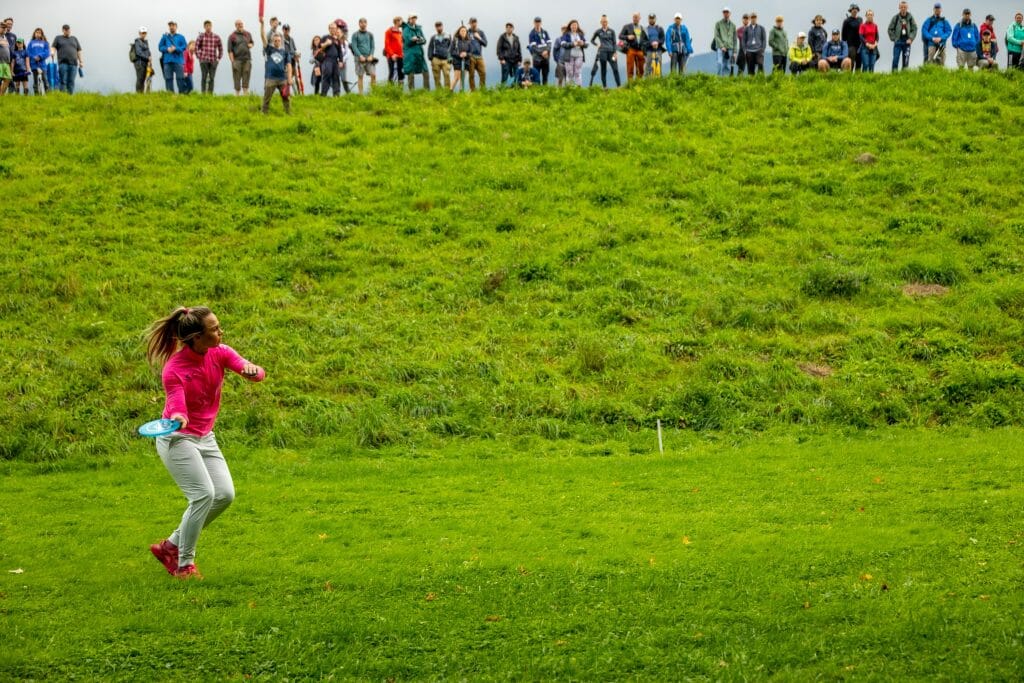 Ricky Wysocki was also conscious of the narrative this week. He ruffled some feathers in his pre-tournament press conference, questioning how we judge world champions compared to the best player in the world. He backed this talk up, however, playing aggressively all week and feeding off the roar of the gallery in the final rounds.
"There's a lot of pressure that goes along with having a lead," he said. "So you can't let up. I'm playing against the best players in the world, and I've got to play my best game. There was a couple of holes where I let up a little bit and let Chris back into the tournament, but I was happy with the way I bounced back mentally. That bad rollaway [on hole 14] could have really spiralled me. But I felt like I grinded through the tough breaks and I'm proud of that."
Wysocki's tournament can be summed up in three statistics and one hole: he was ranked 37th for fairway hits but 1st in scrambling and 1st in Circle 2 putts. There was no better example of this on the first hole of the final round where he saved par with a 72-foot putt after going out of bounds. It was a moment that set the tone for the day. He was to go out of bounds five times in the front nine and saved par each time.
"For me, it's taking control of the tournament," Wysocki said. "I feel like I can take control and I'm the pace setter. I think that if I play with the intensity that I did today, I feel like this is me, this is Wysocki, hitting the big putts, scrambling when I need to, and putting the pressure on other players to continuously play well. Not everything went perfect today but sometimes you need those rounds where you salvage a good score even when you are getting bad breaks."
Neither of the winners at Green Mountain got around the courses easily. Both had to fight for their wins from some self-inflicted adversity. "When I'm in control of my emotions, I'm the best player in the world," said Wysocki after round one. This statement was tested when he saw a five-throw lead with four holes to play evaporate before he and Chris Dickerson were standing on the tee of hole 18.
"The chain out and roll away on 14 was a tough break," he said. "I missed the putt myself, so I take credit but having to make that 25-footer for a five was a lot of pressure. Once I did that, I told myself I still have a lead and I can still win this tournament and I think that's what makes a true champion and it's never easy. "
In the end, it was easy. Dickerson played for a right to left crosswind on the final hole and hung his drive out wide over the out of bounds area. It never came back. "I actually told my caddie walking up I said, 'in bounds or OB left is gonna be fine', the one thing I can't do is throw OB right," said Dickerson after the round. "I read right to left cross, and I guess I just got it low enough to where the trees blocked the wind."
After landing his drive in bounds and starting the celebration early before realizing he still had a few shots to throw, it was a simple matter for Wysocki to take the win and move back to the top of the DGPT points standings heading in to this weekend in Maple Hill.
Our two champions in Green Mountain have also given us the most compelling storylines leading into the last few events of the year. Can anyone challenge the two European women, especially Kristin Tattar? Can Ricky Wysocki continue to back up the talk and emerge as 2022's number one player? We have the next few weeks to find out.