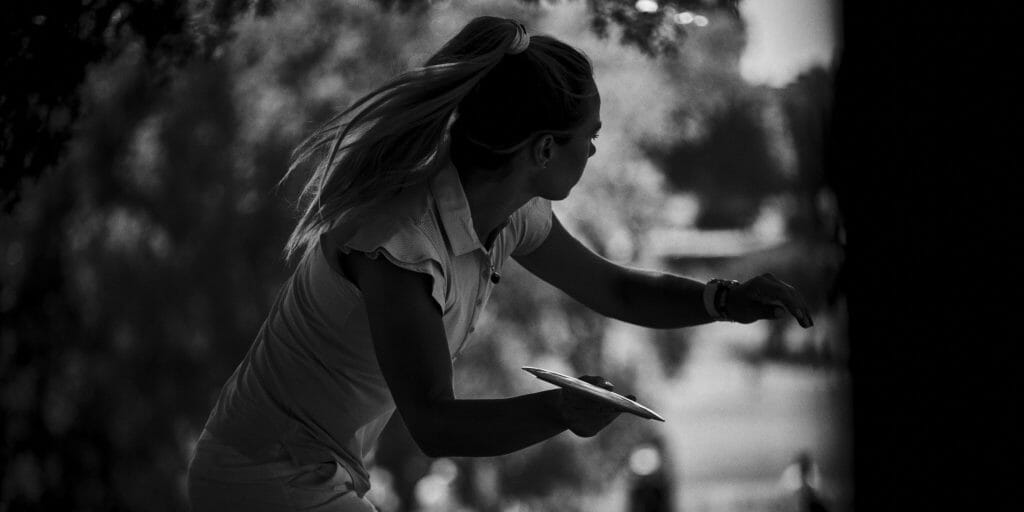 I don't drink anymore. But if I did, I wouldn't want to be playing drinking games and skolling every time a pro disc golfer said they were 'sticking to their game-plan' or I'd be singing rugby songs at dawn. Clichés are well-worn for a reason, though, and the idea behind this one is worthy: stay focused on process, let go of the outcome, and ignore the psychological noise of how others are performing.
It was a challenge that Kristin Tattar seemed to handle well while maintaining her two-throw lead during round two of the PDGA Pro World Championships at the Emporia Country Club on Wednesday.
"It didn't feel quite as easy as yesterday for sure," she said. "But I was just sticking to my game-plan which was a little bit different than my card mates. They were throwing so far, and I just can't throw my forehands like that." When asked by Disc Golf Network host Terry Miller about the elbow injury that has impacted much of her season, she said, "If my arm was feeling better, I would throw more backhands but I feel confident with the forehand. I just understand that it's a little bit shorter than everyone else's drives. But it's ok. I've practiced it that way. It's all good."
Eagle McMahon's game-plan in round one on the Jones Park course involved playing steady and conservative. He must have fancied his chances some of the holes on The Emporia Club though because it looked like steady and conservative had been left out of his bag. He attacked with several long high shots, throwing OB five times, falling to the third card and a tie for 6th.
Another well used word is 'pressure'. Who is feeling it? Is it building? And who will handle it best in the final three rounds? Ricky Wysocki gave his take on the 'P word' after a second-best 12-under-par at the Country Club. A round that restored much of the damage he inflicted to his scorecard the day before and allowed him to climb back up to the chase card, only four throws off the pace. "Whether I'm in 50th or second or first after the first round, it really doesn't matter to me," he said. "It's so early in the tournament and worlds pressure hasn't started creeping in yet. Round three, four and five, the pressure really starts building and that's where I think you'll see the top players rise to the top."
The player with the most pedigree for handling the run home in a world championship had a similar round to his first but sounded an ominous warning. Paul McBeth's putting was still shaky by his own standards, hitting only 51% of his C1X putts, yet he managed 9-under par and a place on the lead card. "I gave myself a lot of opportunities," he said. "But I need to convert. I missed two I should have made. It's not even halfway yet. I'll figure it out. I really don't feel like I've put together a solid round yet. I'm on the lead card and I'm happy about that. If I can throw the disc on Jones like I did on day one and make my putts, I can see a good score out there."
That world championship pedigree started to show itself in FPO too, with Paige Pierce's nine-under-par pitching her up to the lead card also. "Six birdies in a row felt amazing," she said. "It was so fluid. I was just grooving out there. I was a little strong on two putts, but the basket looked big to me today and that's a really good feeling to have. There's a lot of golf left, and I feel hopeful and excited. I wish I could be back out there today."
At the other end of the pedigree spectrum is Ella Hansen, who finished round two in second place after picking up the sport two years ago. "I know there's some more nerves and pressure," she said. "But I know I play my best if I just stay loose, have fun and enjoy my rounds."
One of the big stories of the early rounds in MPO was Tristan Tanner. How legit was his 13-under par at the Country Club in the B-pool on day one? Would a round at Jones see him disappear out of sight? The mystery-man answered that question emphatically with a 7-under-par round that sees him sharing the lead with fellow Coloradan Aaron Gossage. Despite being from the same state, Gossage couldn't shed much light on his co-leader because the last time he'd played in a tournament with him was 2018.
Tanner's feat sent people scrambling for a record of someone coming off the B-pool after the shuffle to be leading the tournament. They didn't come up with a name. So, what was he doing in the B-pool anyway? "It's been a rough couple of seasons," he said. "A lot of injuries. Especially this year has been brutal, so the rating has been going up and down. But I think my skills will prove themselves when I'm healthy. Yesterday just felt like a clean round. I didn't feel like anything super extraordinary. I was just making my putts and throwing tee shots well. Then today I wanted to come out with the same game plan and throw the disc well. I didn't putt as well and left maybe four or five strokes out there. These courses set up really well for me. I tend to throw straight shots, so I don't really go over any out of bounds areas on either of these courses."
Tanner's form posed a challenge for the Disc Golf Network crew, who had to dispatch a cameraman down Lincoln Street and West 18th Avenue to Jones Park in order follow his card and weave his story into what they were covering at the Country Club. It was a test the crew passed with ease but they'll no doubt be happy to be on a single course for round three's action.
The gallery on day two was slightly larger but still noticeably small. There was the sense that a swell is building though, and a wave of noise and emotion will begin cascading towards Saturday. Will the experience of Page Pierce, Catrina Allen, and Missy Gannon begin to count? Or will Ella Hansen and Kristin Tattar catch the wave? Will Paul McBeth and Ricky Wysocki start their ride to the top, or will the young guns take it away from them? Bring on round three.