Could we see first time winners at Worlds this year?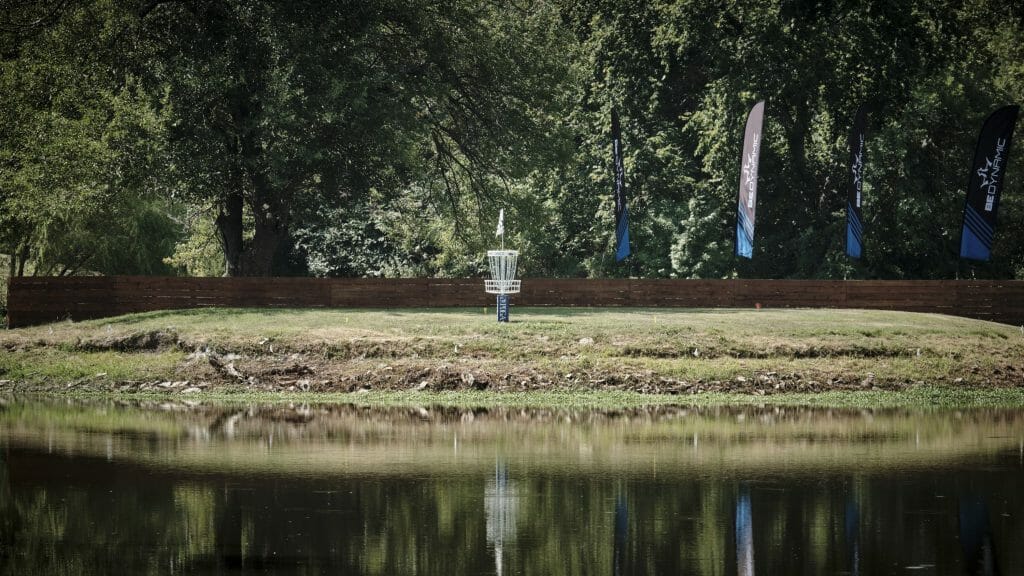 With last year's World Championships taking place in June, it has once again felt like a long wait to finally arrive back at the sport's biggest tournament. The 2021 Worlds was a historic event that will be recounted for decades as one of the greatest in the sport's history, as James Conrad defied the odds to force a playoff and ultimately beat the era's #1 player Paul McBeth and Catrina Allen stunned Paige Pierce on the final hole of competition after five grueling rounds. For the past year, the 2021 tournament dominated social media posts and commercial advertisements, and it has now been the subject of two different documentaries. Now, the time has come to write a new chapter.
Choosing when to be strategically conservative is an important skill in all sports. But this week is about knowing when to put your foot on the gas, being strategically aggressive, and maintaining a smooth mental state throughout. Major championships — and none more so than Worlds — are where legacies are created and bolstered. Pros and aspiring amateurs dream of someday joining this exclusive club of world champions, while previous winners continue their daily grinds, in hopes to once again hoist the sport's most prestigious trophy.
Past Winners
| Year | Open | Open Women |
| --- | --- | --- |
| 2022 | Paul McBeth | Kristin Tattar |
| 2021 | James Conrad | Catrina Allen |
| 2020 | n/a | n/a |
| 2019 | Paul McBeth | Paige Pierce |
| 2018 | Gregg Barsby | Paige Bjerkaas (Shue) |
| 2017 | Ricky Wysocki | Paige Pierce |
| 2016 | Ricky Wysocki | Valarie Jenkins |
| 2015 | Paul McBeth | Paige Pierce |
| 2014 | Paul McBeth | Catrina Allen |
| 2013 | Paul McBeth | Paige Pierce |
| 2012 | Paul McBeth | Sarah Hokom |
| 2011 | Nate Doss | Paige Pierce |
| 2010 | Eric McCabe | Sarah Stanhope |
| 2009 | Avery Jenkins | Valarie Jenkins |
| 2008 | Dave Feldberg | Valarie Jenkins |
| 2007 | Nate Doss | Valarie Jenkins |
| 2006 | Ken Climo | Des Reading |
| 2005 | Nate Doss | Des Reading |
| 2004 | Barry Schultz | Birgitta Lagerholm |
Six Things We'll Be Watching
Until Paul McBeth and Paige Pierce stop playing Pro Worlds, they will always be two of the biggest storylines going into the week. McBeth already has the 2nd most titles in PDGA history, a 6th would get him halfway to the great Ken Climo. Paul has plenty of reason to be itching for the title this season as well. After the Holy Shot tore victory from his clutches last year, he's spent the past 14 months seeing those clips played over and over again on social media, the Disc Golf Network, and even national outlets like ESPN. He went to the European Open last month and again played nearly flawless golf, only to come up one stroke short of a partially injured Eagle McMahon. He's undoubtedly tired of these miracle moments manifesting for his competitors and eager to re-write the narrative on his 2022 season.
Paige Pierce, meanwhile, may have even more pressure to come through this week: a 6th world title would make her the winningest player in FPO history. She too has pondered over her loss for the past 14 months — and even created and released a documentary that highlighted the story. It's clear she was determined to win last year, practicing the courses as early as three months in advance to help prepare. While she (intentionally) hasn't shown that same Worlds tunnel vision this season, she immediately left the Des Moines Challenge and headed to Emporia for early practice. Her desire to get in work on these courses even led to an altercation at the Emporia Country Club when she attempted to play a round on a day they were closed for disc golf. A win would essentially end the FPO player of the year conversation as well — Pierce would have three DGPT wins and three major wins on the season.
Eagle McMahon shocked the disc golf world when he traveled to Finland last month and averaged 1074 golf to win the European Open. McMahon had not played for months prior to that in an attempt to recover from a torn labrum in his right shoulder. He has not played an event since then, but after his success at the European Open, he has received plenty of hype as a potential winner. Eagle winning his first world championship on a bad shoulder and having played minimal events this year would be an incredible story. But until he's 100% healthy, the possibility of aggravating his injury will remain a concern.
Of course, there are a slew of previous major winners who have a strong chance to win in Emporia. Kristin Tattar is the clear FPO favorite, having won the Dynamic Discs Open earlier this year and the most recent DGPT event in Des Moines. Reigning world champion Catrina Allen will look to add a third world title to her resume, and she has found success in Emporia: she has won the DDO four times and finished on the podium in each of the past four years. Ricky Wysocki won his first world championship in Emporia and also won the 2022 DDO back in the spring. After signing a big contract with Dynamic Discs this past offseason, there's no doubt he would like to win this one and become just the 4th MPO player to ever win three world championships. James Conrad has never had the strongest finishes at the DDO, but he has proven he can win on the biggest stages. As always, watch out for Chris Dickerson, who is coming off his second major championship win earlier this year at the Champions Cup and has four consecutive top 10 finishes in Emporia.
The 2021 World Championships were riddled with drama on the part of the PDGA. Insufficient warm-up facilities at both courses and a lack of painted hazard lines on the Mulligans course created tension with the players and dominated the headlines for the first few days of competition. The PDGA released a documentary this past week in which they acknowledged and owned up to those mistakes. The question is whether any type of similar drama will arise in Emporia, and how effectively they will address any potential issues.
Fans, players, and the PDGA alike truly only want one type of drama — that which is created from intense battles on the course. It's hard to imagine this year's World Championship living up to the conclusion of last year's event. However, coming off a regular season in which four of the twelve Elite Series events were decided by a playoff in the MPO division, and a record low margin of victory in the FPO division, an exciting conclusion almost seems inevitable. Unless somebody plays light out for five straight rounds, it will be difficult for one player to run away with the title. Just how competitive the final rounds end up being will have a significant impact on the audience the Disc Golf Network is able to attract on Championship Saturday. The MPO final round of last year's world championship garnered nearly 40,000 live viewers. Plenty of fans who missed out will not want to make that mistake again.
The Courses
Since the Dynamic Discs Open earlier this season, both courses have undergone several changes for worlds. At Jones Supreme, the new course played for the first time back in April, another layer of stone was added to the back wall of the green on hole 1 to incentivize players to go for the green rather than lay up. Holes 8 and 9 are new designs, while the previous hole 8 will now be played as hole 10.
At the Emporia Country Club, the changes differ between the two divisions. In MPO, hole 4 will play 210 feet shorter, hole 12 will play 130 feet shorter, and hole 14 will play 83 feet longer. In FPO, hole 6 will play 39 feet shorter and hole 7 is now 99 feet shorter. Hole 12 has been lengthened 130 feet and will play as a par 4 rather than a par 3, and hole 17 is 110 feet shorter and has been reduced from a par 5 to a par 4.
Staying in bounds is the key to winning on these courses: there is OB in play on every single hole at both Jones and ECC. Gaining strokes from tee to green is also essential in order to score low; the top players in this statistic typically finish inside the top 5 at the Dynamic Discs Open. Kansas is known for their high winds, so getting the disc close to the basket is especially important if the winds pick up during the week.
An interesting challenge of alternating between Jones and ECC is the contrast of the first holes. At Jones, a short island hole requires touch and finesse in order to get a birdie look, while hole 1 at ECC is a behemoth of a par 5 that requires three full power shots to get onto the green.
DDO Jones Supreme MPO: 10,762 feet Par 65
Worlds Jones Supreme MPO: 10,611 feet Par 65
DDO Jones Supreme FPO: 9,414 feet Par 67
Worlds Jones Supreme FPO: 9,145 feet Par 68
DDO Emporia Country Club MPO: 10,977 feet Par 65
Worlds Emporia Country Club MPO: 10,979 feet Par 66
DDO Emporia Country Club FPO: 9,835 feet Par 69
Worlds Emporia Country Club FPO: 9,717 feet Par 69
Here is the 2022 Pro Worlds caddie book and course rules.
Extended Forecast
The rain has left the forecast, and it is going to be hot for all five rounds. Maybe pack the umbrella anyways since there aren't many trees to shade underneath on these courses.
Tuesday: Sunny with highs in the lower 90s, winds 5-10mph
Wednesday: Mostly sunny with highs in the lower 90s, winds 5-10mph
Thursday: Partly cloudy with highs in the lower 90s, winds 5-10mph
Friday: Mostly sunny with highs in the low to mid 90s, winds 5-10mph
Saturday: Mostly sunny with highs in the lower 90s, winds 5-10mph
How To Watch
Ultiworld Disc Golf Subscribers, read on for PrizePicks Lines & Best Bets…
Bonus Content for 2022 PDGA Pro Worlds Preview: The Big One is only available to Ultiworld Subscribers
Already have a subscription? Log in
Whether you visit Ultiworld for our reporting, our podcasts, or our video coverage, you can help us continue to provide high quality content with a subscription. By becoming a subscriber, not only do you receive benefits like bonus content and full article RSS feeds, you also help fund all of Ultiworld's coverage in general. We appreciate your support!