Police were called after Pierce was attempting to play a practice round at the Emporia Country Club on a day closed to disc golf.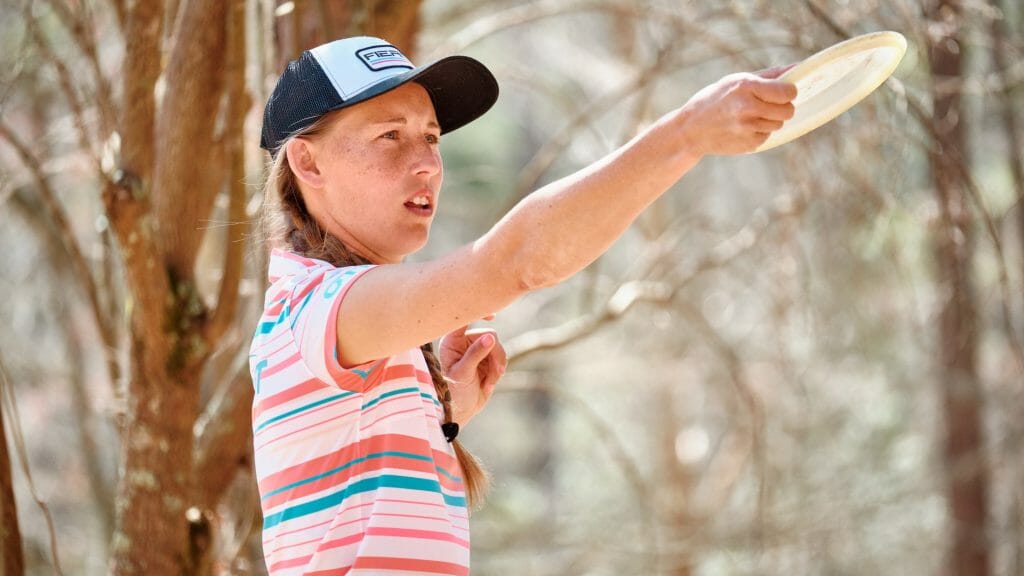 After a dramatic finish to the 2021 World Championships last summer, the 2022 event is kicking off with some drama of its own.
On Monday, August 22nd, Paige Pierce went to the Emporia Country Club to play a practice round to prepare for next week's tournament. The front door to the facility was locked, so she and Nate Perkins, who is caddying for Pierce this week, went around back. A member of a group of golfers getting set to tee off recognized Pierce and came to say hi: she asked him about getting a cart in order to get out on the course. He said yes, went inside, and grabbed her a cart key.
However, ECC is closed to disc golfers on Mondays, which is clearly indicated on the venue's website. As Pierce was throwing some initial tee shots for practice, "a younger man approached [them] and said, 'Hey, I think the course is closed,'" according to Perkins. Mondays are reserved for members of the Country Club, they were told; Pierce, who did not know the course was closed on Monday, asked about the possibility of becoming a member in order to be able to play. She said that there must be some kind of misunderstanding since the World Championships were beginning the following week.
The facility, though, was not yet rented out for the tournament. A confirmation packet sent to players by the Worlds TD Doug Bjerkaas in late July read, "The Emporia Country Club and the Supreme-18 DGC at Jones Park are open for practice before Pro Worlds from dawn to dusk without charge, starting on Friday, August 26th, 2022. The Supreme 18 DGC at Jones Park is in a public park and can be practiced between dawn and dusk on days before August 26th unless another event is planned on site. The Emporia Country Club is a private facility and is pay-to-play. If players want to practice the course before August 26th, they need to check the disc golf course schedule and pay the greens fee to play. More info on the Country Club disc golf schedule can be found here."
According to the PDGA Worlds bid documentation, full tournament layouts are only required to be in place and available for practice four days prior to the start of the opening tee time, which aligns with full practice round availability beginning on Friday.
After talking to the first employee, Pierce continued down the fairway. "The next thing we know is that there's a woman running down the fairway screaming that she's going to call the cops," said Perkins. The communication between Pierce and the staff of the Country Club at this point is in dispute. Perkins says that Pierce was simply insistent about asking to become a member or to rent out the facility that day in order for her and other players to play practice rounds. Sources with secondhand knowledge of the situation said that Pierce was extremely rude and flaunted her wealth in conversations with ECC staff. The Emporia Country Club declined to comment for this story.
"When Paige asked to speak to a manager, the request was denied," Pierce's agent Blake Shaffer of Shaffer Sports Management said in a statement provided to Ultiworld Disc Golf. "Paige believed this to be a miscommunication. She was then told by another employee of the country club that they were calling the police.  Paige collected her things and decided to leave the course. She was not escorted from the course and was not approached by any police. This is a non-issue and a misunderstanding as she was trying to practice for the World Championships only 8 days before they begin. Paige is looking forward to competing and is focused on winning her 6th World Championship." Pierce declined to speak further about the incident.
Police were dispatched and did arrive on site, as reported by the Emporia Gazette and confirmed by Perkins, though there were no interactions between Pierce and the police, as she had already left the course. Perkins disputed the Gazette's reporting that Pierce had to be escorted off: they left the course on their own, he said. The Emporia Police Department told Ultiworld Disc Golf that they were never even given a name and did not speak to Pierce or anyone other than Emporia Country Club management.
"I can't express enough our disappointment on our organization's end," the PDGA Director of Competition Jeff Jacquart told the Gazette. "Sometimes these players just get a little too demanding and don't understand the amount of work it takes to make these events happen and the partnerships that are created, and we really don't like damaging partnerships."
The overall incident echoes some of the complaints about the 2021 World Championships, when facilities were not rented and available for players before the event. On Monday, Pierce personally asked PDGA and tournament staff to line the out-of-bounds areas at the Jones Supreme course, which they did on Monday afternoon. The initial plan was to line the OB on Thursday, after the City of Emporia cut the grass a final time prior to the tournament. Temporary lines were put in place to accommodate players and will be re-lined tomorrow as the rest of the course assets are set up. Players will have four days of practice time available on fully prepared courses, as per the PDGA guidelines, although Jones Supreme will have limited availability on Saturday due to the World Doubles Championships taking place there that day.
"I think where the sport is headed and how seriously the athletes are taking the game that four days is certainly not enough time to prepare for a Major," said Perkins.
Everyone who spoke to Ultiworld Disc Golf about the situation said that it was a simple misunderstanding that got blown out of proportion. "For it to turn into this whole mess is super unfortunate, because I don't think it should even be a story really," said Perkins.
"We have had a chance to reach out to everyone involved and we are confident that the situation is behind us," said PDGA Director of Marketing Danny Voss. "We look forward to a great Worlds week in Emporia."
The World Championships start on Tuesday, August 30th. After becoming the winningest major champion in FPO history at the European Open, Pierce will be competing to win a record 6th world title.