From the desk of Owl P. Jackson, Esq.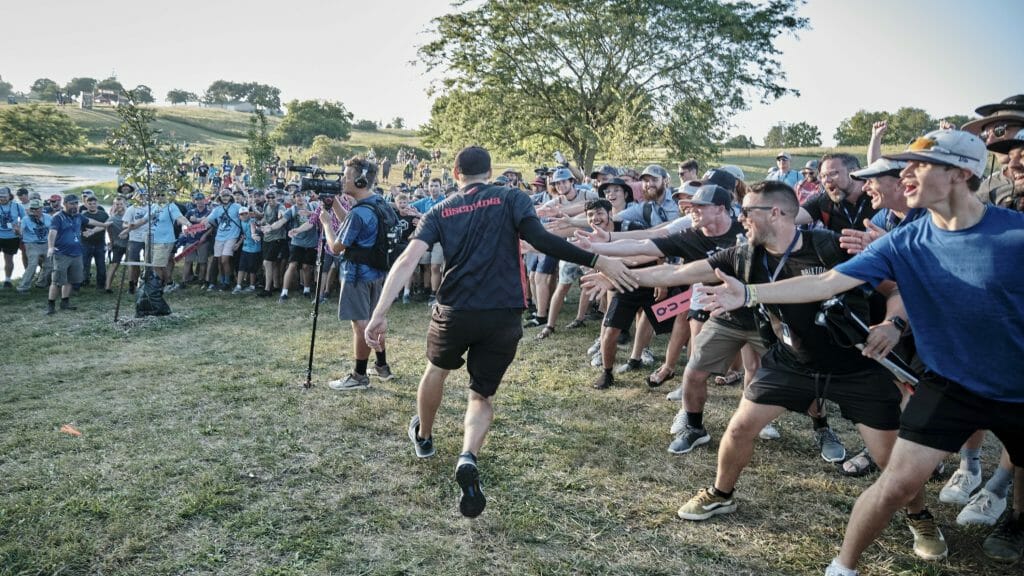 After two lackluster rounds, the 2022 Des Moines Challenge turned into an instant classic. It had everything: mando rules, tree stumps, lightning, lay ups, finger guns, and playoffs! Yes, Jim Mora, we're talking about playoffs…and everything else that happened at the last Elite Series event of the DGPT regular season. In my opinion, these are the top 10 storylines of the 2022 Des Moines Challenge.
1. Simon wins his 3rd Elite Series of the year
"It slowly disappears to somewhere in the back of my mind; It will remain there 'til I wish to retrieve it."
I must admit, I thought Simon was done with winning this season. Over the past four tournaments, he went 22nd at Idlewild, 16th at European Open, 10th at DGLO, and 26th at Ledgestone. It seemed like Simon's two wins were just going to be a fun storyline to remember from the year. (For example, remember when Luke Humphries was on lead cards?)
Turns out, Simon wasn't finished. A great first round put him onto lead card going into the final day, where it looked like he was in great position to hunt down Evan Smith. He did that rather quickly. Instead, it was Robert Burridge that would be the player Simon was chasing. Simon ended his round with five straight birdies to force a playoff. This was the best playoff of the year, and Simon was able to seal the deal after four holes. It is hard to not consider Simon among the favorites for Worlds. After all, this Simon renaissance really took off in Emporia, where Simon took second to Ricky.
2. Robert Burridge goes 58 holes
"Everything else is just dust and sound."
Just a year ago, Robert Burridge was competing as an amateur. He won Am Nationals, but there is a good chance you had never heard of him before the final round of DMC. Burridge found himself going toe-to-toe with one of the biggest names in the sport, after going 7-under on the front nine. You would expect him to be a nervous wreck, but he seemed calm, cool, and collected the entire time…chewing his gum, tossing his chalk bag in the air, fist bumping Simon, and loving every moment. His putt on hole 3 of the playoff was the highlight of the tournament. In the end, a bad bounce led him to lay up on a 60-footer downhill towards O.B. on hole four. He later said, "I tried to put all the pressure on Simon, and he made it. That's how it goes sometimes." That is how it goes. A very tempered, mature response that we would expect from Big Bobby Burridge after knowing him for a weekend. Talk about an entrance!
3. Kristin Tattar back on top
"I can't stay—because I can't be stopped."
Kristin Tattar is playing like the best FPO player in the world right now, and it's not particularly close. Her first round 1033-rated 9-under was one of the best rounds of the season. She had a look for birdie on every single hole. The tournament was basically over after day one. Eveliina's final score makes it look closer than it ever actually felt. Kristin is easily the favorite for Worlds. She knows it and so does everyone else.
4. The rain delay
"I fold, but they keep on coming."
What a bizarre viewing experience for this tournament! A partially rain-delayed first round led to viewers watching the exact same cards two days in a row. The good news was that a lot of the big names were on those featured cards: Paul, Ricky, Brodie, Dickerson, Gannon, and more. The bad news was that almost all those players were out of contention and wouldn't have been getting any coverage on a normal week. At least we got to see a great round two from Paul…but it felt like we missed the actual story and flow of this tournament. Through the first two rounds, we saw nothing of Evan Smith, Robert Burridge, or Matty O. Thankfully, Gatekeeper Media covered Simon as a part of their feature card for the first two rounds. I'm not saying this was handled wrong…it just felt wrong.
5. Des Moines Challenge excellence
"Look in my eyes for the answers—typical."
The Des Moines challenge was overlooked last year…almost like something huge had happened the week before. However, it is becoming clear that DMC is starting to be recognized as a gold-standard tournament. They are going out and getting added cash, quickly becoming the top paying 3-day tournament. You hear no complaints about amenities or management. The crowds were incredible, not just in size, but in enthusiasm. Their logo is awesome. Finally, the players truly seem to love playing this course. It is packed with memorable holes. It has full-rip bomber shots, but never feels like the course designers would add a 1400 foot hole just for the sake of being long. The one complaint that kept coming up was the new hole number 3. The final patch of trees basically makes it a line-less hole. Thankfully, the playoff didn't end there. Good on ya, DMC!
6. That mando rule
"Noises, noises, people make noises."
Wow! This could have been a much bigger story had Simon lost by a stroke! The new mando rule gave Simon a bogey on hole 12, putting him down three strokes to Burridge. There might have been riots if it ended differently! Do you remember when the PDGA released this revision to the mando rules? Most people hated it, few could understand it, and no one could explain it. In my opinion, the reason why people don't like this rule is because it is rarely necessary. I can see why this restricted zone clarification exists. It exists, because on some courses, mandatories are there for safety. They are in place to keep you away from a certain area like a playground or bike path. That wasn't the case here. The double mando on hole 12 was there to hyzer-proof the hole. It also rubbed me the wrong way that Joel Freeman was the one pushing for the ruling, because you know he would have ripped that rule up and down if it happened to him. Oh well, rules are rules, I guess.
7. Pro Tour Standings Check-in
"Scratching and clawing all the way."
The regular season is essentially over (yes, I know about that one Silver Series inexplicably after Worlds). This year, everything will be a little bit more exciting as we keep our eyes on the Pro Tour standings. Two things to note this week: first, Joel Freeman's T-3rd finish jumps him past Corey Ellis and James Conrad into the number 8 spot. That temporarily earns him a bye to the semifinals in the Pro Tour Championship. Second thing to note…Robert Burridge makes a huge jump up to #71. That earns him an entry into GMC, but he still has some work to do to be invited to MVP Open. Good news…Worlds is worth 1.5X.
8. Worlds Worries
"Everywhere you look, it's like they know."
There are four defining players of the past decade: Paul McBeth, Paige Pierce, Ricky Wysocki, and Catrina Allen. Paul and Ricky account for 7 of the last 9 world titles. Paige and Catrina account for 7 of the last 10. As we head into Worlds, however, none of them are firing on all cylinders. McBeth and Allen have struggled all year with putting together an entire tournament, usually firing off one hot round to remind us what they are capable of. Paige has been up and down, but her finishes look better on paper than in reality. She finished T-5th this weekend….but Tattar was 13 strokes clear of her. Ricky Wysocki just missed cash for the first time in ages. Will our four champions rise to the occasion like they always do? Or will we see new champions this year?
9. Worlds Picks
"Come on down and see the idiot right here."
Here we go, everyone. I'll kindly ask for 50% of your winnings if I'm right, and 0% blame if I'm wrong.
MPO:
Eagle McMahon
Paul McBeth
Gannon Buhr
FPO:
Kristin Tattar
Catrina Allen
Eveliina Solonen
10. Stump
"What's the matter with calamity anyways?"
Stumpgate. If you know, you know.
Thanks for reading, everyone! Let me know the storylines you think I missed. See you at Worlds!