For the first time, McBeth has lost 12 tournaments in a row.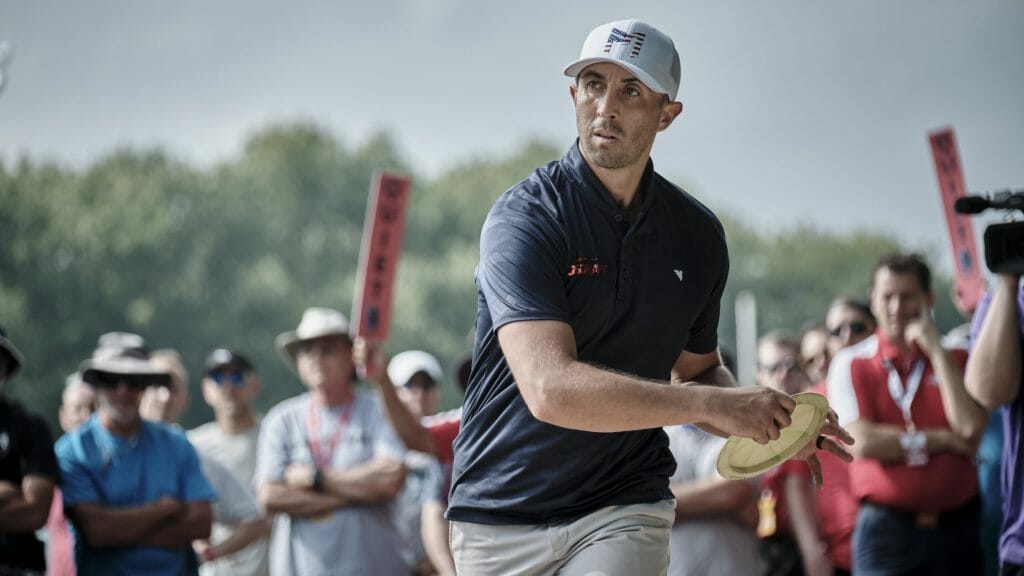 Following the 2022 Ledgestone Open, Paul McBeth has now played 12 consecutive tournaments since his last win, the longest streak of his PDGA career. The 16-time Major champion (second only to Ken Climo's 18 major wins) has rarely gone even 10 tournaments in a row without a victory. Previously, he had only had three such streaks, and two of the three were at least a decade ago.
His first career 10+ tournament winless streak came in just his third year as a pro: midway through the 2009 season, McBeth had an 11 event stretch without taking home a trophy.
A few years later in 2012, just a month and a half after winning his first World Championship, he ended the season with a 10 event streak without a win. In 3 of those events he finished 2nd, and in 8 of the 10 he finished inside the top 5. He snapped the streak with a win at the Huntington Beach Disc Golf City Championships, a C-Tier to start his 2013 season.
Over the end of the 2017 season and wrapping around to the start of 2018, McBeth went winless at 11 consecutive tournaments, tying his career longest stretch. Over those 11 events, he finished 2nd four times and finished top 5 nine times. He broke that streak with a win at Throw Down the Mountain before going on to win six Elite Series events that season including his second USDGC.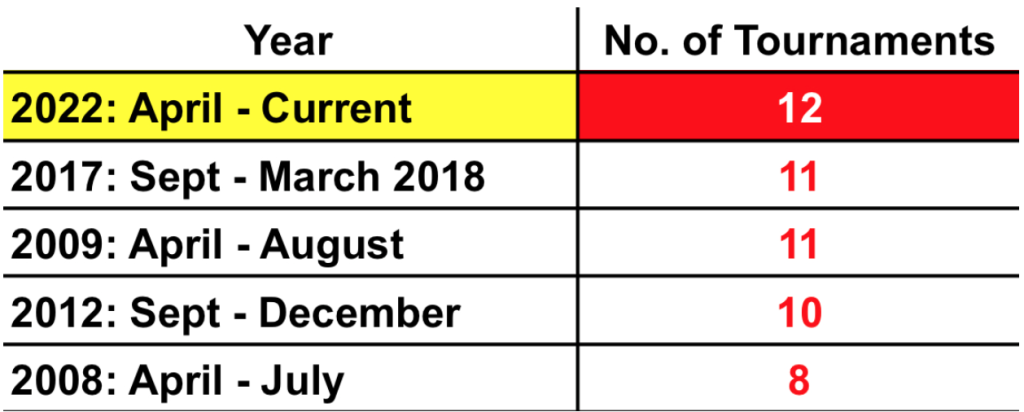 McBeth's 2nd place finish at this weekend's Ledgestone Open turned his current 11 tournament winless streak into 12 and the longest of his career. His last win came the first weekend of April in Florida at the 10th annual Throw Down The Mountain. Over the current stretch, he has three 2nd place finishes (including Ledgestone) and just one additional top 5, making this arguably the worst stretch of his career, though it comes at a time when professional disc golf is more competitive than ever before.
He nearly ended the streak at the European Open, where he averaged an astonishing 1072-rated golf during the weekend, but he was bested by an even better Eagle McMahon at the Beast in Finland.
With just one event on his schedule before the 2022 World Championships, it will be extremely interesting to see how soon McBeth will end his streak. The fact that you can even measure his career in terms of losing streaks at disc golf tournaments speaks to his greatness. He's already among the favorites to win every event he enters, particularly Worlds: if he came into Emporia on a 13 tournament losing streak, would he be even more of a favorite? The odds are he won't keep losing for long.