Pierce's drive for a sixth world title is just a backbone for the film.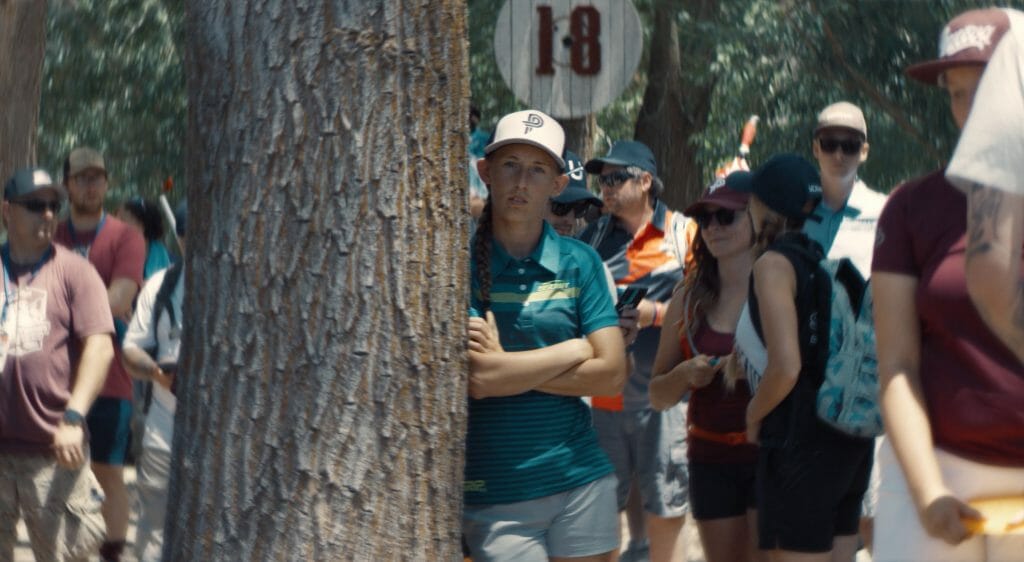 Early in Fierce, Jeremy Koling says, "I have never seen another group of people talk about their thing the way that disc golfers talk about our thing."
To my mind, Koling is correct in his estimation of how disc golfers feel; the sincerity in his voice is evident, but in an odd way, this sense of ownership is what holds back much disc golf content. Insularity defines the most popular disc golf media, most noticeably the beloved commentary team of which Koling is an integral part. The goofy trio often glides along through eighteen holes on cascades of in-jokes and commentary gleaned from their own time on the course that weekend. It's inarguably disc golf's most beloved media product at the moment, and they should not be begrudged for their success, but it is into this chummy environment that all new disc golf media is thrown, measured against, and must ultimately try to escape from.
Wilson Hansen's visually-arresting documentary Fierce is not catered to the disc golf community, as is made abundantly clear by the film's early running time's devotion to explaining what disc golf is and why the viewer should care about it, as well as the continuing explanations throughout its runtime of what is and isn't important in a disc golf season, career, and life. It is an awkward, shoehorned aspect of a film that is primarily about the 2021 touring season of Paige Pierce. The transitions are gamely narrated by pro soccer great Carli Lloyd but hard to miss. The film seems to understand its own precarious situation within the distribution landscape. According to Pierce, the current distribution model via the Disc Golf Network is a stopgap solution:
This limited showing on Disc Golf Network is a critical step next in the process of achieving mainstream distribution for the documentary…The goal right now is to show that the disc golf community is hungry for this kind of story and that the film would do well with a wider audience.
Her statement shows the herculean task the film has in front of it: achieve enough success with the immediate community to attract the interest of larger distribution partners, while also having broad appeal outside of the disc golf world. It's a lot to ask of a single film.
The need to do too much isn't a new challenge for those trying to market disc golf to the masses. In the Sports Illustrated piece on Pierce mentioned in the film, there is the obligatory paragraph explaining the game and its pandemic boost. The ESPN coverage of the DGPT finale in 2021 and CBS/Jomez work of the year prior were both clunky if well-intended productions. An ambitious documentary about disc golf in 2022 is almost forced to make an attempt to explain the sport, grow the sport, and, in this case, also document an individual.
It's Pierce who is paradoxically able to do what the film profiling her cannot quite accomplish. Through sheer force of personality, she drives the narrative forward with an authenticity that never feels contrived. In a particularly revealing moment, she says of a spectator who groans when she misses a putt: "At least he's feeling something." Her willingness to be vulnerable proves her bona fides as a world-class athlete more than any explanation or retrospective by a fellow competitor can. The viewer can see her professionalism as she comes off the course, and after her obligatory Terry Miller interview say, "I don't want to talk to a single human being," as Hansen deftly cuts to her, obliging a crowd of autograph-seekers.
This scene works powerfully in parallel with an instance late in the film, in a down moment, where Pierce openly cries not over the bad round she's just finished but that she was a bad sport, even for a moment. She lingers on the potential consequences, what the little girls in the Paige Pierce hats might think of her behavior, what it teaches them. It's a portrait of a woman who understands the responsibility she has as the standard bearer for a fledgling sport — and the weight that comes with it.
What is ultimately accomplished by the documentary remains to be seen, but for those who are awaiting the day when world champions of our sport won't have to explain their job isn't just "tossing frisbees" and who want our thing to be greeted by understanding rather than patronizing smiles, you could hardly ask for a better spokeswoman than Paige Pierce.
Fierce debuts today on the Disc Golf Network. You can purchase a ticket here. Here is more information about how to watch.