The biggest event payout on the DGPT regular season slate.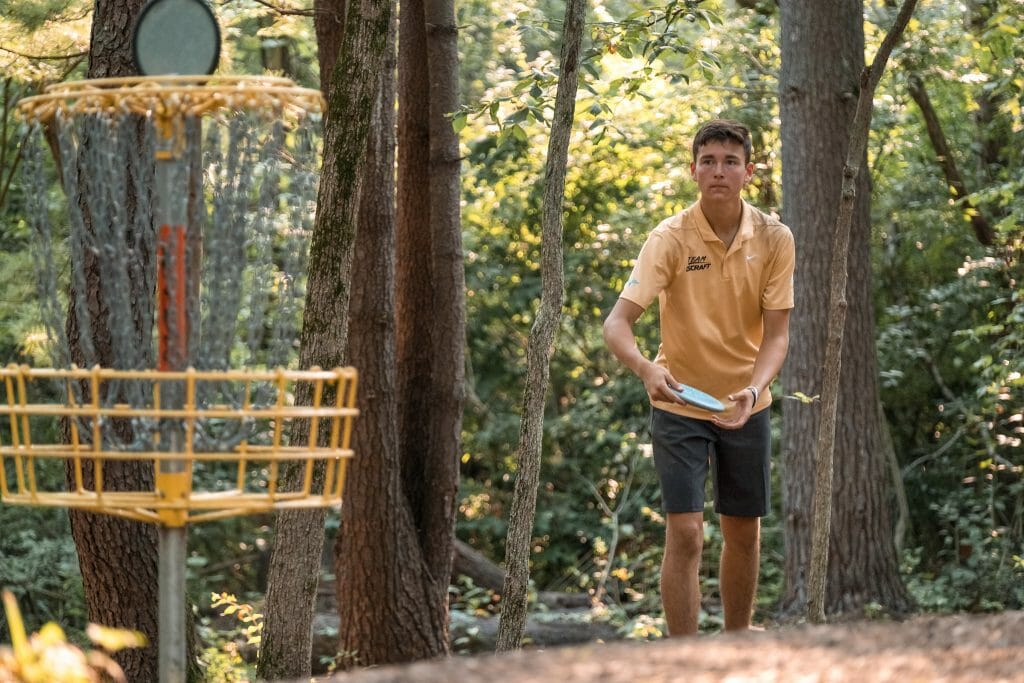 The Disc Golf Pro Tour season is beginning to head into the final stretch with the World Championships just three weeks away, and only two Elite Series events remaining until the playoffs begin later next month. Players hoping to earn an invite to the Green Mountain Championship will need to get inside the top 100 in the MPO standings and top 50 in FPO. For the MVP Open, that will be cut down to the top 64 MPO players and 32 FPO players.  
The Discraft Ledgestone Open has been a premiere event longer than the Disc Golf Pro Tour has even existed, making a splash on the 2015 National Tour with a record setting $117,453 purse. Since then, it has become a destination for pros and amateur players alike, with over 2,000 competitors scheduled to play in this year's event. Nobody has won this tournament more than five-time champion Catrina Allen, who won it four years in a row from 2013-2016.  Last year, Ricky Wysocki became the first back-to-back MPO champion, although he had to share the title with Calvin Heimburg after a canceled final round.
Ledgestone Open Past Winners
| Year | PDGA Tier | Open | Open Women |
| --- | --- | --- | --- |
| 2022 | DGPT | Ricky Wysocki | Missy Gannon |
| 2021 | DGPT | Ricky Wysocki & Calvin Heimburg (tie) | Paige Pierce |
| 2020 | A/DGPT | Ricky Wysocki | Catrina Allen |
| 2019 | A/DGPT | Paul McBeth | Paige Pierce |
| 2018 | A/DGPT | Nate Sexton | Jessica Weese |
| 2017 | A/DGPT | Josh Anthon | Valarie Jenkins |
| 2016 | A/DGPT | Paul McBeth | Catrina Allen |
| 2015 | NT | Simon Lizotte | Catrina Allen |
| 2014 | A | Nikko Locastro | Catrina Allen |
| 2013 | A | Devan Owens | Catrina Allen |
| 2012 | A | Nikko Locastro | Sarah Hokom |
Four Things We'll Be Watching
1. At last year's event, rounds at the infamous Northwood Black course were taking 5-6 hours to complete with players experiencing long backups on many of the holes. Tournament Director Nate Heinold says that changes have been made to help speed up the pace of play, and while the FPO course has several changes this year, the MPO layout has not changed from 2021. Most of these improvements came by cleaning up the fairways and making the rough areas a bit less punishing. Only time will tell if the improvements are substantial enough to not only keep the broadcast entertaining, but keep the players happy as well. Due to poor cell service, the 2021 broadcasts only showed the back 9 holes of the Northwood Black course, and those broadcasts still took around four hours from start to finish.
2. Ledgestone has produced everything from playoffs to ties to runaway victories in both the MPO and FPO divisions. The MPO division has actually seen victories of 5+ strokes in four of the six years it has been on the DGPT, while the FPO division has an equal number of victories decided by three or fewer strokes. Last year could not have been more different with Ricky Wysocki and Calvin Heimburg tying for the win after a rained out final round, and Paige Pierce claiming an 11 stroke victory after dominating at Northwood Black. Will the strong competitive fields lead to another close race, or will somebody shoot a pair of hot rounds at the difficult Northwood course and take a commanding lead over the field?
3. If Ledgestone is known for one thing, it's having the largest purse on tour, and 2022 will be no exception. Last year's event set a new record with a $119,552 purse, narrowly beating the previous record set back in 2015. In his interview on the Upshot two weeks ago, TD Nate Heinold predicted the 2022 purse will come in around $135,000 with roughly $80,000 of added cash. Fans, and especially the players, will eagerly wait to hear just how large that final number will come in at.
4. Kristin Tattar has officially returned to the United States, and not only plans to play Ledgestone but also play the remaining Elite Series and Major events this season. Tattar has been dealing with a pinched ulnar nerve in her elbow, confirmed by an MRI last week. Surprisingly, it sounds like forehand shots are not bothering her elbow as much as backhands — specifically, backhand hyzer shots have been painful for Tattar. How she's able to hold up will continue to be a storyline beyond just this week. A positive sign is that she played in and won the Estonian Championships by 24 strokes just last week.
Course Notes
Just like last year, the MPO division will play two rounds at Lake Eureka and two rounds at Northwood Black. The FPO division will play two rounds at Sunset Hills and two at Northwood Black. Both the Lake Eureka and Sunset Hills layouts are unchanged from 2021, as is the Northwood Black MPO layout. The Northwood Black FPO layout, however, has several changes from a year ago. Hole 2 has been shortened from 580 feet to 505 feet, after no players were able to card a birdie last year. Hole 4 has been lengthened from 467 feet up to 520 feet — last year, 27% of players carded a birdie on hole 4. Hole 6 has been lengthened from 701 feet to 790 feet )12% of players carded a birdie last year, and Paige Pierce had a highlight throw-in eagle). Hole 8 has been shortened from 389 feet to 307 feet with the addition of an FPO specific basket. Last year, Hole 8 only saw three birdies, two of which came from Deann Carey. Hole 15 has been shortened from 650 feet to 525 feet; only Valerie Mandujano was able to birdie it last year.
2021 Lake Eureka MPO: 9,665 feet Par 63
2022 Lake Eureka MPO: Unchanged
2021 Sunset Hills FPO: 7,539 feet Par 61
2022 Sunset Hills FPO: Unchanged
2021 Northwood Black MPO: 10,499 feet Par 681
2022 Northwood Black MPO: Unchanged
2021 Northwood Black FPO: 8,818 feet Par 68
2022 Northwood Black FPO: 8,678 feet Par 68
Extended Forecast
Another terrific weekend for disc golf! Temperatures should be warm with little to no chance of rain in the forecast, a welcome sight after last year's final round washout.
Thursday: Partly cloudy with highs in the mid 80s
Friday: Mostly cloudy with highs in the upper 70s
Saturday: Partly cloudy with highs in the low 80s, winds around 11mph in the afternoon
Sunday: Mostly cloudy with highs in the mid 80s
Read on for PrizePicks Lines & Best Bets…
---
UDisc and the 2021 Ledgestone caddie book incorrectly list the MPO Northwood Black layout as 10,529 feet due to an incorrect distance listed for hole 12.  The hole 12 layout notes the correct distance of 1,050 feet. ↩
Bonus Content for 2022 Ledgestone Open Preview: Big Woods, Big Money is only available to Ultiworld Subscribers
Already have a subscription? Log in
Whether you visit Ultiworld for our reporting, our podcasts, or our video coverage, you can help us continue to provide high quality content with a subscription. By becoming a subscriber, not only do you receive benefits like bonus content and full article RSS feeds, you also help fund all of Ultiworld's coverage in general. We appreciate your support!