From the desk of Owl P. Jackson, Esq.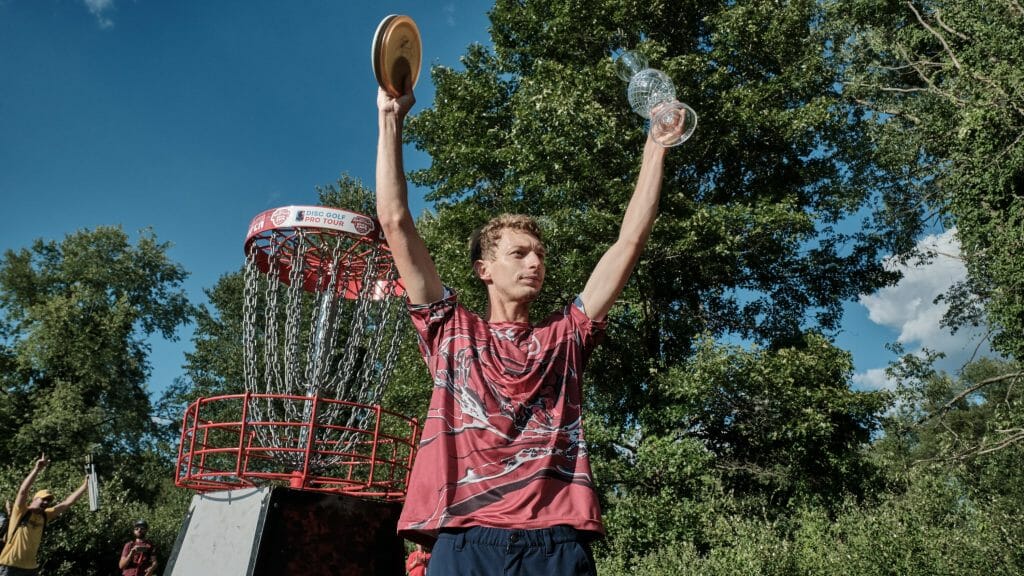 Down the hill, up the hill, and back down the hill we go! The 40th Great Lakes Open flew by as fast as its namesake, the toboggan. In its wake, we are left with new winners and old. So, hop on in and let's go for a ride! These are the top 10 storylines of the 2022 Discraft Great Lakes Open.
1. Calvin Heimburg's second win of the year
"I just love anything with an engine. That is one of my main loves."
Since his win at Jonesboro, Calvin's season has felt a little lackluster. It wasn't because it was a bad season; it's because we know how good Calvin can be. Interestingly enough, Jonesboro is probably the most similar course to the Toboggan, with its major elevation changes and long bomber fairways. Once again, Calvin got it done on the first hole of a playoff. Think about how this changes the way you feel about Calvin's season as a whole. Calvin was nowhere to be seen in the Player of the Year conversation. Now he is one of only three players with multiple Elite Series wins (along with Simon and Ricky) and sits atop the Pro Tour standings.
2. Natalie Ryan's first Elite Series victory
"I try to approach making movies in a way that it's about the making of them and not the result of them, if that makes sense."
Remember OTB Open? Paige Pierce was way ahead going into the final day to the point where it didn't even seem like it would be worth watching. It was Natalie Ryan who almost chased her down from a 9-stroke deficit. In the end, she couldn't get it done. This past weekend, it was Natalie Ryan who was in the driver's seat on the final day. And she got it done. Natalie was excellent off the tee all weekend, with the Toboggan showcasing her elite power and distance. She took some time off recently to deal with mental struggles and came back stronger than ever. So, look for her to make a run at Worlds in Emporia. She took 11th at DDO earlier this season, but her game has been getting more polished each week.
3. Trans women in FPO
"People talk differently."
Whenever Natalie Ryan is in contention, she dominates the conversation. All of a sudden, everyone is very concerned about trans women and their ability to play or not play in women's divisions in sports. In the past, you could say, "well, it's not like she is winning." Well, now she has. So, what can be said that hasn't already been said in regards to the Olympics, college swimming, and so many other places? It turns out quite a bit. Reddit tournament threads and YouTube comment sections were dominated with FPO conversation, even during MPO broadcasts. The problem is that too many people who chime in are either purposefully antagonistic or push for ultra-inclusivity at all costs. I believe a more nuanced approach will show that multiple things can be true at once. Yes, she is playing FPO in accordance with the rules as they stand. Yes, it is also true that just because it is in the rules does not mean that it should be or that it is the right way to handle this. Yes, the other FPO players seem fine with it. Yes, if they aren't fine with it, they probably wouldn't mention it out of fear of backlash. Either way, don't give your lukewarm takes to Natalie. Give them to the PDGA and the DGPT. I am sure that they will be reevaluating the way things are. My guess is they won't stay the same, but what do I know?
4. A valiant effort from Corey Ellis
"Success is just a war of attrition."
Watching Corey Ellis play this weekend, it makes you wonder why we don't see him in this position more often. He was at or near the top of the pack the entire weekend. We know that he is an outstanding putter. In fact, this week he didn't miss from Circle 1. He has one of the strongest standstill shots in the field. He also has good distance and control. The most impressive part of his weekend, however, were the final two holes of regulation. After going back and forth all round, Calvin pulled ahead late. Down two strokes with two holes to go, Corey birdied back-to-back and tied things up. An unfortunate O.B. drive on the playoff hole ended things before they began, but I think Corey will be back to get that first Elite Series win.
5. Finale Bubble Watch
"98 percent of our ideas are not great ideas, or everyone would be a billionaire. So yeah."
As we get into the end stretch of the season, it is fun to keep an eye on the lower parts of the Pro Tour standings. The Pro Tour Finale is building prestige each year, and there is obvious financial incentive to get in. It should get even more interesting as lower scores start to drop as more events take place, causing major shifts in the standings each week. This week, I'm going to highlight Brodie Smith. His 9th place finish shot him from the bubble to 25th place in the DGPT standings. Who will make their ascension next week?
6. Emily Beach and Ohn Scoggins
"If you stick around long enough, eventually something is going to happen."
Other than Natalie Ryan, two women really deserve a shoutout for their DGLO performance: Emily Beach and Ohn Scoggins. Emily showed elite power on the long holes. Ohn was even more impressive. It is amazing that she can do so well on a bomber course like the Toboggan when the clear weakness of her game is distance. But she might be the most consistent player in FPO this season. Look for Emily and Ohn to get their first Elite Series wins sooner rather than later.
7. MPO logjam on the Toboggan
"I had enough fireworks and chaos. It is a blissful boring life, believe me."
Calvin described the Toboggan well when he said that it was "a thrower's course." Unlike some of the birdie-or-die courses throughout the year, birdies are hard to come by here. A 6 or 7 down round is more than enough to keep you in the mix. This led to a jumbled leaderboard that was a true joy, with 10 or 12 players feeling like they had a chance at any given time. It wasn't until the last few holes that Calvin and Corey really separated themselves. It was fun to watch Eagle and Paul run away with it last week in Finland. It is also fun to see a bunch of the big names with their eyes on the prize going into the final day.
8. Shout out to Terry Miller
"As long as people use the words, I'm going to report that."
Because disc golf is still so small, it makes things a little bit buddy-buddy when it comes to media. Everyone knows everyone. Most of them are friends. Half of the media are still players and might be on your card next weekend! That leads to a lot of vanilla questions like "how did your round feel today" or "what changes are you looking to make" or "what are your plans after the round." Credit to Terry Miller, who gave two great post-round interviews to Natalie Ryan. He didn't shy away from any touchy topics and actually pulled some insightful answers out of a disc golfer. He even brought up the hate and subsequent mental struggles, rather than pretending it isn't what everyone is talking about in the background. Let's hope this becomes more and more normal as the sport grows!
9. Simon lets 'er rip
"They find a lot of humor in what they did because they lived through it."
It seems that everyone is in agreement that Simon plays better when he is more controlled, more conservative. But…wasn't it fun to see some "Simon lines" again, and even some downright bad decisions? With a few holes to go, Simon found himself out of contention. So, Simon put on a show for the crowd starting on hole 15. Were the shots successful? No, not usually. Were they entertaining? Absolutely, every time. Ah, the good ol' days. Never change, Simon.
10. Worlds is coming
"And I think every woman in my life has told me that's not a sensible hobby."
This week saw solid performances from a lot of people who have had slow starts and disappointing seasons compared to pre-season expectations—Adam Hammes, Kyle Klein, Gavin Rathbun, Andrew Marwede, and Kevin Jones. It also saw a return to form for big names who have been struggling in recent weeks like Ricky Wysocki. Everyone seems to be rounding into form and Worlds is just a few weeks away. Can't wait!
Thanks for reading, everyone. Let me know the storylines you think I missed. See you at Ledgestone!