Checking in with Eagle.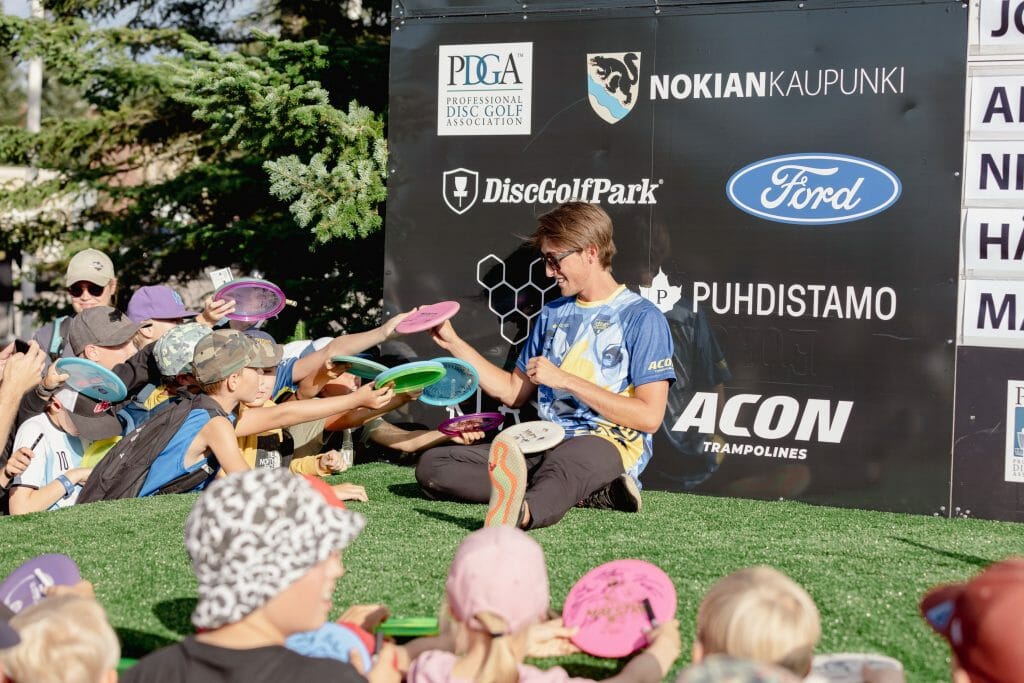 Eagle McMahon just won his second Major Championship in a duel with Paul McBeth at The Beast in Nokia, Finland. We caught up with Eagle about his victory.
Ultiworld Disc Golf: Was it noticeably different on the course compared to years past, as far as people cheering for you compared to McBeth? Not saying they were all for you or even majority in your favor, but on the broadcast it felt like you had as many fans as anyone has had there vs McBeth.
Eagle: I was honestly surprised by how many fans I had out there. Especially the kids, I signed so many autographs after the round. They were all yelling "Eaglé, Eaglé" . It honestly felt like I had as many people cheering for me as McBeth. I've made a pretty sizable impact here in Europe over the years, I felt a ton of love and support.
Any idea how many left handed shots you threw in total over the tournament? Also noticed you throwing the post round merch from the stage all left handed and even a lefty sidearm, is that in the works as well?
I threw four lefty shots during the tournament and two more during the Presidents Cup. All off the tee on hole 2. There were a few other holes that I wanted to give the lefty a try, but in the moment found it easier to shape the backhand turnover and be a lot more confident in. When I'm back home I play mostly lefty, but with thousands of people watching it can get pretty nervy. Playing the one lefty hole under par for the event with just one lackluster OB shot, I proved that I have the potential to improve that shot even further.
As far as forehand lefty, it's not really a thing yet. I have gradually incorporated it into my practice so at some point you may see it in a tournament round.
While on the subject, was that the forehand plan going in, to throw absolutely none? Or did you have a "break glass in case of emergency" plan? Are you planning to wait to throw forehand for a certain timetable going forward and was that solidified with the overall performance this week?
Yes, the plan was absolutely no forehands. I got stem cell therapy in June — I feel a lot of improvement in my shoulder, but there is still some instability there…especially with that shot motion. I didn't even want to risk it at any point. Fortunately, I put myself in great positions and never needed it.
I was wondering what if I am in a great forehand position coming down the stretch on hole 17 or something and just decided early on that I wasn't going to risk it no matter what. I don't know how my shoulder will react. I have a lot more strength training I want to do before I dial that up. The first goal is to start with forehands over the off-season.
The plan even before the injury was to start to phase out the forehand due to the impact it has in the body. I was already trying to incorporate the lefty. I want to get it to a place where I can throw longer left to right shots. The more I throw it the more comfortable I'll get with it. The end goal is to have the full package, forehand, backhand, lefty backhand, and all the rest.
Paul McBeth, Dave Feldberg, and now Eagle McMahon. That is the entire list of Americans who have multiple major wins in Europe. Not sure of the question; just wanted to let you know. Any thoughts?
It's crazy to think that both my Majors came in Europe. Maybe it's something in the water over here, who knows? It is really exciting given the chance to play in a foreign country, it adds a different drive to try to perform for a foreign audience. I'm happy and proud to have my name on a list amongst those legendary disc golfers.
I heard you tell Simon that Worlds was next: any change to that or plans to play before? What does the rest of the year look like for you ideally?
No, no change at all. I have a little over a month, and I'll be in Europe for another week. Send it back to the grind and routine for a few weeks to prepare. I'll be training and seeing my practitioners and doctors. I'm still not at 100%, which is all subjective and I don't even know what 100% is anymore. This is definitely not where I need to be in the future. This week was amazing and I tapped into some amazing frequency but going forward I'd like to have all my tools. My goal is to become even stronger, create more shots, and get back shots that I've lost. My performance, however, did give me a lot of confidence going into Worlds. After that, nothing else until USDGC and that's it. Two more events and I'm calling it good for the year.