We're finally back in Europe.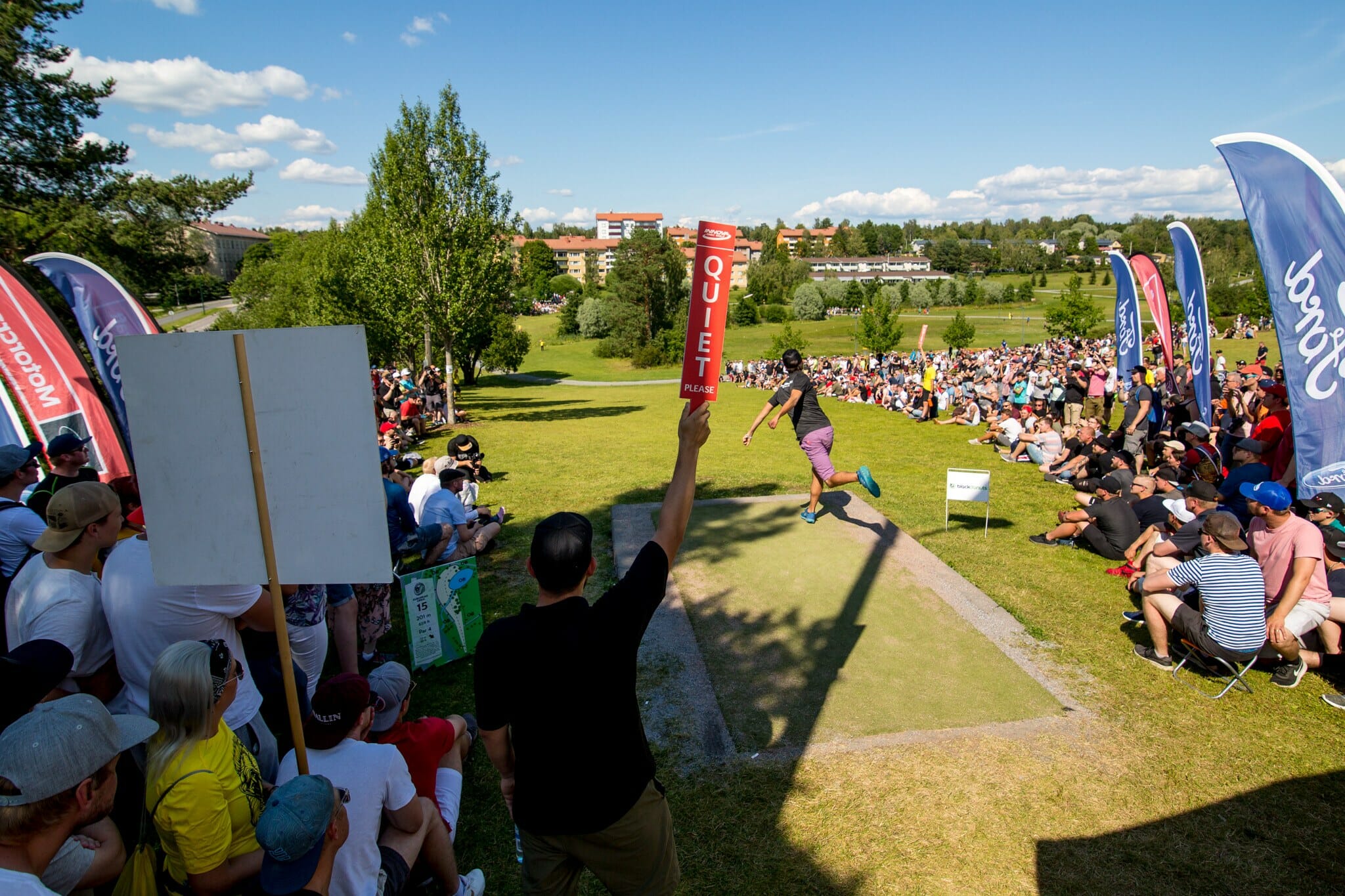 The wait is finally over: after two years of travel restrictions, a major championship along with a fleet of American players have returned to Europe for the 2022 European Open. Since the last European Open in 2019, Paul McBeth and Paige Pierce became 5-time world champions, the Disc Golf Pro Tour has more than doubled its number of Elite Series events, and roughly 100,000 people have registered for the PDGA. The sport has entered an entirely new phase in these past three years — ES and major events have more competitive fields and top athletes are signing far more lucrative sponsorship deals.
In any sport with major championships, the narrative often revolves around previous major winners and the opportunity to add to their resume. Paul McBeth, Paige Pierce, and Catrina Allen are the only players who have won this event since 2013, collecting nine titles between them. McBeth and Pierce could each win their 17th majors while Allen will be hunting her 8th career major championship. Ricky Wysocki is looking for his 7th career major but, more importantly, his first win at this event, having finished on the podium three times including 2019, when he began the final round with a one stroke lead. Two-time major champion James Conrad only played this event for the first time in 2019, but he registered a top 10 finish and has already gotten in a Euro event at the PCS Sula Open last week.
Past Winners
| | PDGA Tier | Open | Open Women |
| --- | --- | --- | --- |
| 2022 | M | Eagle McMahon | Paige Pierce |
| 2019 | M | Paul McBeth | Paige Pierce |
| 2017 | M | Paul McBeth | Catrina Allen |
| 2016 | A | Paul McBeth | N/A |
| 2015 | M | Paul McBeth | Catrina Allen |
| 2013 | M | Paul McBeth | Paige Pierce |
| 2011 | M | Dave Feldberg | Valarie Jenkins |
| 2009 | M | Jesper Lundmark | Valarie Jenkins |
| 2007 | M | Ken Climo | Carrie Berlogar |
| 2006 | M | Dave Feldberg | Carrie Berlogar |
Six Things We'll Be Watching
1. For nearly a decade, Paul McBeth has dominated this event, winning the last five in a row dating back to 2013 when he had just one world title to his name. It should come as no surprise that the man known as McBeast lists the Beast as his favorite course on UDisc, having won this tournament three more times than any other player in the event's history. Even though he's coming off three consecutive top 10 ES finishes, McBeth has been very up and down since losing a playoff in Jonesboro earlier this season. With a chance to snag his 17th career major title and come within five of Ken Climo, Paul not only has an opportunity to add to his legacy in Finland but also to reset the narrative on his 2022 season.
2. Returning for the first time since his withdrawal from the Jonesboro Open, Eagle McMahon will be playing in Nokia, but don't expect him to be 100%. McMahon has stated that his only plans for the rest of this season are the European Open and World Championship, which should be an indicator as to just how much confidence he has that his shoulder will hold up. Eagle sat just one stroke behind Ricky Wysocki going into the final round of the 2019 European Open, and while Wysocki faltered that day, McMahon was unable to hold off a charging Paul McBeth, who shot the hot round to defeat him by two strokes. With how little playing time Eagle has gotten in the past few months, it's difficult to assume he can have any meaningful impact on this tournament. Getting through the weekend with a notable finish would be an extraordinary achievement in itself given his condition.
3. Coming off the two worst back-to-back finishes of her career, Paige Pierce will be looking for some redemption in Nokia after a disappointing USWDGC a few weeks back. Pierce is chasing her 17th FPO major title, which would give her more majors than any other FPO player all-time. With Kristin Tattar dropping out due to injury and only a handful of American FPO players making the trip, the field has minimal depth at the top end. Pierce is the youngest player to ever win the European Open (at 22 years old back in 2013), and in that time she and Catrina Allen have split the event with two wins apiece. In fact, in the history of the European Open, only four women have won the event, each of them doing so twice. This week is gearing up for a classic Pierce vs. Allen showdown, and while others could certainly claim the title, the spotlight will be squarely on them as the favorites to become a three-time European Open champion. Of course, they will have to battle with the European continent's best — Eveliina Salonen and Henna Blomroos.
4. Wednesday will bring the 10th annual Presidents Cup, a team event that pits Team USA vs. Team Europe. After controlling the opening round in 2019, Team USA fought back hard in the second round to earn the victory and remain undefeated in Presidents Cup history. Team Europe has arguably their best roster in the event's history, even with the unfortunate loss of top-rated FPO player Kristin Tattar. Henna Blomroos will be stepping in from the reserve spot to fill Tattar's role; in the 2019 event, she was the only European player to win their second round match. European fans will undoubtedly be rooting hard for their players, led by (non-playing) captain KJ Nybo, to finally take down the USA, captained by two-time champion Jeremy Koling.
5. Last time around, two European MPO players finished in the top five (Albert Tamm, Jesse Nieminen). Three FPO players did so (Henna Blomroos, Eveliina Salonen, Kristin Tattar). Will we see anything change at the top? In FPO, there simply aren't that many American players — just Paige, Cat, Kat Mertsch, Kona Panis, and Deann Carey — so seeing Heidi Laine or Keiti Tätte in the top five wouldn't be a huge surprise. In MPO, there are a sizable number of Americans (27, to be precise), but there's also a growing class of talented young Europeans who could be a Tamm-like surprise. Still, just 3 of the top 15 rated players competing are Europeans, and only 1 (Niklas Anttila) is in the top 10. Can
6. How many spectators are going to show up? Finland is absolutely crazy for disc golf — the sport is reportedly more popular in the country than golf, tennis, basketball, and volleyball. And, like everywhere, there's been a boom since the pandemic. The event already set attendance records in 2019 with around 5,000 people. Could this year's event break its own record? There may not be a more professionally run tournament in the world — big video boards will greet spectators on holes 1 and 18, a VIP area has its own viewing deck of the 18th green, and the European hospitality is off the charts.
The Course
Designed by Discmania CEO Jussi Meresmaa, the Beast is a crown jewel in the sport of disc golf. The front 9 holes are heavily wooded and require a variety of tee shots with the back 9 featuring more OB and water hazards. In total, ten holes are listed at different lengths this year from the 2019 event, but the majority of those are only adjusted by a few feet and don't appear to be any type of significant change. Hole 8 has been shortened by 53 feet and hole 15 has been reduced by 151 feet to play as a par 3 rather than a par 4. Hole 15 also has a €10,000 ($10,230) ace pot, which will incentivize players to take an aggressive run and possibly go OB as a result. In his press conference on Tuesday, Meresmaa made sure to highlight a change to hole 3 which should bring more scoring separation. The 863 foot par 5 now has a large OB area which forces players to either lay up a shorter tee shot or go big in an attempt to clear it and push for an eagle.
2019: 9,072 feet, Par 64
2022: 9,091 feet, Par 63
Here is the 2022 caddie book for The Beast.
Extended Forecast
Nokia should see warm weather with calm winds throughout the week with a chance of rain in the final two rounds.  With sunsets close to 11 PM, the risk of a lightning delay cutting play short on Saturday should be greatly reduced.
Thursday: Partly cloudy with highs in the low 80s
Friday: Partly cloudy with highs in the low 80s, chance of thunderstorms
Saturday: Chance of thunderstorms and high likelihood of rain throughout the day with highs in the mid 70s
Sunday: Chance of rain throughout the day with highs near 70
How To Follow
UDisc Live will have livescoring available all weekend. For video coverage, see our How To Watch post.
Read on for PrizePicks Lines & Best Bets…
Bonus Content for 2022 European Open Preview: A Three Year Wait Is Finally Over is only available to Ultiworld Subscribers
Already have a subscription? Log in
Whether you visit Ultiworld for our reporting, our podcasts, or our video coverage, you can help us continue to provide high quality content with a subscription. By becoming a subscriber, not only do you receive benefits like bonus content and full article RSS feeds, you also help fund all of Ultiworld's coverage in general. We appreciate your support!