The last Elite Series stop before the Champions Cup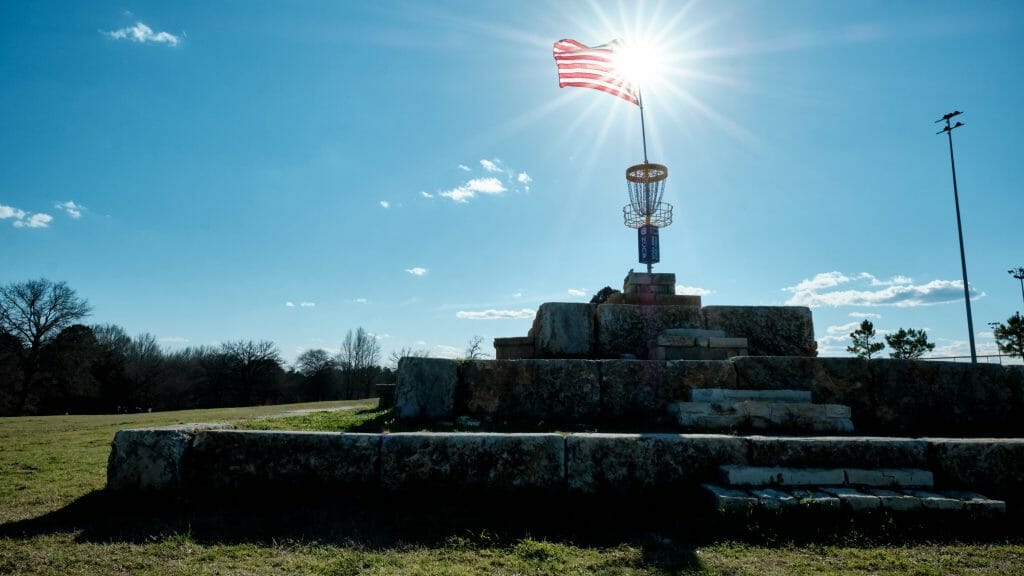 The Thorn is a nice course, lovely really, and I would be excited to play it myself. The Texas States crowd was well controlled, and there hasn't been any sort of indication that the tournament was anything other than a professionally organized and executed event. The weather looked nice, and there was plenty of action with players moving on and off the lead card in both divisions all weekend. So many great things to say about this tournament, which caps off a three stop tour of Texas which launched the 2022 season in exceptional fashion.
Except there's a damn baseball field fence. It was like having a commercial break in the middle of a movie at a theater. Like a rock in your shoe. Like a hair in your takeout order. Like hitting the band on a five footer. Unless we are in Winthrop, Elite Series events should not be utilizing other sports fields as features of a course. Can you imagine a professional baseball game being played with a disc golf basket in foul territory? No, you can't, because it's insane and would look unprofessional. With all due respect to the grassroots history of the game, and all the love to courses on mixed use, public facilities (shout out to Pye Brook in Topsfield, MA), it's time to expect that Elite Series holes are not playing around other sporting facilities.
I'm looking at you, Ledgestone.
Where were we? Ah, yes, the golf.
In MPO, Texas gave us three different winners, and if not for Ricky and Paul doing their thing, we would have had three totally unique podiums. We may want to keep an eye out for back injuries from Catrina Allen and Kristin Tattar. They leave the Lone Star state absolutely dripping with hardware, having gone three-for-three in top threes over the past month.
So what have we learned from our time in Texas, and what should we expect going into the first major of the season?
In MPO, the field is in absolute chaos. Paul McBeth has vacillated between looking like the platonic ideal of a champion disc golfer and, frankly, mediocre. Eagle McMahon is still not healed up and remains out of competition. Chris Clemons has been having his best start to a season in recent memory. Drew Gibson showed up in Vegas, won, and left. Joel Freeman is probably a top 10 player right now, and Simon Lizotte is being responsible. Gannon Buhr has two top 10 finishes this season. Ricky hits his stride in a rare comeback win.
The touring season is a marathon, not a sprint. Players like McBeth and Wysocki are able to maintain a high level of play over several months, and we tend to see the rest of the field drop off a bit once the dog days of summer settle in and those baseball fields are in use. If, however, Clemons, Freeman, and someone like Aaron Gossage or Luke Humphries are able to find a way to keep it going, we may have a really exciting season ahead.
In FPO, Tattar and Allen have been the cream of the crop, but we all know that Paige Pierce is going to go on a heater. It's a matter of when, not if. To an extent, and this may be unfair, but we expect great things from Allen, Tattar, and Pierce. Because of these ultra-high expectations, the real story of the 2022 Texas swing has been the emergence of a whole new class of consistently high performing players who have the ability to challenge the top dogs on at least a semi regular basis. It is worth noting that Hailey King was not in attendance for any of the Texas events, which does open up an almost guaranteed spot in the top ten, but what we've seen is the emergence of a new generation of player who can keep up off the tee.
So far in 2022, there are six players who are reaching circle one in regulation at above a 40% clip: the aforementioned trio along with Eveliina Salonen, Natalie Ryan, and Kat Mertsch. Since the start of the UDisc era in 2016, only Pierce and Allen have hit that mark, and that was during the COVID impacted 2020 season. To have this many players hitting that 40% mark may be due to a small sample size, or it could be the signal of a significant improvement in the quality of play (and course design) in FPO. Time will tell, but it has been a treat to watch those players, along with Valerie Mandujano, Maria Oliva, and Ohn Scoggins make a real impact this season.