Texas States Round 2 Recap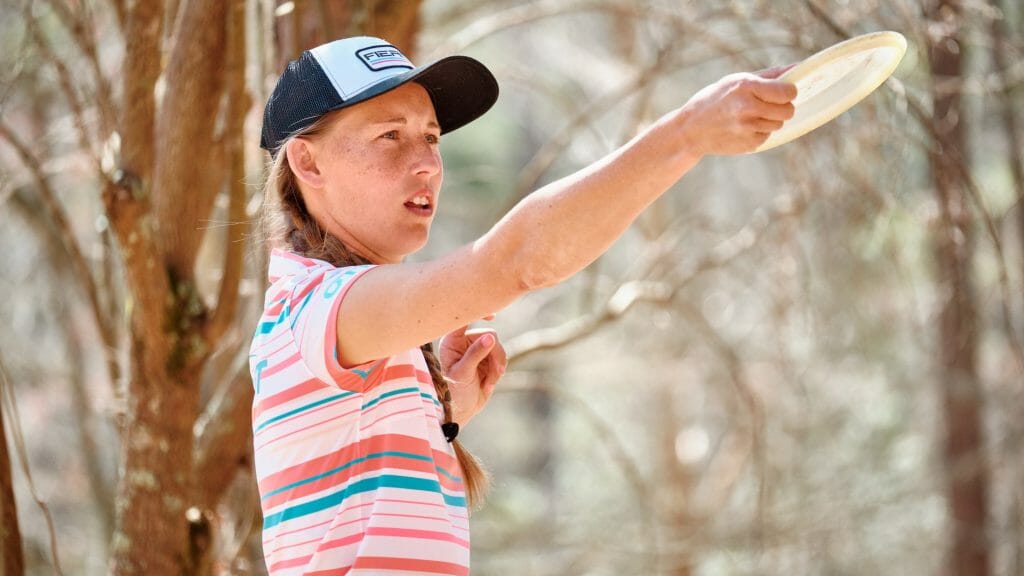 TYLER, Tex. — Paige Pierce added a stroke to her lead at Texas States on day two, sending her into the final round with a five shot advantage.
Pierce wasn't as sharp as she was during round 1, carding no eagles on Saturday and finding two fewer greens in regulation. Still, she put together a 4-under par 63, just one stroke off the hot round, Maria Oliva's 5-under. Pierce managed to mostly stay clean despite three OB strokes. She scrambled to save par on four holes, her lone blemish a double bogey on hole 14. Her blend of power and putting accuracy continued to prove to be big weapons. Opening up with this putt on hole 1 to take a stroke on the entire lead card was an early statement:
Slow starts from Catrina Allen and Kristin Tattar helped set Pierce up to expand her advantage. Allen's typical prowess off the tee wasn't there in the front nine; she went 2-over and only had one look at birdie. She picked it up with an excellent back nine, carding five birdies to finish 3-under on the day. Tattar, meanwhile, had a lot of long birdie looks in the front nine and couldn't convert; she too started pouring in the birdies in the back and matched Pierce's 4-under for the round. She and Allen are tied at 8-under on the tournament, five shots back.
Hot Round
Maria Oliva has looked very much at home on the bomber holes at The Thorn in her home state. She was tied for the lead in greens in regulation at 67% and moves on to the lead card for the final round after posting a 5-under 62. She left some birdies on the course from Circle 2 as well. Like Tattar and Allen, she got her round going a little bit late, carding her first birdie on hole 6.
"I knew I wasn't really shredding, but I was kind of just not making any mistakes," said Oliva. "And I think I just tried to keep doing that, and I did."
Tough Holes
Holes 2, 3, and 15 all went unbirdied on Saturday. Between the three, there were only two birdies during round one: Paige Pierce on hole 2 and Stacie Hass on hole 15.
On hole 3, only one player has even reached the green in regulation: Ella Hansen, who drove it to Circle 2 on the 464 foot par 3. She missed the putt. It could become the first hole this season to see zero birdies from the field.
Catrina Allen's Putting Has Been an Asset This Season
Have we ever seen this much confidence from Catrina Allen around the green? She's long been a good long-range putter, but she is putting with a ton of confidence right now both inside and outside the circle. She's 4th at Texas States in strokes gained putting, thanks in large part to a superb 57% C2 putting percentage. While her 65% C1X number isn't as impressive, some of that data is clouded by the layups on hole 1's pyramid green. It's clear to see that she has improved, especially from what used to be a shaky 15-25 foot range.
Overheard
"If it was as calm as yesterday, I don't think a 4-under would have cut it, but with the wind picking up a little bit more today, I was thinking between 5 and 7 would be my goal. A couple short putts kept me from that goal and that's easy to improve on." – Paige Pierce
Shot of the Day
Ohn Scoggins is STRONG on hole 17:
Round Two Highlights
FPO Round Two Highlights Texas States 2022
What To Watch For
It's going to be very tough for anyone to catch Paige Pierce unless she has a very bad round: there are just too many open tee shots with distance proving to be a separator. How will the battle for podium spots shake out? Maria Oliva's best finish on Tour last year was 7th at Ledgestone. She has the tools to get a 2nd place result this weekend.