Round 1 Recap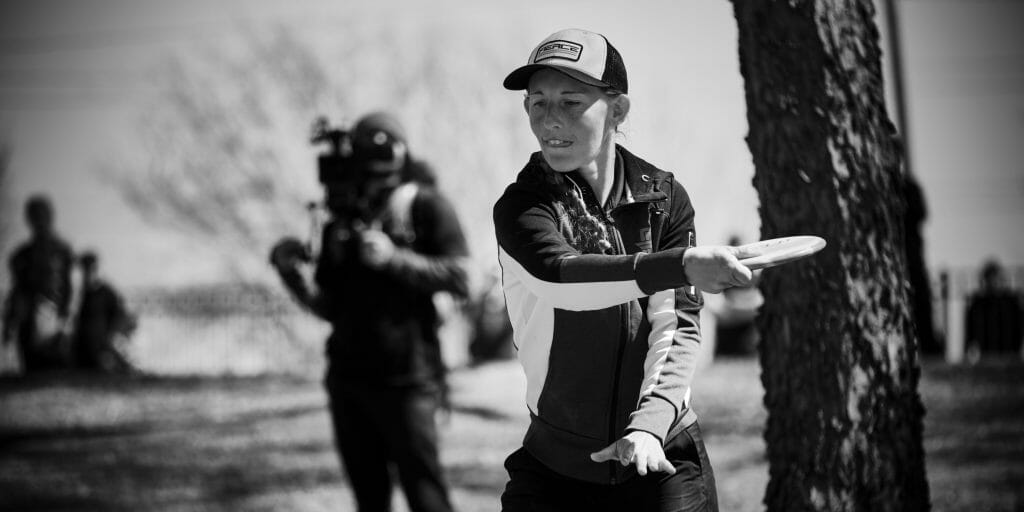 TYLER, Tex. — On the longest course the women have played this season, Paige Pierce made it clear why she has long held the mantle of #1 in the division.
Pierce used her distance advantage over the field to reach holes others couldn't and cashed in some long birdie putts to put together a 1020-rated 9-under par 58, giving her a four shot lead heading into day two. Pierce's lead could have been even bigger, but she took a double bogey after going out-of-bounds on hole 15 when most players were carding par.
Catrina Allen continued to flash her strong overall game with improved putting that's gotten her off to a great start this season. She's in second place at 5-under par, one stroke ahead of Kristin Tattar and Missy Gannon.
Kat Mertsch also continued her strong play, hitting 13 Circle 1 putts from outside of 15 feet with no misses. She sits in fifth place at 3-under par.
Paige's Separator Holes
Let's take a look at some of Paige's "bonus birdies" (or eagles) today:
Hole 2 (741 ft, par 4) — Birdie (the only one of the day)
Hole 8 (564 ft, par 5) — Eagle (1 of 3)
Hole 13 (562 ft, par 4) — Birdie (1 of 2)
Hole 14 (426 ft, par 3) — Birdie (1 of 3)
Hole 17 (780 ft, par 5) — Eagle (1 of 2)
Pierce was the only player to card two eagles during the round. Unsurprisingly, she led round 1 in strokes gained from tee-to-green (6.44), more than a stroke better than Kristin Tattar in the second spot (5.21).
A Course Built for MPO
It's hard not to look at Round 1's scores and not feel like the new Thorn layout at Lindsey Park was not well considered for FPO play. This has become an unfortunate theme at a number of tournaments. From comically easy holes (hole 16, a 459-foot par 4 that only two players bogeyed) to impossibly difficult ones (hole 3, a 464-foot par 3 that literally nobody birdied), there are simply too many holes that don't really set up well to test the FPO players' skills. It's not just about the relationship to par; it's about considering how FPO players will play a hole and creating scoring separation opportunities.
Look at the difference between MPO hole results: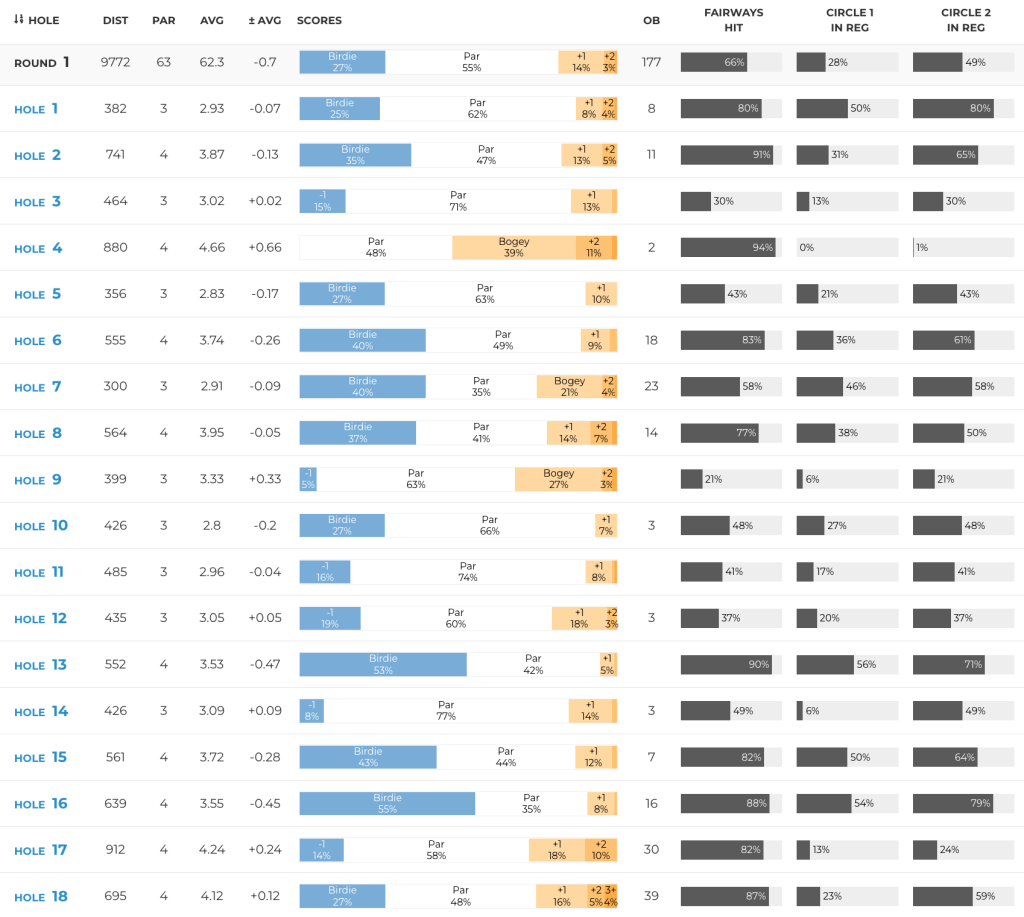 And FPO hole results: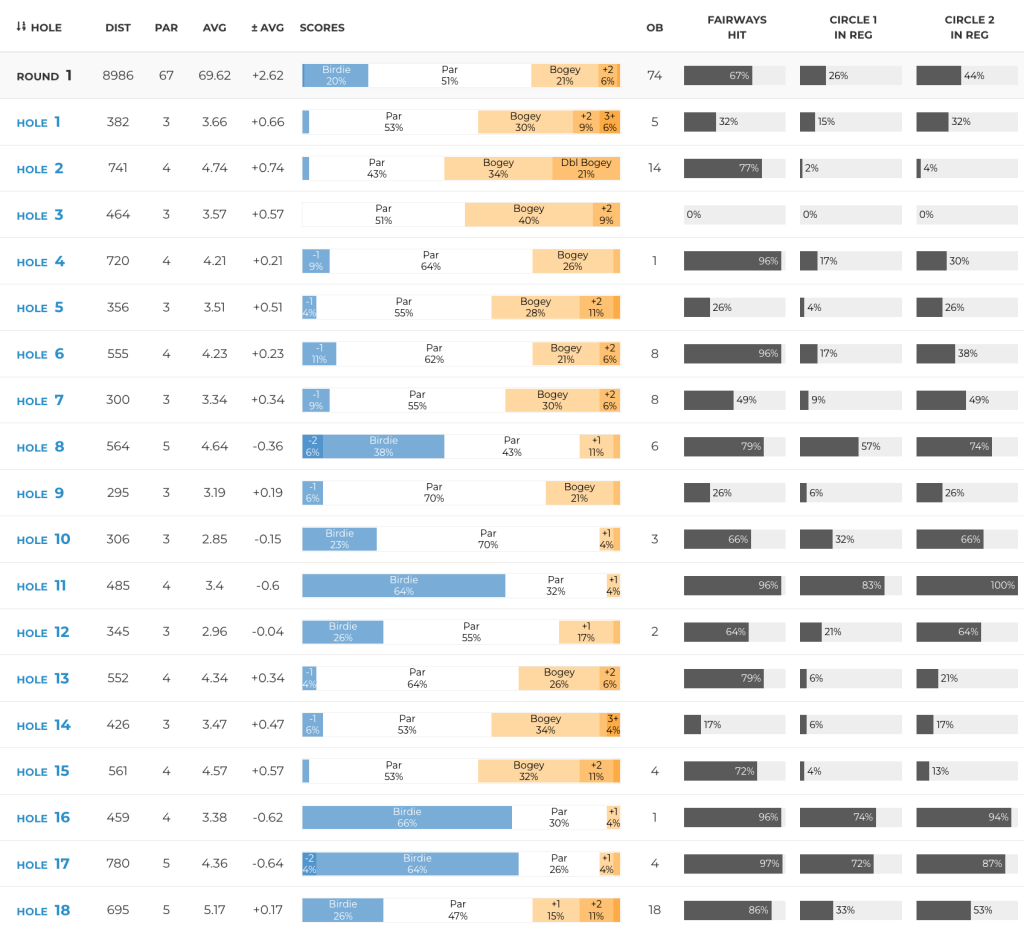 There are holes (like 3, 11, 16, and 17) that just aren't separating players effectively.
Eveliina's Putting Woes Continue
Eveliina Salonen may be a good putter, but she sure is not at the moment. She opened her round with a five-putt on the pyramid-elevated basket on hole 1 en route to missing 11 inside-the-circle putts and going 0/7 from Circle 2. Once again, Salonen was elite from tee-to-green (3rd, +5.2 strokes) and disastrous on the green (dead last, -7.18 strokes).
It will be difficult for her to compete without turning around the putting.
Kona Panis Bounces Back
Kona Panis is tied for 13th at even par after shooting just the second round of 2022 above her rating (950 rated round v. 948 rating). A slow start gave way to a lot more birdies in the back nine, and although the putter was still not a strong point, she started to hit her lines much better off the tee and finished top 10 in getting to the green in regulation.
Hello, Stacie Hass
The second-place finisher at the 2021 PDGA Junior World Championships, Stacie Hass was the surprise top 10 finisher after round 1 at Texas States. She shot an excellent 4-under in the back nine without a bogey, turning around a rocky start. She was 5th in getting to the green in regulation (61%). If she can clean up some of the early mistakes, she could push higher up the leaderboard.
Overheard
"Kinda everything felt good. My putts felt good; I was getting off the tee really clean except for one hole. And I think that's what it takes to put together a good round, an all-around good game." – Paige Pierce
"I had some good shots today that impressed myself. And that's what I'm looking for as a competitor — I don't want to be content. I want to throw shots that impress me and make me strive to hit it again." – Paige Pierce
Shot of the Day
Paige Pierce was simply able to separate with shots like this one on hole 14, a 426 foot par 3. She put her drive inside the circle and went on to cash the putt:
Round One Highlights
FPO Round One Highlights Texas States 2022