The young Texan keeps getting better.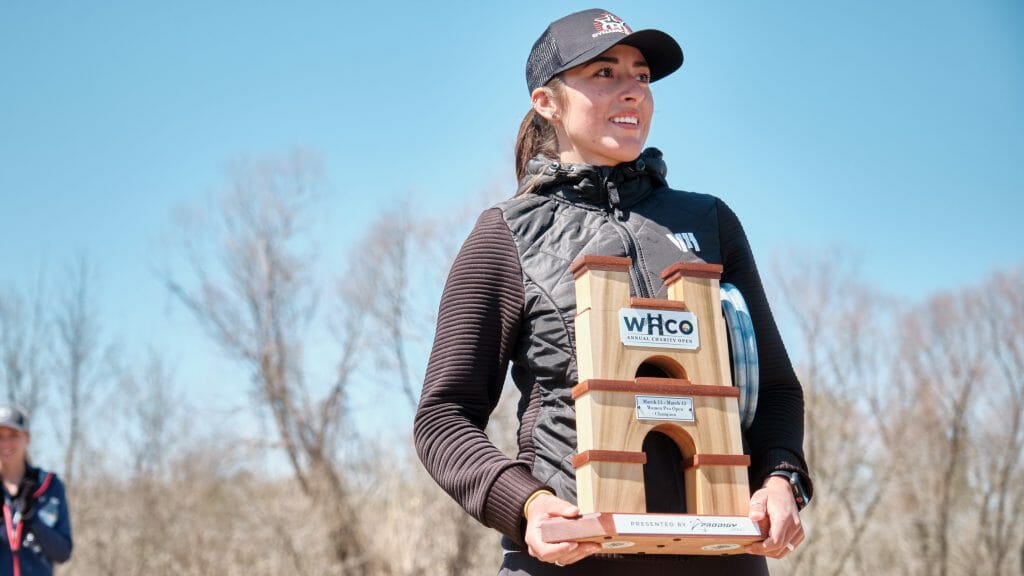 With a Texas-sized final round performance, Valerie Mandujano came from behind to win the 2022 Waco Annual Charity Open in her home state. Through big swings in the weather and on the leaderboard, Mandujano stayed true to her well-rounded game and claimed her first-ever Elite Series victory.
"I feel a lot of emotions and like I am going to tear up," she said. "I want to dedicate this win to my grandfather who passed away on New Years. He was like my father and he raised me so close to him. He never got to see me win, so I told myself that I had to win this year. So this is for you, Dad."
Mandujano ramped up her game over the course of the weekend, improving by four strokes each day en route to a 9-under par finish, four strokes better than Kristin Tattar in second place. Although Catrina Allen made a tremendous run from way down the leaderboard, her double bogey on hole 12 ended her chances of making a push for the win, though she still finished the tournament in third place after shooting the best round of the tournament, an 8-under par 59.
By the time the lead card made the turn, it was a two-horse race between Mandujano and Tattar. The Texan had built a one-stroke lead with a three-birdie run to close out the front nine before extending it to three on hole 14 when Mandujano put her tee shot within 20 feet and Tattar bogeyed. Back-to-back birdies for Tattar cut the lead back to one before entering the pivotal hole 17.
After Tattar laid up on her second shot, Mandujano had a decision to make. Play it safe — or try to put it on the green while testing a tough crosswind and OB water left. Despite having the one-stroke lead, she didn't hesitate:
It was the shot of the tournament and a reversal of her mistake on hole 17 in the final round of the Throw Pink Women's Disc Golf Championship that knocked her out of the lead last October. Perhaps rattled by Mandujano's perfect upshot, Tattar badly misfired with her forehand approach, advancing only a few feet. She left herself a tester putt after her next shot and didn't can the putt, dropping her to a double bogey and a three stroke swing.
Las Vegas Challenge champion Catrina Allen rounded out the podium at 2-under par. That marks back-to-back podium finishes for Allen, who looks fully comfortable with her new plastic. Mandujano, too, was playing with a new bag after moving to a Dynamic Discs sponsorship this offseason.
Eveliina Salonen, the frontrunner for most the weekend, couldn't keep it going in the final round. She opened up going 5-over through the first four holes with four missed Circle 1 putts, a continuation of her major struggles on the putting green throughout the weekend. She didn't card a birdie until hole 11. Ultimately, it was a Jekyll and Hyde weekend for Salonen, who finished 1st at the tournament in strokes gained from tee-to-green (23.39) and dead last in strokes gained from putting (-13.99). She finished ninth at 1-over par after entering the final round at 4-under with a two stroke lead.
On the chase card, nothing ever got going for Paige Pierce. Opening a round with a triple bogey is never a fun way to start. She shot her worst round of the tournament at 1-over, finishing at even par on the weekend. Her putting was solid, but she continued to struggle with taking extra strokes by going out-of-bounds. She had 10 OB strokes on the weekend, the most of any player in the top 25. Six of those OB strokes came in the final round.