Round Three Recap.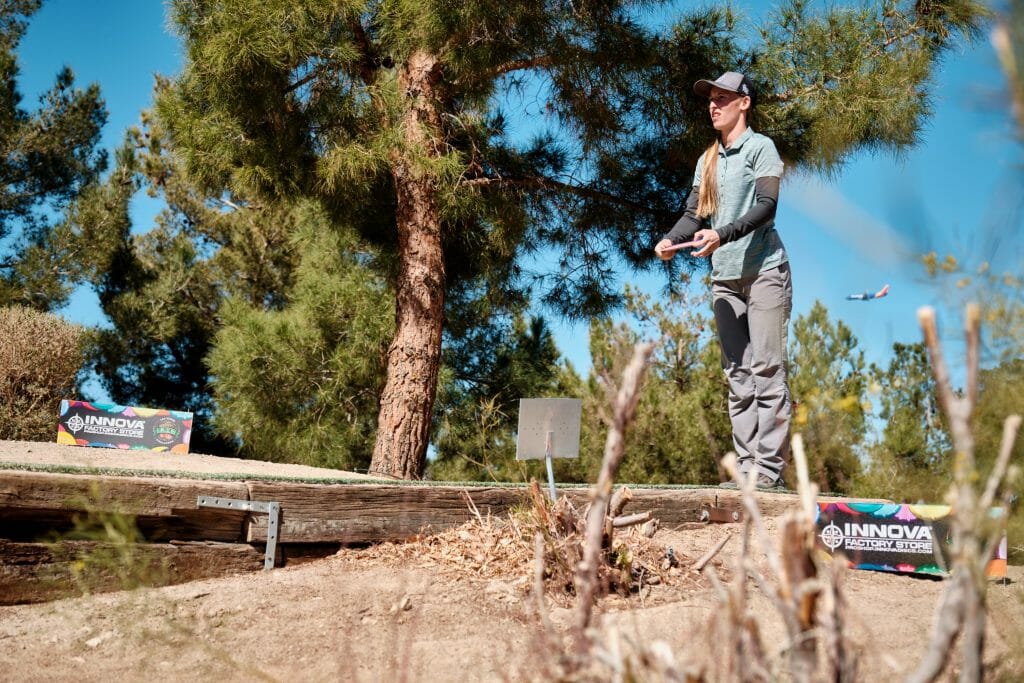 Even if you hibernated through the offseason and missed all the drama in the sponsorship world, there's plenty available during the first tournament of the 2022 season.
After Catrina Allen surged to a six stroke lead after round two, the tides shifted sharply in Paige Pierce's favor on moving day. The two juggernauts sit knotted at the top at 21-under par with Kristin Tattar just one stroke back to set up an electric Championship Sunday bout.
Pierce's steady play on the back nine, where she carded six of her ten birdies in her 8-under round, pushed her into a tie with first place. Pierce was superb from tee to green, getting a birdie look on 78% of holes.
The Factory Store Course, playing as the longest of the three featured courses, did not play out as smoothly for Catrina Allen. After a round in which she took zero OB strokes, she found the out-of-bounds five times, leading to two bogeys. Coming off a scorching 11-under round, Allen only finished the day 2-under par. Her biggest issue? Unusually for Allen, driving performance. She found Circle 1 in regulation only five times on the round.
Kristin Tattar may not be tied up with the leaders, but she was very sharp on the putting green and could well take down the win over the Americans. If she can clean up some of the bogeys she took at the Innova course on Friday, she could post the hot round: she had 10 birdies and an eagle in round 2, outpacing even Catrina Allen.
Hot Round
After an off day on Friday, Paige Pierce emulated her round one performance by shooting 1011-rated 8-under. The highlight of her round was a Circle 2 birdie smash on hole 13 from the edge of a hazard to stay on pace with her hot back nine production. By rating, this is the second best round of the weekend behind Allen's round two performance.
Shot of the Day
Kristin Tattar takes home back-to-back shot of the day awards while once again utilizing her dialed forehand. She was one of two players on the field to eagle the 730 foot par five by throwing it in from 200 feet out! This was one of two eagles on the day for her to finish out an excellent 7-under par performance:
Full Round Three Highlights
Tough Stretch
The middle of the course played extremely challenging for the field. Holes 7-12 comprised five of the six hardest holes on the course, with the easiest of those averaging +0.44 over par. Across all six holes, there were only a combined eight birdies on the day and consistently played as the toughest stretch. Pierce's birdies on 11 and 12 were major separators.
Missed The Cut
There were some big names that failed to qualify for the final round of Las Vegas Challenge and did not cash. Henna Blomroos struggled to a 5-over par third round and missed the cut by a stroke. Her putter entirely abandoned her: she missed seven Circle 1 putts and went 0/7 from Circle 2.
Kona Panis fared even worse. She missed 12 Circle 1 putts, putting her at 8% on the day from Circle 1. That lead her to an ugly 11-over par round with just three birdies, a triple bogey, and a quadruple bogey.
Deann Carey and Holly Finley were other notable players to miss the cut.
Who to Watch For
Eveliina Salonen cannot be forgotten when coming down the stretch. She sits five strokes back of Pierce and Allen. The players return to the Innova Course for the final day, where Salonen found great success shooting 7-under on Friday. While in striking distance and playing solid golf, Salonen's power backhand could propel her into a podium finish.
Statline
Missy Gannon led the field on the greens by having the only perfect putting round from Circle 1. Her 100% came off of a 6/6 performance, which aided in her 4-under par round. She sits 7-under on the weekend and sits in ninth place.
Overheard
"Where my round could've been better was putting. I missed a couple putts, pulled a couple right, which isn't a miss I usually make. That kind of shows you that I was throwing the disc really well, well enough to shoot 11 or 12 under if I would've hit those putts" –Paige Pierce on where she can improve heading into the final round