Round Two Recap.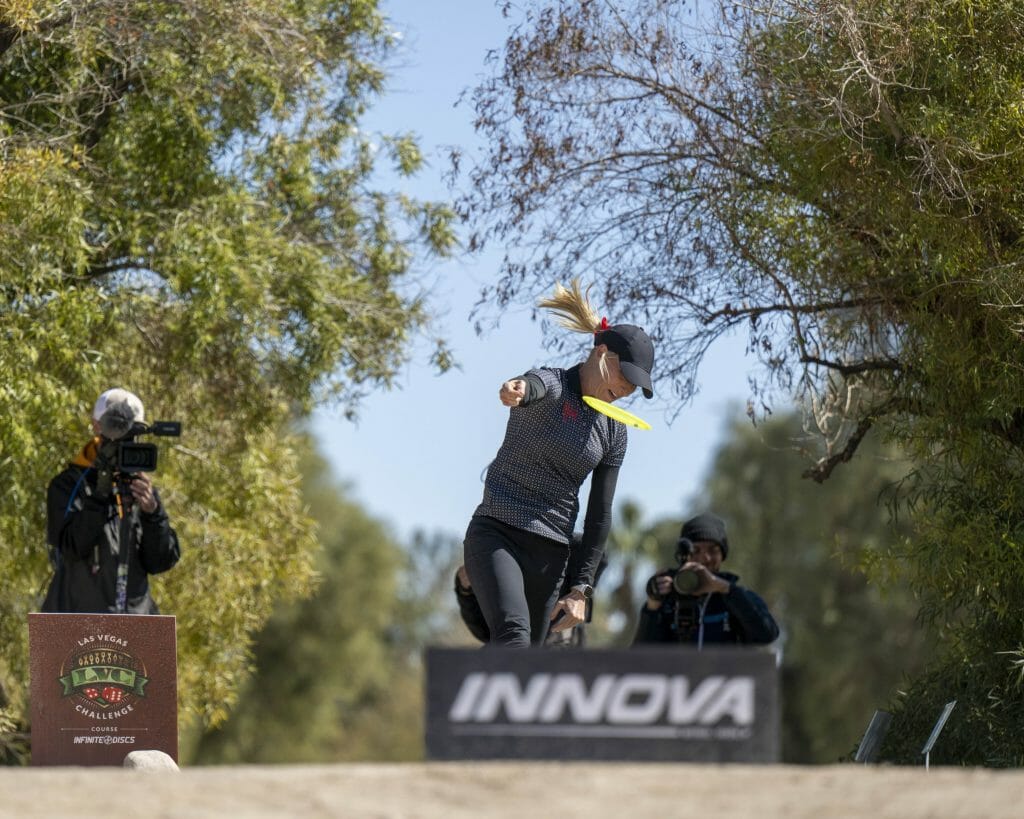 On the Innova course for day two of the Las Vegas Challenge, somebody hit the jackpot.
After a steady battle through the first round, Catrina Allen lighted up the score card to surge into a commanding six stroke lead thanks to an 11-under round moving her to 19-under on the tournament. For the second straight day, she shot the hot round, this time blemish free.
🔥 round from @catrina44184

– 1015-rated 11-under
– 100% inside the circle
– 40% C2 putting
– Bogey free
– Six stroke lead

— Ultiworld Disc Golf (@UltiworldDG) February 25, 2022
After avoiding OB and bogeys on the first day, Paige Pierce could not replicate the same performance. Her roller coaster round was punctuated by two eagles, but she was plagued with four OB strokes that led to three bogeys. She sits 13-under par and tied for second with Kristin Tattar.
A double bogey early in the round can be the beginning to the end, but Kristin Tattar only used it as fuel. After a double on hole three, Tattar hopped on the birdie train with four in a row including an eagle. Her 7-under par round bested her first day score to find her at 13-under par and tied for second.
Eveliina Salonen, sitting at 12-under after a 7-under on Friday, rounds out the lead card on moving day.
Natalie Ryan, who started the day on the lead card with a great round on Thursday, had to withdraw from the tournament after pulling her hamstring, a disappointing result after such a great start.
Shot of the Day
The shot of the day is credited to Kristin Tattar on hole 5. Her forehand approach shot put her within five feet of the basket for a drop in eagle on the 666 foot par five:
Full Round Two Highlights
Hot Round
The hot round of the day, of course, was laid down by Catrina Allen with an 11-under par 58. Two days in a row, Allen has shown off her precision with her drives as she led the field in strokes gained tee to green at 7.19. Her 1015 rated round was the best FPO score on the Innova Course since Vanessa Van Dyken's final round in 2019. Elite golf for Allen finds her with some elite company.
And how about this? Allen, playing the exact same layout as MPO (with a different par), outshot her boyfriend, Austin Hannum, who shot a 60.
Who to Watch For
Holyn Handley is not a name we hear of all the time at the top of the FPO division, but she has put herself into a sneaky seventh place. Her 6-under par round propelled her up to sole possession of seventh. The highlight of her round was seen on hole 10 where she eagled a 721-foot hole while putting it in from only 16-feet out. After a rockier front nine, she finished her back nine blemish free, going 5-under and earning a spot on the chase card.
Biggest Mover
The award for biggest mover of the day goes to Canada's own Julie Moens. The ultimate frisbee player has brought her talents to the disc golf course and shot a scorching 9-under par, the second best round of the day. She jumped 32 spots in the rankings, tying her for 15th at 4-under par. She played nearly flawless golf with 10 birdies and just a lone bogey. Her putting was also perfect where she finished 100% from circle one.
Overheard
"I just feel good. I'm feeling confident and that feels really good. The last three years I kind of struggled at that throughout certain tournaments. I just want to feel comfortable and confident and I like this course" -Catrina Allen after holding a six stroke lead after day two
Statline
Hole 5 plays as a 666-ft par five for the women and only saw three eagles on the day. Interestingly enough, all three came on the lead card. Tattar, Allen, and Pierce were the three to card eagles, putting from distances of 5, 16, and 38 feet, respectively.